It's no secret we're living in trying times. Here's what's helping the Merry-Go-Round staff stay sane this week. 
Ben UFO's Hessle Audio
Ben UFO's Hessle Audio shows have always been essential listens, but I've found myself coming back to these mixes more often these days. The Rinse FM fixture is, in my mind, the ideal radio show: a weekly program hosted by one of (if not the very best) DJs in the world. On the Mondays hosted by Ben, he and label co-founder Pearson Sound alternate hosting duties—Pearson Sound's sets are not to be missed either. You can expect one of three types of shows: a recent Ben UFO live recording, a split hosting with an up-and-coming DJ, or, most commonly, Ben spinning solo. Each solo set is unique in their own outstanding ways but tend to follow a similar formula: start with a half-hour warmup mainly composed of tracks with an ambient lean from around the globe both new and old, then crank the BPM up a few standard deviations and you're off. It's here where Ben thrives, weaving together a maelstrom, an intensely focused wormhole that checks all the boxes of what makes UK dance music great: chaotic drum 'n' bass, wild grime, and plenty of jungle. The ease in which he flies all over the sonic map is astounding, and even during these shows' most hectic moments it still feels like he's mixing beside you in the living room. It's an especially personable and casual show thanks in large part to his soothing interjections that identify the track playing or shout out the artist, label, or whoever's locked in listening.
What sets Ben's show apart from others is the endless supply of IDs from some of the best names in the scene. His unreleased selections are my greatest debt of gratitude from these shows; Ben's Hessle Audio shows have consistently put me on to new music from artists I'd been unaware of that quickly turned into my absolute favorites. It's a testament to his ear how often these IDs turn into staples of other selectors' sets just a couple months later and an example of how influential he is in championing underappreciated talent. Without having ever produced a track, Ben UFO has made an incredible impact on electronic music in the past 15 years and most Mondays he shares another two hours of expertise with all of us. The Hessle Audio show is truly a gift.
Diving into the nearly 200-episode back catalogue can be daunting so I'll leave you with an exemplary edition of each type of set: Ben's live set at Unsound Festival, his split show with Overmono, and his solo show from September 9th of last year. [Ryan Moloney]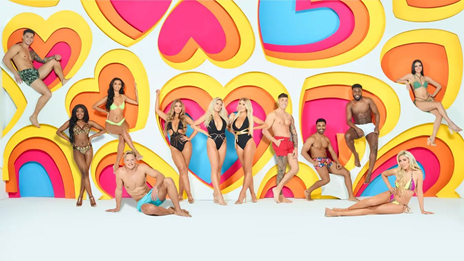 LOVE ISLAND S6
In mid-March, as I was making a mental list of all the media I could feasibly consume over the next few weeks/months/years, I remembered that there was a new season of LOVE ISLAND I had left untouched. In that moment, as it was quickly becoming clear that this was going to be more than a two-week situation, I made a tiny promise to myself. I read something recently that, in order to heal self-betrayal, one must make a small promise to oneself that is so small it's seemingly insignificant, and keep it. I made this tiny promise to myself in March that I would keep LOVE ISLAND S6 as a "break glass in case of emergency"—if there came a day when I was feeling supremely down, I could make myself a margarita and smash play. That day came on April 27, a particularly hot Monday, about a month-and-a-half after I first left work.
LOVE ISLAND has always been a balm to the soul—it helped me get through a particularly nasty fit last summer, and provided entertainment while I experienced career/personal ennui (see: depression) in the summer of 2018. Media that is crafted simply to distract is artwork in its own right, and something the Brits seem to have mastered (I mean, why else keep the monarchy around?). TOO HOT TO HANDLE tried it, but they didn't have the commitment. Eight episodes? Basically one night's entertainment and then I've moved on. No. Much like the hellscape we are currently experiencing, LOVE ISLAND is a marathon not a sprint. And all I want is 36 glorious episodes to transport me to a three-story villa somewhere in South Africa.
What is it about these absolutely no-thought, head-empty, sexy singles that keeps me coming back? It's basically a social experiment—at this point, the producers of THE BACHELOR are far too involved, the show is structured even in its seemingly "unpredictable" moments. LOVE ISLAND gives its contestants the air of control, enough that they AND the audience almost forget that this is a competition, so that when someone works the game in their favor you can't help but stick around for 15-20 more episodes in order to experience that rush just one more time. The islanders are, to quote John Mulaney, "young and dumb and easy to trick." But then, so am I. Their bevy of UK accents and unhinged Instagram brand-sponsored outfits lull me into a sense of security, and I can't help but form inane bonds with them. On Demi's first night in the villa, she asked what asparagus was and I quickly texted my friend "omg Demi is so cute we stan."
Which brings me to the ultimate appeal of LOVE ISLAND: the shared experience. LOVE ISLAND in a vacuum is still fun, I'm sure. But being able to scream "I FUCKING HATE REBECCA" 15 times per episode and have my roommate holler from another room, "WHAT DID THAT BITCH DO NOW" is what it's all about. What are we without group chats created exclusively to psychoanalyze a bunch of 22-year-olds from our couches? What is reality programming without searching #LoveIsland on Twitter and getting exceedingly furious about awful takes, dropping them in the group chat, and fighting with my closest friends? To quote seemingly every single Hulu commercial, "in these uncertain times, togetherness is what gets us through." And if mimicking every single contestant for two hours over FaceTime with my friend in Arizona is what gets me through this, then so be it. [Aya Lehman]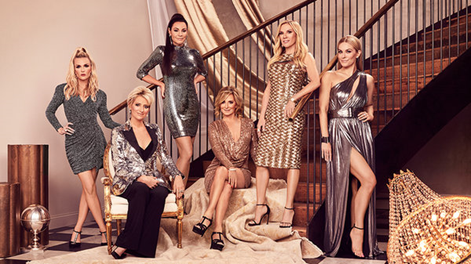 THE REAL HOUSEWIVES OF NEW YORK
The type of content that I've needed during the pandemic has changed as time has gone on.  In the beginning, during the early days of panic and denial and grief, I craved the comfort food kind: PARKS AND RECREATION, THE OFFICE, THE WEST WING—shows about nice people doing nice things and loving each other a little too hard. As time has stretched, however, I've found myself pining for comfort food of a different sort: angrier and more harsh—the stale, bad pizza type that makes you grimace despite an instinct to eat more of it. It's this mindset that led me to find solace in binging the first few seasons of THE REAL HOUSEWIVES OF NEW YORK. I'm mortified to say that I've noticed a particular fascination with the Reunion episodes: one-to-two-hour blocks of time, loosely "moderated" by Andy Cohen, where all five-to-six women scream over each other in some upscale Manhattan hotel. It's loud, callous, catty, and most of the time, indecipherable. I cannot turn it off. I say all this as a person who doesn't have a strong affinity for reality television. Watching reality shows has often left me feeling more stressed and uninterested than when I began. It's not that I don't see their value, they just don't do much for me personally. With that said, I was an early fan of RHONY when it first debuted on Bravo in the early 2000s. Though reality TV wasn't exactly new-new in 2008, RHONY felt distinct, addictive, and iconic in a way that kept me engaged for at least a season or two. Deciding to come back to it, I was curious about how it would hold up. In a lot of ways, it does. In so many others, it doesn't. The women are often awful: to each other, to their staff, to anyone else who dares get into their orbit. They're culturally insensitive, naive, and ignorant about the world outside their own respective bubbles. And yet, there's just enough warmth and friendship and, I'll say it, depth to keep me invested, against my better judgement. Maybe it's that I miss New York or cities in general and watching the housewives cram themselves into boat parties with hundreds of other people and touch doorknobs with abandon already feels archaic and fascinating. Maybe it's that I miss gossip: that thing we all do and hate about ourselves, but also need, and I can't help but sit up a little further when Ramona whispers about Bethany to Jill about signage on the step-and-repeat at Jill's big charity fundraiser. Or maybe, on an even deeper level, it's that as time has progressed and what's boiled inside me the most is not sadness or nostalgia, but rage, and having a direction for that anger that's not the President or the government or some sentientless deadly virus feels good. It's satisfying to be Team Bethany, but note that wow, Jill has a good point, and why is Ramona screaming, and I can't believe LuAnn actually said that, and freaking Alex, come on. There are iconic moments—the staples that I've never been able to get out of my head: Kelly telling Bethany that "you're down here, and I'm up here," complete with elaborate hand gestures; Countess (former Countess?) LuAnn dropping her first single; Simon Van Kempen showing up to Girl's Night, much to the chagrin of Ramona; and, finally, the image of Kelly running in literal traffic while a camera crew records her in the middle of midtown Manhattan. It's all of these things and the solvable problems that the show manufactures that feel so overwhelmingly intriguing in a time of such chaos and uncertainty, with so many problems that can't be solved with cheek-kissing and saying, "Are we good? We're good, right?" There will come a time (soon, I'm thinking) when I'll grow tired of RHONY again. Around S4, things start to come off the rails even more. The fights are louder and more flippant. The problems feel more contrived. The ability to root for anyone becomes less and less available. But for now, here we are. Here I am. Three glasses of wine deep, Googling "Where are they now," images as yet another argument unfolds on my TV. [Anna Thorup]