Lord almighty, summer 2019 is bleak. Mueller threw in the towel amongst leading Democrats' "thoughts and prayers" refute to pleads for an extensive presidential impeachment, we're met with weekly headlines of refreshing underdog cinema financially trounced by Disney product, and "Old Town Road" got its moody cover for a trailer not even six months after its SoundCloud drop, for *another* RAMBO movie no less! No matter which screen is your poison of choice, summer 2019's taken a disheartening head-first leap into media so indistinct that it may as well not even exist and current affairs so distinctly horrific that you pray for their nonexistence, so where's the next best direction to look? The future! Originally a Sundance premiere, where I acted a fool and missed it, and then programmed at South By Southwest, where I wised up and caught a screening, is GREENER GRASS, a sinisterly absurd comedy with a TBD release date that's become one of my guiding lights in a year where little makes sense.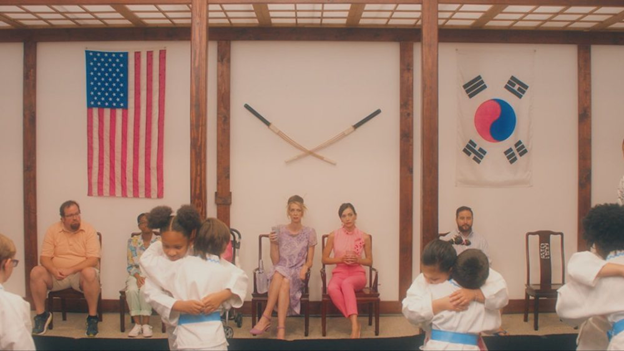 Keep the "thoughtful, clever comedy cinematography" trend going, folks, we love it
Based on a short film of the same name, GREENER GRASS is a surrealist exploration of suburban jealousies and petty rivalries set in a neighborhood of pristine lawns, golf cart locomotion, and invisible borders. No one ever leaves the suburb: will they? Can they? Jill and Lisa, housewives and best friends, certainly have no intention of probing the matter until a fateful dialogue on the bleachers of a youth league soccer match where Jill gifts Lisa her newborn baby. I mean, it makes sense: Jill already has a kid! Only fair Lisa gets one. too. Written by, directed by, and starring Jocelyn DeBoer and Dawn Luebbe, GREENER GRASS is a bold first-foot forward, but that it is effective as both zany comedy and chilling time capsule is impressive. You can take it on its face, or you can start zoning in on the budding narrative of the Caucasian upper middle-class experiencing the plight of treatment as chattel with transferable labels— it all depends on how much smoke you've inhaled.
While never close to veering into metaphysical comedy (God, I wish: could you imagine?), transient properties are the name of GREENER GRASS' comedy game. Preconceived truths are shifted at a whim, with the concept of self able to be molded at the drop of a side-eyed sally. Dream logic is as tantamount as aristocratic etiquette, many scenarios playing on the tension of which one will be the decorum of the moment. A restaurant-set double-date sees two impatient couples anxious for the food to finally arrive, but when it does, the waiter drops it all on the floor; naturally, the four rise from the table and, instead of leaving the restaurant, pick at the scraps on the floor through the shattered ceramic. It's hilarious! The joke is way too good to spoil, so I'll just say that the scene where Jill's son evolves from child to, eh, a new form, is the hardest I've laughed all year. While DeBoer and Luebbe stray from POSSIBLY IN MICHIGAN-type frights, it's thoroughly skin-crawling watching the odds and ends of white culture stretched to these logical and freakish extremes.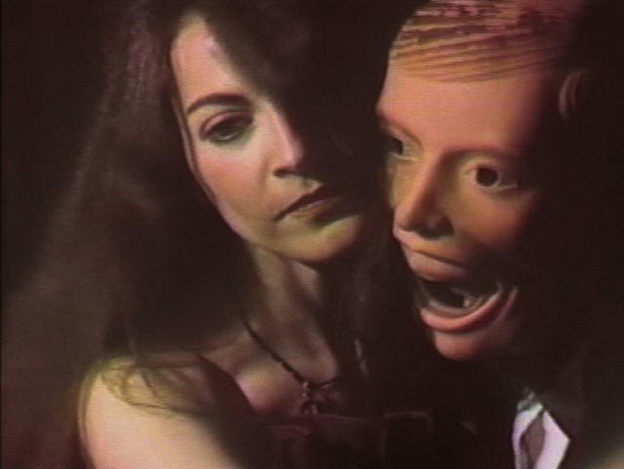 Psst… Hey, you! Have you seen POSSIBLY IN MICHIGAN?
While the proof-of-concept short was relegated to the soccer field, a larger production imprisons the viewer in the abyss of Lisa and Jill's home life. The brace-faced smooching is wetter, the husbands are dopier, and the pool water tastes so damn good. In 14 minutes, each gag hits in machine gun procession for comedy that hints at a darker core, but as a feature, sanity is able to languish as the characters combat the delusions of their daily existence. Many would have spun GREENER GRASS as 3:30 AM stoner comedy programming fluff, a concept that college-age viewers can call "weird lol" then move on. That is certainly what I feared the movie was going to be going in, but DeBoer and Luebbe capitalize on comedy to probe the existential, class-conscious dread of contemporary, performative Americana. Thankfully, IFC Films is looking to distribute GREENER GRASS in 2019 (under the IFC Midnight subsidiary), alongside Jennifer Kent's brutal THE NIGHTINGALE, another killer asset in the company's prudent festival acquisition strategy of counter-programming our unsolvable nightmare with empathetic genre parables.