A Douglas Sirk costume drama presented through the formal precisions of a Wong Kar-wai film. Barry Jenkins' MOONLIGHT follow-up is as directorial as they come: a steadfast commitment to all things light, color, performance, and composition, not leaving anything to chance. It's a storybook, an Old Hollywood melodrama repurposed for a far more complex ethnic backdrop. Turning the lens away from feuding bourgeois families to a rigged, oppressive system, Jenkins' star-crossed lovers are separated not by caste, but by misfortune and systemic racism.
IF BEALE STREET COULD TALK is a radical change in the way filmmakers compose romantic melodramas. Jenkins proves here that films don't have to opt for being full-on stage plays or expressionistic tapestries. Instead, they can be both. There is just as much Terrence Malick in here as there is Mike Nichols. What starts as a quietly formalist stroll through a park transitions into blunt-force, still-image expressionism reminiscent of Spike Lee's best work. A deftly executed handbrake turn veers the film into the theatrical, with an outstanding sequence involving lead actress Kiki Layne telling her family about her pregnancy. An ensuing outbreak with her mother-in-law (performed by a miraculous Aunjanue Ellis) sees the film at a notable highpoint, with Jenkins flexing a lot of thespian muscles that were rather absent in the more contemplative scene structures of MOONLIGHT.
What follows is a deep-dive into the trials and tribulations of Kiki Layne's ill-fated protagonist. As the love of her life rots away in prison, we witness her undying commitment to prepare a life for their child, struggle to clear his name, and put on a good face when she speaks to him behind bars. If Damien Chazelle used a wall of glass as his closing shot to symbolize the media frenzy and patriotic commitment that separates two lovers, Jenkins uses the same iconography to embody the harsh institutionalized racism of 21st century America: a fate nobody should ever have to endure. It's an incredible feat that Jenkins manages to utilize his flashbacks for emotional recourse, never stooping so low as to show us the particular event that lands Stephan James behind bars. Jenkins knows that some things don't need to be shown, allowing his film to dedicate far more time to the gentle touch our two lovers share.
What's unfortunate is that Jenkins sets up such a wonderful ensemble of key players in his first 20 minutes, only to never bring them back to the fore. Aunjanue Ellis never gets a second chance to shine, Michael Beach gets a handful of brief asides, Ebony Obsidian and Dominique Thorne never get paid off. It's rather strange—even disappointing—how much time Jenkins commits to introducing the allegiances between all these family members only to never actually do anything with them. If all of these individuals were meant to only serve the purpose of setting up that Kiki Layne won't have their support, then it may have been wiser to eradicate them from the film entirely. Obsidian and Thorne's interactions with Teyonah Parris are so emotionally charged and biting that it's a shame we never elaborate on this thread. What could escalate into a modern WHO'S AFRAID OF VIRGINIA WOOLF? instead detours into a good, but not quite as great, romantic drama.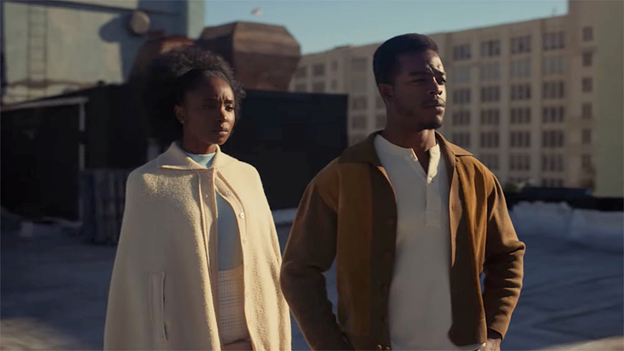 That doesn't mean that Jenkins doesn't find moments of transcendence in the rest of his picture. A sequence with James showing Layne the placement of furniture in their dream home is astounding in its humble poetry. Dave Franco's peculiar casting may not work for everybody, but it's a minor infraction at worst to a miraculous scene. Watching Layne's entire family travel far and wide to help their daughter, from turning to a life of crime to support the family to flying to Puerto Rico in hopes of clearing James' name, truly capture the minutiae of James Baldwin's fire and fury, a verbiage that is at both times elegant and clenching its teeth to hold back its internalized rage. Few films capture such novelistic qualities, and though IF BEALE STREET COULD TALK occasionally feels insecure about how strictly it wants to commit to dramaturgy or visual storytelling, one can't deny Jenkins' truly unique cinematic eye.