It's been four years since Netflix gave us BEASTS OF NO NATION, perhaps the first time the streaming giant flexed its biceps in front of the studio system, crafting a worthy opponent to Oscar-nominated action capers. At the time, the Cary Fukunaga picture was met with little awards attention, caught right in the middle of an "Oscars So White" scandal, and mostly left to fend for itself as the first original blockbuster made exclusively for streaming. It's a shame, really, because BEASTS OF NO NATION can still easily vie for the throne as Netflix's very best enterprise. If not that, then it's surely its most singular: political, riveting, and anchored by two outstanding performances from Idris Elba and Abraham Attah. If released in theaters by a major studio, it could have been an Academy favorite.
In the following years, Netflix committed to a slew of original films that shied away from the bombast of Fukunaga's African war epic. Sure, for every 10 or 20 HUSHs, BLUE JAYs, TALLULAHs and BARRYs we got one CLOVERFIELD PARADOX, but the intention of making a triple-A action film that viewers should actually take seriously became second priority to the likes of OKJA: sillier, and admittedly bolder, directorial ventures. Hell, love it or hate it, even David Ayer's 90-million-dollar-cop-fairy-tale BRIGHT was very much its own absurdist fantasy when compared to much of the action fodder theaters were still mainlining.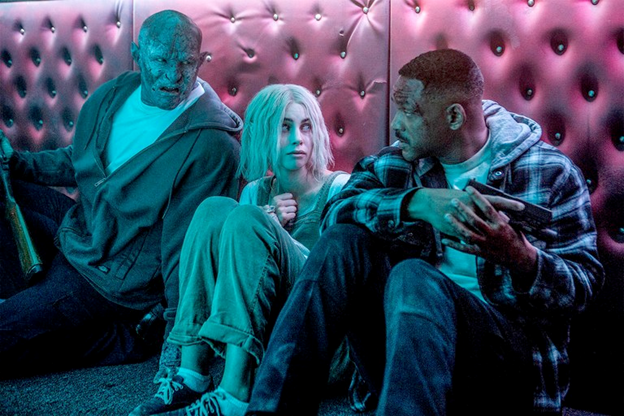 Definitely weirder than 36 HOURS
So it's no surprise that after a frenzy of well-reviewed indie darlings (everything from THE MEYEROWITZ STORIES to I DON'T FEEL AT HOME IN THIS WORLD ANYMORE) and the monolithic success of ROMA at the Academy Awards, Netflix finally felt ready to jump back into the ring with an all-out action movie. But this time there would be no orcs, no super pigs, and no child soldiers: just pure testosterone. It's a safe choice, to be sure, and with the additional clout of Oscar Isaac, Ben Affleck, Charlie Hunnam, Garrett Hedlund, and Pedro Pascal on their shoulders, Netflix should have had a rock solid action movie on their hands.
On paper, TRIPLE FRONTIER (I'll be honest, the title remains lost on me) reads as a cross-blend of 12 STRONG and THREE KINGS, a heist film about mercenaries stranded in the thick South American jungle. It's basically Netflix's Peter Berg film, loaded with two heavyweight superstars and three semi-celebrities covering their six. All that is to say, yes, TRIPLE FRONTIER does kind of feel like a film written by an algorithm. Anyone who's played through the campaign of BATTLEFIELD: BAD COMPANY will spot similarities, and the self-serious attempt at political commentary reads as an unpolished salute to the likes of AMERICAN SNIPER and THE HURT LOCKER—all insofar that this is an American gamer-guy's film through and through.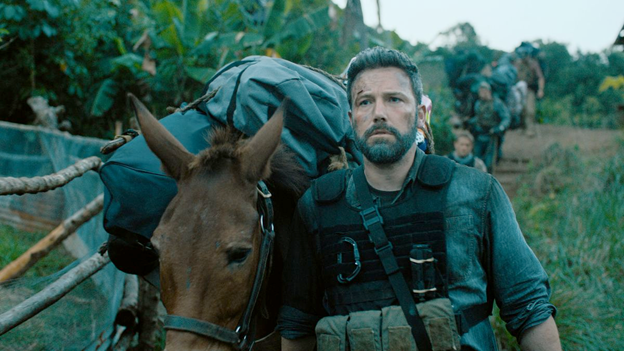 Call of Duty cutscenes abound
It's not a coherent movie by any stretch of the imagination, many of its set pieces begging credulity to the point of slapstick comedy. It's hard not to imagine a (better) Coen Brothers spin on the same story, with its five protagonists stubbornly refusing to dump the 200 million dollars they stole in favor of surviving their ride home. Enlisting J.C. Chandor as TRIPLE FRONTIER's director is probably part of the problem here, because Chandor's prior efforts have been outstanding, taught dramas about human survival, films littered with complex, conflicted characters that stand diametrically opposed to the more cardboard archetypes presented in TRIPLE FRONTIER.
If MARGIN CALL proved Chandor's capacity to wrangle a stellar ensemble in a chamber piece, and ALL IS LOST showcased his visual-storytelling dexterity, then A MOST VIOLENT YEAR assimilated those two qualities. By that same token, TRIPLE FRONTIER shows that Chandor's not the perfect fit for a film that tries to wax poetic about the hardships of American veterans. It's surely possible that Mark Boal's (who wrote all of Kathryn Bigelow's films) involvement as a co-writer affected the preachiness of TRIPLE FRONTIER. But what's undeniable is that Chandor could have taken this narrative into a hundred exciting directions, and instead chose to funnel it into a boulevard of clichés.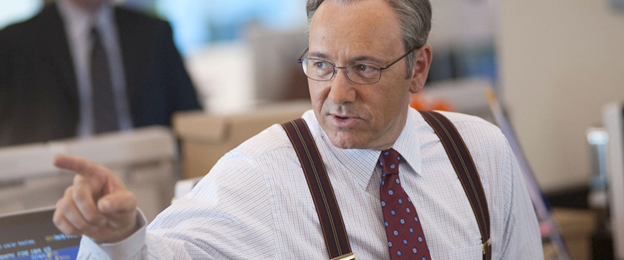 Okay, maybe MARGIN CALL didn't age thaaat well, either
But none of this dismisses Chandor's actual directorial talent. If anything, TRIPLE FRONTIER's set pieces give us all the visual dynamism one could desire from an action filmmaker. Chandor is geographically coherent, his camera tight but not too showy, and his use of practical effects an aesthetic delight. He knows how to film military-grade squad combat, and there's certainly a place for that in modern cinema. If HOLD THE DARK was Jeremy Saulnier's audition tape for TRUE DETECTIVE SEASON 3, then TRIPLE FRONTIER cements Chandor as a director for a SICARIO sequel—not that that's something anyone really wants.
What this means for Netflix is a little dubious. What is clear is that the streaming giant is no longer a bit player in the awards game. With a number of exceptional indie and art-house releases under their belt, Chandor's film serves as perhaps their most decisive effort on refocusing their sights on machismo action. And sure, TRIPLE FRONTIER isn't exactly a Michael Mann film, but it's also not a Michael Bay film, which is to say that Netflix can rest assured that they are in no way making blockbusters that are lower in quality than what Mark Wahlberg is ushering into the average multiplex. It would be nice to see Netflix give us something on par with BEASTS OF NO NATION again, but perhaps more pressing than that remains the question of when they will make their Matrix, their Pirates of the Caribbean, or their Terminator!