We're back, baby! After our long autumn nap, the dutiful staff of The Magazine Formerly Known as Crossfader is ready to dive right back into the wild world of Peak Television. We can't wait to get back to business with our regular round-ups next week, and in the meantime, here are some highlights from the last few months we've been away.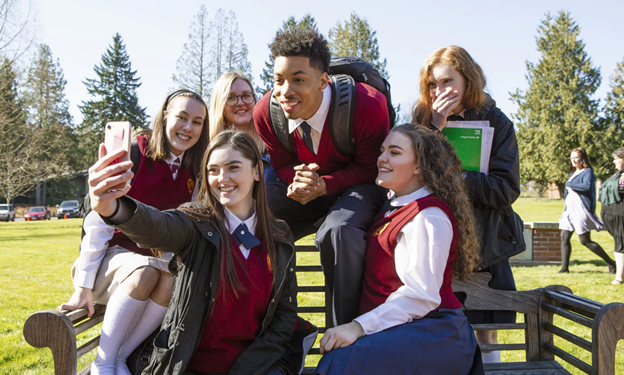 AMERICAN VANDAL SEASON 2 (Netflix)
This has been cancelled because everything I love dies. If you haven't seen season one, I maintain that it is truly one of the best crime shows I've ever seen, dick jokes and all. Season 2 is… not as good as Season 1, which is not to say that it isn't worth your time. It still lays out a compelling mystery, and it still uses that mystery and the characters involved to make an unexpectedly nuanced point about the hardships of teen life. Season 2 opens by mocking itself, and then heads into the mystery of the "turd burglar," a mysterious new villain who put laxatives in the school lemonade, causing a "brown out." Other attacks follow, and Tyler and Peter delve into exonerating Kevin, a student who claims he was coerced into confessing. Season two's more serious crime gives it a slightly heavier tone overall, but AMERICAN VANDAL's knack for achieving dead-on representations of high school tropes and stereotypes keeps it sharp. Also, despite its jokes, it deliberately avoids taking overly cheap shots at teenagers, and instead opts to use the season to explain the characters' various personalities and behaviors. Behind all the shitty puns (sorry), AMERICAN VANDAL landed another solid season. It's eight episodes and it's immensely entertaining—making fun of crime shows while also being an extremely excellent crime show is a feat worth watching. [Teresa Zarmer]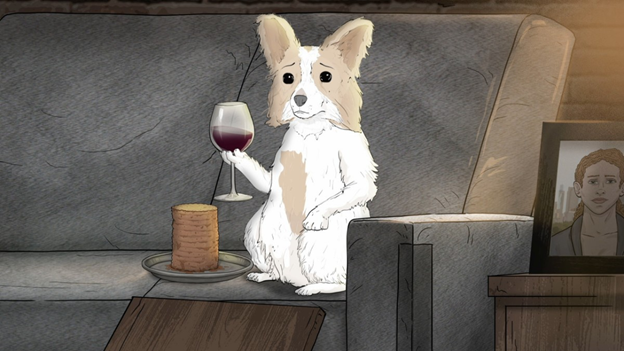 ANIMALS SEASON 3 (HBO)
Like AMERICAN VANDAL, this has ended, because again, everything I love dies. Unlike AMERICAN VANDAL, the most recent season of ANIMALS is my favorite. Season 3 sees New York City after it's become an animals-only island, with each neighborhood being the territory of a different species. The improv and riffing by the show's creators and lead voices maintains its "blink and you'll miss it" quips and references, and it remains one of the few shows that can consistently get a decent snort-laugh out of me. Season 3 gave us an equestrian Downton Abbey, a seriously impressive roster of guest voice actors (Lucy Liu, John Mulaney, Gina Rodriguez, Jameela Jamil, and more), an episode that wasn't about animals at all, an entirely live-action episode, and the only time I've ever been invested in an argument about Adam Sandler. I truly don't know if creativity, idiocy, or audacity is the right word to describe it, but with all of the (deserved) talk of the excellence of BIG MOUTH and BOJACK, it would be a mistake to leave ANIMALS out of the adult animation conversation. Its originality and weirdness have made it a personal favorite. This final season felt like a victory lap that stuck the landing, and at least with the Duplass' new overall deal, we can look forward to what Mike and Phil will delight us with next. In the meantime, please watch ANIMALS. [Teresa Zarmer]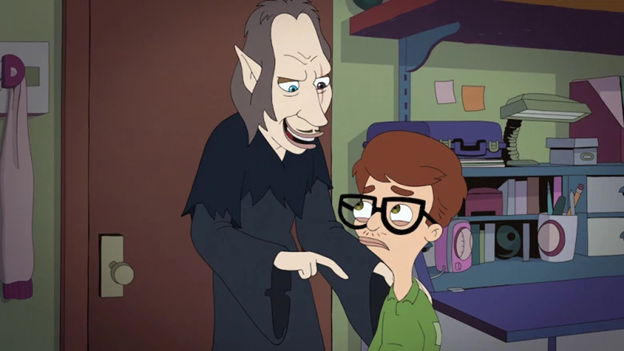 BIG MOUTH SEASON 2 (Netflix)
When Nick Kroll's BIG MOUTH made its premiere on Netflix, it captured a fantastical and comically surreal sense of adolescence that felt simultaneously fresh and painfully familiar—who amongst us doesn't have an awkward Middle School story about popping a boner in gym class or getting our first period in study hall. Physically manifesting the idea of puberty into horny and angsty imaginary friends known as "hormone monsters" (voiced primarily by Kroll and Maya Rudolph) captured the insane sensibilities Kroll developed on Comedy Central's THE KROLL SHOW, while also embodying the horrors of youth in a new way.
While the show's gimmick certainly seems to have an expiration date in regards to how many stories can be told and reinvented, it shows no signs of slowing: Season 2 is a vast improvement that builds its narrative much more carefully and with a keener eye towards the emotional fragility of the show and its teenage subjects. While potty humor and over-the-top sex jokes are still a fundamental backbone, topics like #MeToo and men's rights, the lasting effect of divorce, slut shaming, depression, and a season wide theme about shame (an emotion brought to real life by David Thewlis' Shame Wizard) elevates what could be an otherwise obvious and broad adult animated show. The sketches remain laugh out loud funny and there's a connectedness to that season-long, shame-centric arc which fleshes out the world in a satisfying way, using every bit of creativity that the animated medium allows. While BIG MOUTH initially pitched itself as more of a cumming-of-age story than a coming one, Season 2 makes a BOJACK HORSEMAN-esque pivot to find a sensitive humanity in our formative years. [CJ Simonson]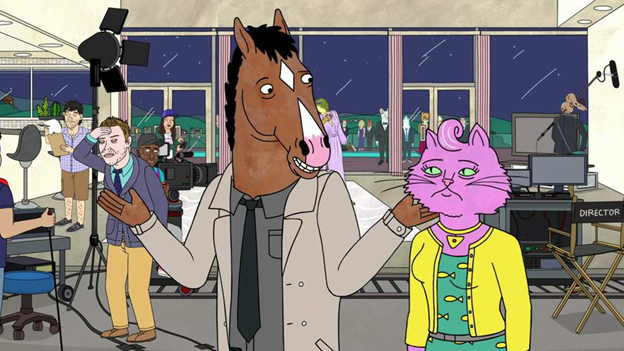 BOJACK HORSEMAN SEASON 5 (Netflix)
How can a show built around terrible people who never change manage to evolve for five seasons straight? The latest chapter picks up where we left off: Bojack stars in a prestige cable crime drama produced by the indomitable Princess Carolyn, recently-divorced Mr. Peanutbutter lands himself a supporting role, recently-divorced Diane consults in the writers' room, and Todd inexplicably stumbles into a high-level executive position at What Time Is It Right Now. com. This plays out exactly how anyone might expect, but BOJACK (the series) continues to surprise. Taking note of the success of Season 3's breakout underwater episode and Season 4's "Time's Arrow," it challenges its form this season in "The Dog Days are Over," (a personal favorite) "Free Churro," "Mr. Peanutbutter's Boos," and the explosive "Showstopper." And while not as on-the-nose as last season's gun control episode, it offers poignant meta commentary on the #metoo movement framed by its own potential culpability in normalizing men's shitty behavior. Season 5 will make you laugh until you cry, and then just keep crying and crying. My only concern is that I have no idea how the best show on television (animated or otherwise) can possibly top itself—but then again, that's what I said after Season 4. And 3. And 2. [Kate Brogden]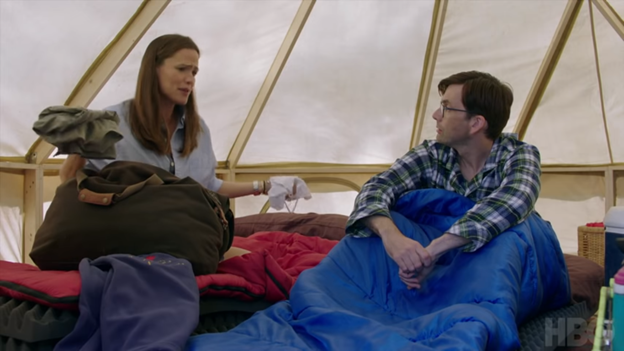 CAMPING (HBO)
HBO loves to border their high-octane primetime dramas with a couple of palate-cleansing comedies to take the edge off. This year's candidate to join the ranks of SILICON VALLEY and VEEP is CAMPING, a premise not nearly as ripe for content as politics or tech companies. CAMPING knows that it can't get away with a montage of bees and bears chasing Jennifer Garner and her diversely dysfunctional family. What it comes out as is a polished old-school sitcom that just happens to take place at a campsite. The trashy, brash characters gross out the nerds with weirdly specific needs, and nobody in the cast stands out aside from the delightful but underused campgrounds managers Harry (Bridget Everett) and Nan (Yimmy Yin). Some genuinely tense moments get peppered into later episodes, but cringe comedy has to pass a high standard these days. CAMPING works hard to produce meager results, but hating on it feels misplaced. It gave me a vague sense of warmth and security akin to watching SEINFELD or FRASIER as I drift off to sleep. It's not designed for gut-busting laughs, and that's okay. Consider CAMPING for your next bedtime companion. [Dan Blomquist]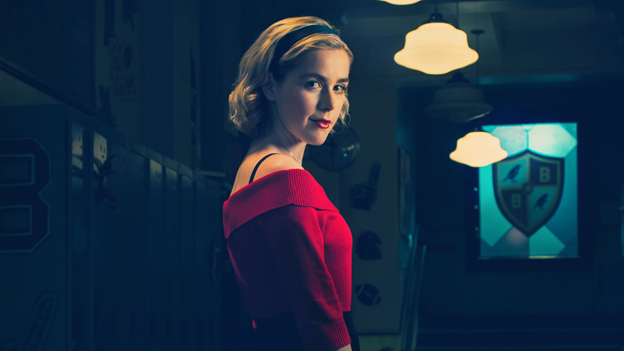 THE CHILLING ADVENTURES OF SABRINA (Netflix)
I shouldn't be surprised that lightning can strike twice, but I wasn't expecting it to be this committed to Satanism. THE CHILLING ADVENTURES OF SABRINA is Roberto Aguirre-Sacasa's second adaptation of the extended Archie Comics universe (originally intended for The CW), and while it carries a similar ridiculously melodramatic tone (it is to America's great misfortune that beautiful, stupid people are endlessly compelling), it immediately sets itself apart with graphic violence and surprisingly literate Satanist talking points. As a Netflix show, the tech money rears its head in the top-to-bottom immaculate production design and cinematography; Also, perhaps surprisingly, is the show's steadfast commitment to the diverse experiences of marginalized groups, even if its bite is dulled by its more traditional liberalism (something RIVERDALE stabs at, when not caught up in its convoluted plot). Ultimately, the show feels more refined than its CW cousin, more adept at juggling "issues," and more interesting for its bizarre, witchy worldbuilding. It suffers through its heavy serialization and occasionally clunky writing and performances, but comes out a more promising horse. A more sustainable show about stupid hot people/Satan-worshippers. [Ian Campbell]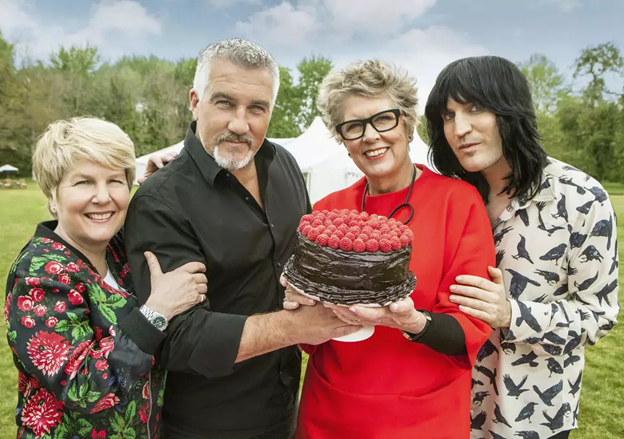 THE GREAT BRITISH BAKING SHOW SEASON 8 (Netflix)
Like many on both sides of the pond, I was dubious following the exit of Mary Berry, Sue Perkins, and Mel Giedroyc from the world's most beloved wholesome reality TV program (Yeah—I said it). Gutting the core cast that held the show together through seven incredible seasons forces us to consider: what truly makes THE GREAT BRITISH BAKE-OFF great? Viewers will definitely feel the absence of our former hosts, but Prue Lieth, Sandi Toksvig, and Noel "Old Gregg" Fielding prove themselves as worthy replacements virtually out the gate. They have strong chemistry with one another and with the contestants—though Noel is the real stand-out with his awkward charm and incredible selection of shirts. Most importantly, they don't feel like they're trying to recreate the magic of the former cast. They're making it their own. GBBS traditionalists may balk at an extended bit where everyone has a laugh about a contestant's phallic bread sculpture, or the slightly pandering way the series highlights moments of cooperation between contestants, but it still feels like the show it always was. Turns out, what really makes THE GREAT BRITISH BAKING SHOW GREAT is just plain ol' great British baking. [Kate Brogden]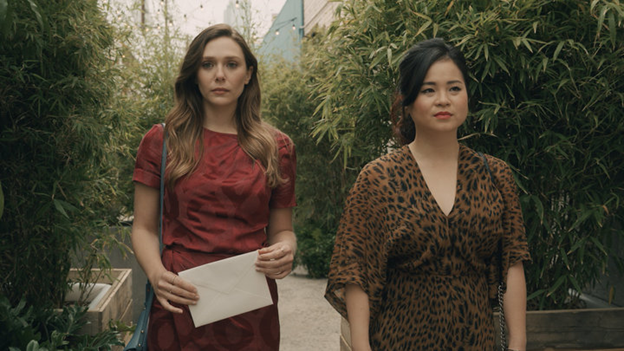 SORRY FOR YOUR LOSS (Facebook Watch)
Upon seeing the ad for Facebook's SORRY FOR YOUR LOSS, I had anticipated it leaving a bad taste in my mouth. I was pleasantly surprised when it didn't. In a lot of "grief" narratives there are two problems. The first is that it feels that the narrative is only progressing for the sake of a show. The other, specifically prevalent in heterofemme-based grief narratives, is that the focus is all about the deceased spouse, with the inevitable throughline of "he was such an indescribable, fantastic person how will she ever get on"? SORRY FOR YOUR LOSS adheres to neither of the two, thankfully. Elizabeth Olsen as Leigh Shaw saunters through the narrative with her pre-aligned cynicism and off-color dry humor as if these characters and situations are thrown at her arbitrarily. In doing so, the show lets the audience perception directly parallel Leigh's, and thus makes us feel that much closer to her. The role, which she plays brilliantly, is about Leigh and Leigh alone, letting her experience the trauma and turmoil as the woman she is. As well as some, hopefully not pandering, inclusion of characters of color, including our lord and savior Kelly Marie Tran. If you find yourself inclined, give SORRY FOR YOUR LOSS a chance, and when you're done, watch CATCH AND RELEASE with Jennifer Garner. [Jesse Herb]