With AFI and USC dominating this year's seven finalist slots, this year's batch of Student Academy Award nominees continue to highlight a diverse, colorful blending of genres from filmmakers of all walks of life. Whether feminist dystopian sci-fi or electrically choreographed musicals, there's something here for everyone, and it shows in the backgrounds of each of these talented directors. In this interview series, Film Editor Sergio Zaciu sat down with all seven finalists of 2019's Narrative – Domestic section, hoping to learn more about their personal backstories, what brought them to the director's chair, how they made their respective films, and what exciting prospects await them next in their careers.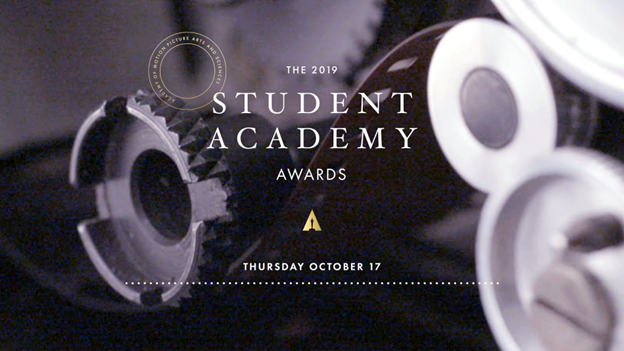 USC had two films advance for the Student Academy Awards this year, each completely different from the other. The one thing they happen to share is cinematographer Brian M. Tang. Caroline Friend's undergraduate thesis film, UNDER DARKNESS (Friend is the only undergraduate student to proceed to the finalist round this year), is a grim, but ultimately hope-inspiring true-life Holocaust story. Tracking the pivotal days in the life of Faye Schulman, a Jewish photographer-turned-Eastern-European-partisan-soldier, Friend effectively and harrowingly dramatizes the looming threat of Nazi oppression through the eyes of a young warrior. Most impressively, Friend didn't simply use transcripts, photographs, and interviews to set the foundation for her story, but flew out to actually meet the real-life Faye Schulman to help ground her cinematic retelling of Faye's life.
Can you talk a bit about yourself, your background, and what brought you to the story?
I've always been interested in historical stories. At USC I double-majored in film production and history. My first semester in college, I interned at the Shoah Foundation, which has thousands of incredible testimonies from Holocaust survivors. It really impacted me how important it was to these survivors that their stories are preserved for future generations. A few years later, I was applying to a short film grant from the Sloan Foundation, and thought of centering my project on the theme of photography as an important historical record. I found Faye Schulman's photographs online, and was incredibly inspired by them and her story with the Partisans in Eastern Europe. It was a whole side to World War Two I didn't know much about, so it was really interesting to research and put my application together. I am so grateful to the Sloan Foundation chose my project, and that's how this all began.
Did you have to do this through a class?
I received the grant through USC and the Sloan Foundation, which could have gone towards my thesis. But since you don't really do a thesis in USC's undergrad, I was put into a special grad course.
Was your team composed of mostly undergrads?Yes. We were all undergrads or our first semester out! And it was awesome having real funds to actually make something!
When you created your project, did you have any visual references other than the photographs by Faye?
Yes, I found a lot of other photographs from the time period that we used as visual references for costumes, hair and makeup, and production design. It really was two steps: figuring out what Faye's world would have looked like, and then finding what we could use around us in modern day Southern California to pull the look off.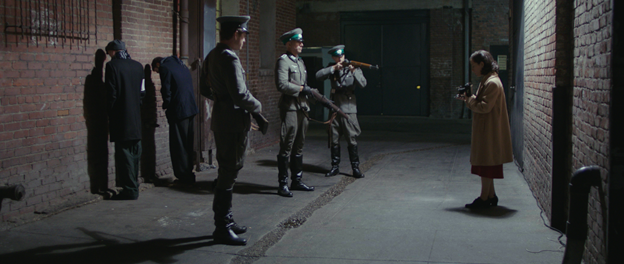 Did you have any references of pre-existing movies that you used?
There are so many amazing Holocaust and WWII films. I watched DEFIANCE a lot in pre-production because that actually follows partisans in Eastern Europe. Also the PIANIST and THE ZOOKEEPER'S WIFE are two other great movies that I was visually inspired by when creating this one.
How did you communicate the tone you were going for to your crew?
That's a good question. For me it was really important to sit down with each key crew member one-on-one and have a conversation. I was lucky and actually met with Faye Schulman. I tried to use her thoughts as the guiding light throughout every aspect of the movie. When I spoke with Faye, I wanted to understand not only the details of her life, but also what she wanted to share with the world. She really emphasized the tragedy she experienced, as well as how important those photographs are to her. I had a recording of my conversation with Faye that we all listened to as a team and talked about how we could incorporate it tonally into the movie. Faye was such a fighter and a survivor, I wanted every decision we made in the movie to showcase that.
Well, first of all, I didn't even to think to ask if Faye is still alive! But that's amazing! Can you please talk about that?
Definitely. I was connected with her through the Jewish Partisan Educational Foundation (JPEF), which is a museum in San Francisco. I first talked to Faye's daughter on the phone, and then decided to go out and meet them both in person.
Where does she live?
Toronto.
Did you fly out there?
Yes. It was really important to me. I had never met a Holocaust survivor and I know there won't be too many opportunities to do so in the future. For me, a 20-something girl living in the United States, the hardships of World War II feel very distant. When I spoke with Faye in person, though, and she showed me the photographs she physically took, it all becomes very real. I knew more than ever I had to do my best to honor her and other survivor's stories. I have never worked harder on a project in my life.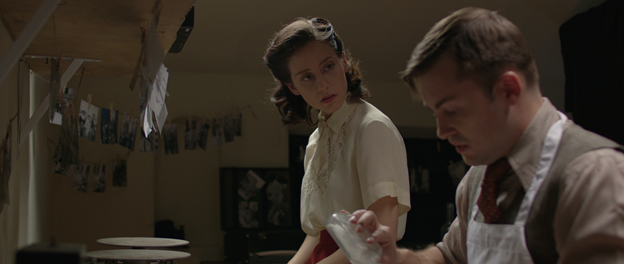 Where did you guys shoot the film? What was the process of creating a believable period piece with the budget you had?
I was really writing the script with the budget and what we had access to in mind. We had to shoot in Southern California, so it was challenging to find locations. I wrote the script with three spaces in mind that I thought we could find: an Eastern European forest, a street in Faye's town, and the inside of her house. It all worked out, but I think securing locations was the hardest part of the whole filmmaking process. We actually found a mini-pine tree forest in the backyard of someone's home in Big Bear, which is what we used for all the Partisan camp scenes. Our production designer completely decorated an empty house in Pasadena to make it look like it was in the 1940s. The hardest location to find was a believable Eastern European street. I swear we looked at every brick building within a 60-mile radius. I'm pretty sure we found the only one that even kind of worked.
Where was it?
Downtown Pasadena. It's called Kendall Alley. We had to shoot there on a weeknight. It was really noisy (there was a bar blasting music) and we ultimately had to do a ton of ADR, unfortunately. But I'm really happy with how it looks.
Well, as an Eastern European, I can say you did a pretty great job selling it!
Oh wow, that's great to hear. Yeah, it's really about finding the right angles. The one thing I really wanted was a cobblestone street, but I couldn't find that in California.
What was your collaboration like with your DP? He also happens to be the same DP for BOLERO, another Student Academy Award Finalist, so I'd love to hear about this experience.
His name is Brian Tang and he's amazing! I've known him since Freshman year at USC, and we started working shortly after. When I was 19 we made a World War One film together on no budget. Then we made a civil war film and then this one!
A lot of war movies!
Yeah, I'm kind of on a theme here. But working with him is great. He really sees the film in his head. He brings a ton of ideas and we decided what look we wanted overall. We were lucky and received the Panavision New Filmmakers grant for half of the production, and used the school's cameras on the other half of the shoot. But I think we are especially proud of how the exterior night scenes came out. Brian did such an amazing job lighting everything with very little money and equipment, but still capturing it with the look and tone we agreed upon.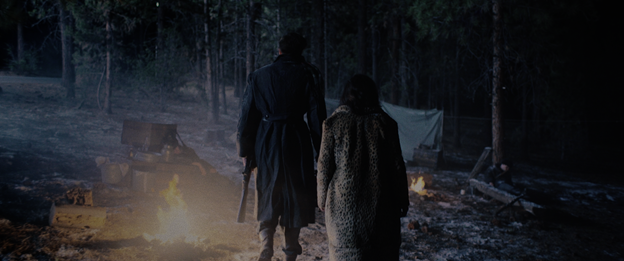 You did something interesting with the shutter speed. Can you talk about that?
I had this idea from when I first wrote the script to bring the audience out of the flashback by showing the exact same shots from earlier, but with an artistic twist. I had originally pictured to do this part in slow motion, but honestly on the day of in Big Bear, Brian suggested playing with the shutter speed. I'm so glad I trusted him because I loved it when I saw it!
There's a great shot early on of the protagonist running uphill. It looks like there's some VFX going on. Is that true?
Actually, no. That's all in camera! We're really far away from her (and yes, it is just someone's backyard!). Kally Khourshid, who plays Faye, had to run up that hill, as did Brian. We had to do this shot on a gimbal so Brian and his spotter could run up this super steep slope like 10 times.
In terms of post production, was there anything unique to the process?
Post is always interesting because you finally see the film you have. There's something really fun about post because you begin to work with tangible problems. You no longer deal with locations dropping out and things being out of your hands. I'm a firm believer that you have-what-you-have and you can make the film work with a lot of attention to editing and sound. And so we focused a lot on cutting the film down, making it fly better, and pushing the story. But I have to say my favorite part of the entire process was hearing musicians perform the soundtrack that our composer, Duy Tran, created. It really brought the whole movie to life.
You guys just got back from Telluride, so congratulations on that! What's next for you?
As a filmmaker, you should always be working on something, so I've got a few projects I'm developing. I definitely have another short in me so we'll see about that!
Amazing, thank you so much for talking.
Thank you!
Catch UNDER DARKNESS at the festival circuit and keep your eyes peeled for more of Caroline's work in the future!