I'm not sure what you might remember about the awards sequence in BOOGIE NIGHTS, but when Mark Whalberg's Dirk Diggler accepts his award, he stands behind a red curtain that feels more fitting for a prom king than a well-endowed actor whose industry creates some of the most sought-after media in the world. "I don't know what to say," Diggler delivers sheepishly. "I guess, uh, I guess the only thing I can say is that I'll promise to keep rocking and rolling to make better films," he says to a couple hundred somewhere in the Valley.
Just as home videos signaled a radical sea change for Burt Reynolds' Jack Horner in BOOGIE NIGHTS, so too has the internet decades later changed larger conversations about porn and sex, and while Paul Thomas Anderson's masterful film depiction of the adult entertainment industry is, to put it lightly, cut-throat, by contrast PornHub's depiction of the industry for the past decade has done plenty to soften that image. From major unconventional charity efforts to an attempt at making porn a more inclusive world, PornHub, simply put, is offering a view of adult entertainment that is more progressive than it was during the moment Dirk Diggler promises to keep on rocking and rolling.
All this said: I'm fairly confident the idea of the 2019 PornHub Awards would've absolutely shattered people's minds in the 1970s, and if there's any justice, it should shatter the way other major awards shows approach their own televised self-indulgence. Infamously in 2018 Kanye West was announced as the creative director of the popular adult site's first ever awards show, and in their second year they've figured out ways to remain compelling (subject matter aside) in ways where other shows remain under a constant hotbed of scrutiny—and no, as easy as it would be to solve the Oscars' problems with fake tits and tasteful nudity, that's not what PornHub has done.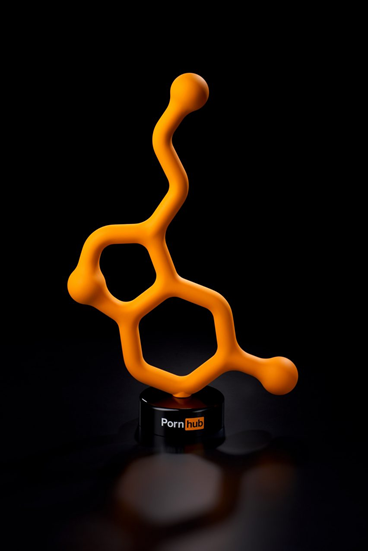 Even if we know what this is, really, and what it will be used for, inevitably, isn't the design of this award sick? You'd rather have this than a Tony, be honest.
For an industry that has certainly made a pretty penny on hidden camera and amatuer filmed videos, immediately the most striking thing about the 2019 PornHub awards is just how cinematic they look. With absolutely no trace of hyperbole, I can say it's the most gorgeously shot awards show I've ever seen. When more formal awards are being announced, the lights drop on the presenters to only reveal their silhouette behind a large LED wall, giving a pseudo-Bond girl and guy visual in the awkward moments between the presenter announcing the category and the voiceover delivering the nominee names. It's a simple screw-up during every awards show that's solved with visual flair here. The pre-taped bumper videos used to play transition between awards, part comedy and part self-aware soft-core porn, were a cut above 90% of the most professional videos hosted on the site, cheeky but captivating while remaining somewhat silly. Even the awards themselves, designed by Peter Saville (you know, the guy who designed the cover to Joy Division's UNKNOWN PLEASURES), were fascinating.
The musical performances, of which there were several, ironically draw a ton of inspiration from Kanye West's live show visuals, recalling his SNL 40 showing or his many Grammy performances. Stark shadows and intense colors combined with a deliberate visual regalness to make for some of the best on-air performances I've seen all year. And these are legitimate A-list stars giving some of the most interesting visual displays of their careers: Bad Bunny, Rico Nasty, and Kali Uchis, each with music video-level quality performances. Ty Dolla $ign came out at the end of the show to do a performance with some strobing, rich video graphics illuminating the screen behind him, the camera hypnotically moving in and out as choreographed dancers attempted to make the feature rapper's lackluster music more interesting than it actually was—and they succeeded! Benny Blanco serving as Musical Director and Art Director paid huge dividends for the whole show (Ian Isiah, in particular, gave a dizzying show).
The 2000-cap room of the Orpheum in Los Angeles became a kind of dual performance art/awards show space, clearly building on the vibe and energy that Kanye envisioned last year while instead feeling like a proper awards show with a sense of elevated pageantry, featuring a bigger stage and a slightly more traditional layout. In a more surreal move (and one of the weirder moments of the night), Bella Thorne received a directing award which, I guess(?) is a play towards something truly legitimate even if it felt somewhat unnecessary. Because the entire experience was seemingly shot with the care and eye of a feature-length film, the subtext of the show's potentially naughty content was stripped away—there's no gratuitous or over-the-top nudity (the occasional breast or butt appeared on the screen behind the presenter, but nothing extreme) and even the in-between sketches, which were groan-worthy in their own right, moved with a briskness thanks to host Asa Akira, whose talents as a genuine host shined through while others awkwardly slotted in.
What was left was some amazing, eye-catching music and some blink-and-you'd-miss-it speeches. In structure, the show was closest to the Grammys, which despite being arguably the least relevant or seriously considered awards show, are 100% the most entertaining to watch. Long ago CBS stripped the Recording Academy's presentation of any actual awards, relegating them to a non-televised pre show, and instead consistently delivers a three-hour ordeal with five-to-six major awards and a slew of huge big name musical performances and collaborations. And while purists will argue that we deserve to see more awards on screen, the Grammys know that 90% of people are only tuning in to know what to talk about the next morning, be it a band playing or a Taylor Swift-Kanye VMA moment.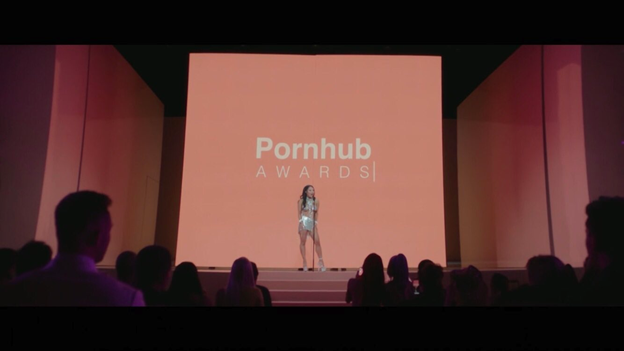 I had only come to the site for the articles but ended up getting this tasteful camera and stage setup instead
The PornHub awards were similarly all-killer-no filler. Being streamed on the internet helped move things along, and while that's perhaps too progressive for other awards shows to consider given ad revenue and network deals, the high quality, no-commercial stream was nonetheless a pretty obvious way to cut down elongated runtimes and something I imagine smaller shows inevitably turn to in the future. Awkward acceptance speeches were a theme—these folks aren't public speakers, obviously, and there aren't a ton of people to thank, so the two-line mic drop was a common move throughout the night. But perhaps most progressive of all was the montage of winners they'd deliver throughout the evening, avoiding listing out nominees while  letting folks know the awards were in the lobby for when they left. The Oscars rightfully got told off this year when they announced they wanted to cut categories like Best Cinematography and Best Editing from the telecast, and while I firmly believe those are categories that should remain, there was something refreshing about the way the PornHub Awards just plainly listed out "Zam Zaddy: Top Daddy Performer? Zilv Gudel." It was delivered as quickly as you could read it and (sorry) it was arguably as captivating as most mid-tier Oscar speeches, but done in half the time.
"You know, it seems we make these movies… and sometimes they're considered filthy or something by some people," Diggler admits. "But I don't think that's true. These movies we make, they can be better." The entire time I was watching the PornHub Awards I couldn't help but consider what a cut above the average award show the entire package was; yes, at the end of the day this was an award show by one of the biggest sites on the internet for pornography, but it also felt painstakingly considered, artful yet straightforward, visually compelling yet conceptually erginomic. Stigmas be damned, if not the movies, the awards shows they made are better, and Diggler can rest in peace knowing that.