It's no secret we're living in trying times. Here's what's helping the Merry-Go-Round staff stay sane this week.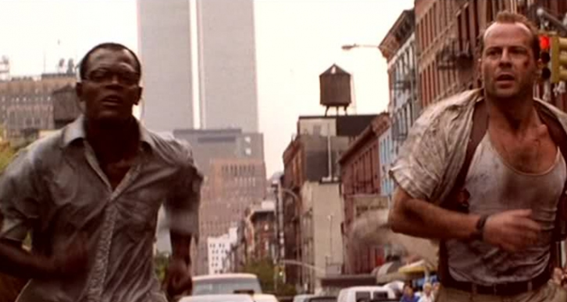 DIE HARD WITH A VENGEANCE
Look, right out the gate, let's realize that the third DIE HARD is the best DIE HARD. Sure, McTiernan's legendary first go-around with Willis is a practice in immaculate screenwriting and spacial geography, transforming a Los Angeles high-rise of rectangular office spaces into a maze of death, but what if you start with a maze of death? The heart of Manhattan, to be specific. In DIE HARD WITH A VENGEANCE, which celebrates its 25th anniversary this week, unsung action maestro John McTiernan proposes his $90 million American remake of Jacques Tati's PLAYTIME (major thank you to Dylan Comay of Chapman University's Film Society for even thinking to program the two as a double feature), the sweeping, bitterly comic exploitation of an apex metropolis through shut-downs of its most basic capabilities. The BATTLE OF ALGIERS-type department store explosion in the film's first two minutes immediately establishes the no-nonsense scope of the antagonist's reach, captured by McTiernan's camera bobbing and weaving through the cityscape like a rattled civilian. When you need to be on the ground, you're licking the pavement. When you need to bear witness via a bird's eye view, you're a hawk with shredded pigeon in your talons. It's muscular, peak location filmmaking that recognizes the truthful ins and outs of the city it decides to make its playground.
Jeremy Irons, so delicious that he makes the "the first movie's villain's brother!" trope exciting for once, cackles as his simple trickery corrals NYPD officers like a stream of cattle. Undermining a city's entire infrastructure shouldn't be this easy, but as we learn in 2020, it's all too achievable. Samuel L. Jackson, fresh from a star-making PULP FICTION, is electric against Bruce Willis as McClane, drinking his life away on official leave, and called into the most stressful day of any human's life on the morning of his most brutal hangover. Their union is never one of amity, but of structural necessity: one white cop dead in Harlem means 1,000 white cops in Harlem, "all with itchy trigger fingers." Jackson is functioning with a purely preventative mindset. They accidentally fall into becoming friends, but never at the cost of the bungled city they owe their lives to. It's beautiful, believable unity. If the other buddy isn't a cop, does it still count as a buddy-cop comedy? DIE HARD WITH A VENGEANCE is so elite that it doesn't matter, it's the best British period romance ever made for all I care. I've streamed this movie like five times on HBO Go during quarantine and, man, does it feel so good every time to watch completely unprepared amateurs heed the call to action to save a city that may not ever work to save them. Look, man, it's your neighbor that counts most. [Kevin Cookman]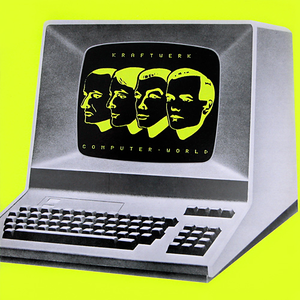 Kraftwerk – "Computer World 2"
Four years ago in Indio, I was introduced to Kraftwerk. That weekend's Coachella was the most excited I've ever been for an event; I was about to see LCD Soundsystem, my favorite band, live for the first time. But it was the other James Murphy project, DESPACIO, that proved to be the most formative musical experience of my life. It was in that tent, adorned with massive speaker towers powered by vintage McIntosh amps, giant hanging moulds of planets, and a pristine checkerboard dance floor, that I was reacquainted with my childhood love of Talking Heads, where I heard legendary disco singles like "The Ultimate Warlord," "Walk the Night," and "Like an Eagle" for the first time, and the place where I finally understood the beauty of Kraftwerk. On Saturday night, Murphy and the Dewaele brothers laid down the best DJ set I've ever seen, by far. After catching Courtney Barnett's sunset set, I sprinted back to the DESPACIO tent and was treated to three hours of unrelenting fire, each track sending the small crowd of revelers into compounding fits of ecstasy the likes of which I've never seen before or since. Yet the moment from that night that stuck with me most was not the cuts that had us leaping up and down, but the serene send off soundtracked by Kraftwerk's "Computer World 2."
It's not Kraftwerk's most popular track, it's not their best track, but on that night it became my favorite from the band. All the tent's lights were turned off save for the three disco balls hanging behind each DJ's head, which were showered with bright, white light. It was a simple setup, but one of the most affecting visuals I've come across, perfectly accentuating the elementary genius of the German legends. "Computer World 2" is unique within the Kraftwerk discography in that it possesses an unabashedly whimsical tone. Sure, it's still bevied by robotic incantations, but that soaring synth is the closest you'll ever feel to cruising through the solar system; the track is uncharacteristically untethered from the confines of our day-to-day life—done away with are the notions of an autobahn, factories, or the CIA—and is a rare instance in which Kraftwerk places form over function.
The critiques of Kraftwerk largely center around the simplicity of their sound, but I find that to be their greatest strength. No band before them had really explored this electronic territory and those that had failed to make much materialize. But Kraftwerk plunged into a new world and captured the absolute essence of it, getting to the root of what every other artist in their wake would have to take increasingly circuitous routes to get to without sounding derivative. Their influence is obvious—it's embedded into the core of every song with electronics—but too many retrospectives focus too much on their influence as opposed to their actual work. At the end of the day what really matters is what they made: legendary music without an expiration date. Music that caused three DJs with every record imaginable at their disposal to say, "How else would you end the best night of your life?" [Ryan Moloney]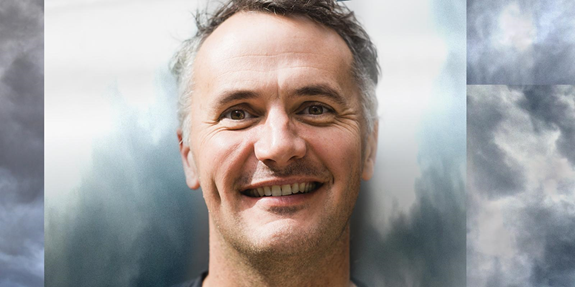 The Music of Phil Elverum
I'll admit, this pick during these specific circumstances might be like opting to set fire to an oil spill; why engage with art so dark and blatantly staring into the void when times are already dire as they are? I like to think of myself as an optimist, but often I can only do so out of fearful, blind defiance, as an attempt to wrestle some control over my station in life. So if anything, getting to indulge in music like that of Phil Elverum's (The Microphones and Mount Eerie) is kind of like my chance to stretch my ability to acknowledge, comprehend, and cope with the stressors and inevitabilities of life with a little more empowerment. Think of it like exercise putting one's body through immense strain as a means of strengthening our muscles into being able to handle more as it comes, but instead for my own mental health in observing anxiety and grief. Plus, it pairs nicely with my recent delving into of NEON GENESIS EVANGELION. I'm clearly in a mood and I want to SEARCH my SOUL, so I WILL, thank you very MUCH!
I listened to THE GLOW PT. 2 by The Microphones in February, aware of its cult popularity and power, but so unsuspecting in terms of its actual uniqueness. Phil Elverum's approach to independent music production is so stunningly out there, experimental in its daring nature to blend noise music, field recordings, and tenets of thrashy punk with deeply-felt folk rock. Outside of Neutral Milk Hotel and the wonderfully underrated Pyramid, I couldn't think of anything else that sounds quite like this. Admittedly, this album works best as a whole journey, practically a first-person narrative that turns traditional songs into shredded and sweaty remains, often falling victim to the winds, leaving nothing but the breath of wilderness and haunting whispers of society and a blaring fog-horn. These songs are filled with whispers and cries of naked emotional and psychological pain, and are complimented, given fire by shivering feedback and fuzzy electronics. The biggest standout for me I keep returning to other than the first three songs is "I Felt My Size," which boasts a crescendo and explosion into noisy, triumphant, otherworldly catharsis. The words Phil squeaks throughout are a drowsy then sober meditation on mortal futility and the solidarity that can come in acknowledging how small we all are. I cannot stop listening to it over and over again. It is too short and this is a fatal flaw, but I'll have to give it a pass for now.
The album's "It Was Hot, We Stayed in the Water" and "Mount Eerie" also provided delightfully adventurous journeys into experimental indie-folk, but Phil's evolution into becoming Mount Eerie has posed its own individual intimidation factor. Sonic playfulness aside, a deathly dense sense of honesty and tragedy has pervaded Phil's music in the meantime. I finally dug into 2017's A CROW LOOKED AT ME and boy… it ain't easy. Probably not surprising, though I am finding myself appreciating its underplayed but blunt brutality. Loss is not easy, and pragmatism is something I'm still working on without completely losing hope or entering into a dark cynicism. But as a former author of plenty o' Tumblr-read-more-public-diary-entries (with poorly conveyed vagueness, I'm sure), there's something undeniably human and sincere about just bearing your soul. This album finds Phil absolutely gushing in the most instinctive fashions, barely propping up lyrics of unbridled pain with the lightest of guitar and piano. It's not flashy; it's pale, muttered, and unable to process the horrors before it enough to be tasteful, even. I love it because it shows how broken we can feel at rock bottom—at the site of the destruction, mere seconds after the smoke settles. I'm thankful someone like Phil was willing to push themselves to be this open during times like this; functioning at all can feel impossible during these times, I know, but getting to share the pain for all of its spikes is meaningful outreach in itself.
Phil Elverum is also an incredibly talented drummer; the drums off THE GLOW PT. 2 in songs like, well, "The Glow pt. 2," "Map," "Samurai Sword," and the previously mentioned "I Felt My Size" (which has an alternate version that keeps the drums in rather than fading out and back in like on the album—it's magical) are astounding. I think that's neat. Anyway, let's all keep tabs on each other and try and help one another stay a little sane and not so lonesome. Take it easy on yourself if you can, please. I'm still learning that lesson, yet I happen to think that there are things worth fighting for, and often, number one is your own self. You got this. [Rocky Pajarito]