The fastest growing city in America has it all: sunshine, fine dining, live music every night of the week, 100 recreation centers, over 600 holes of golf, and thousands of social clubs. It's like vacation every day. You could spend the rest of your life here; you never have to leave. Here, who could possibly have a worry in the world?
This is the sales pitch for The Villages, a fantasyland in central Florida ginned up by sketchy real estate developers who pivoted from a life of federal crime to the state-sanctioned kind, grimly documented in Lance Oppenheim's SOME KIND OF HEAVEN. And much like the Mickey Mouse properties 45 miles south, The Villages hinges on suspended disbelief. Theming for the town squares are borne out of faux histories specifically designed to hit the nostalgia neurons in Baby Boomer brains, the news broadcasts are so TRUMAN SHOW that it feels intentional, and 98.3% of the population is white. It simply is not a real place.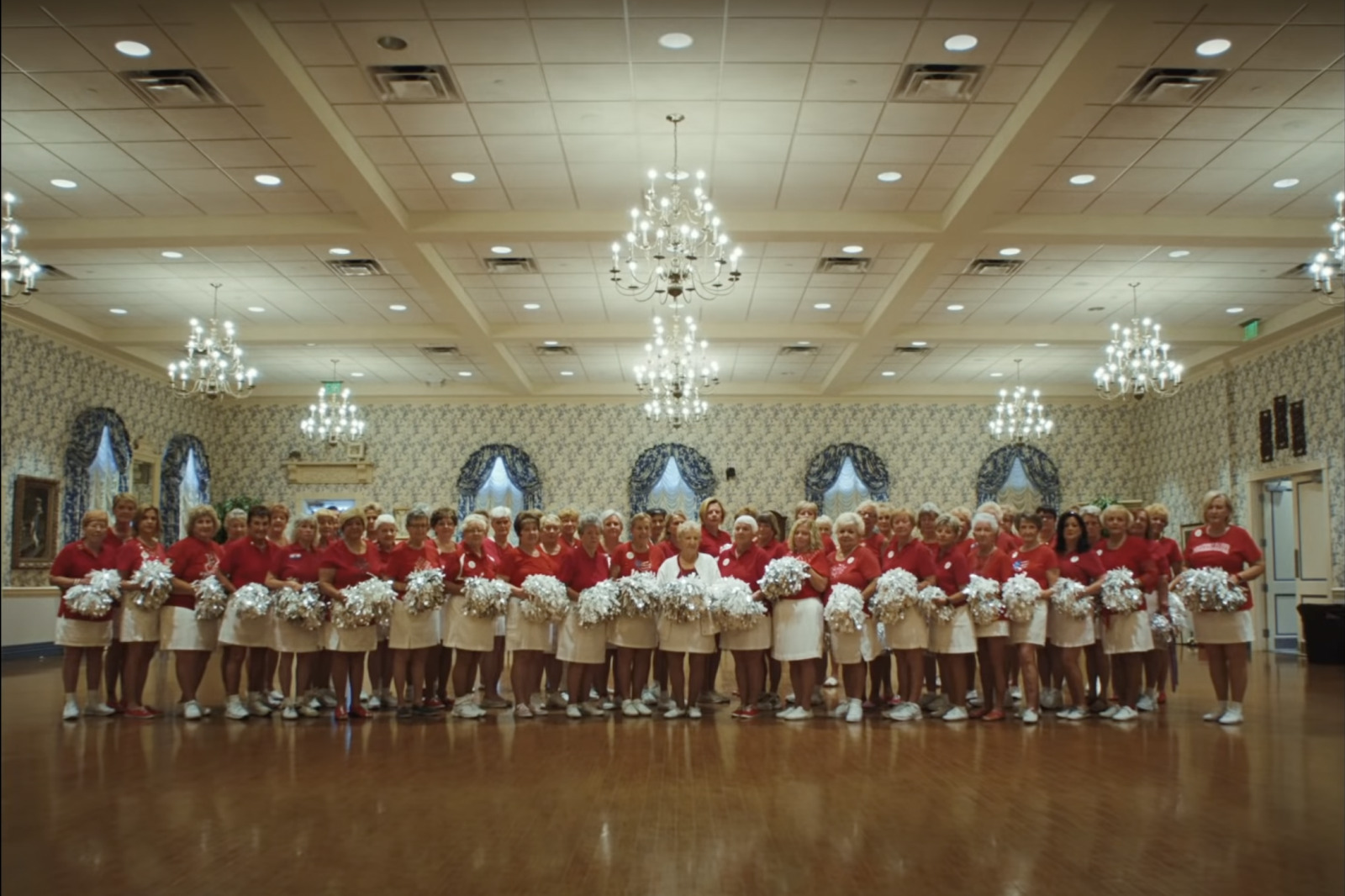 But the inhabitants are. What makes SOME KIND OF HEAVEN so great is that Lance Oppenheim doesn't get into the weeds about The Villages as an institution, instead choosing to focus on the lives of four Villagers whose lives are shaped by the town's empty promises. Over the course of the 80-minute documentary, you grow deeply invested with these four as their bleak realities are slowly revealed. There's recently-widowed Barbara, who spent her life savings moving to The Villages 12 years prior and works full time despite her post-retirement age, Dennis, the 81-year-old ladies' man living out of his van in search of a (wealthy) woman to settle down with, and a couple, Reggie and Anne, whose 47-year marriage becomes increasingly challenged by Reggie's psychedelic experimentation. Sans a narrator, and with very few talking head shots, their stories play out more like traditional narrative than documentary. Interspersed with beautiful and unsettling shots of the massive property, Oppenheim never lingers too long on a particular setting, treating the viewer to a non-stop montage of brochure-lifted images set to Ari Balouzian's fantastic, sunny score. The opening shot of a woman choreographing a golf cart dance routine for the property's Precision Drill Team establishes the hyperreality of The Villages. A belly dancing class doing a routine to "Let It Snow," the geriatric band playing "Blurred Lines" in a dark club, Parrotheads having a margarita soiree: it is all deeply hilarious and subtly unsettling. 
Oppenheim inundates you with these images to immerse you deep into The Villages before he starts landing his biggest punches. Barbara is finally coming to terms with her husband's passing and is ready to find a new partner, but the man she's smitten with is interested in other women. Dennis didn't just come to Florida to settle down, he's dodging a $30,000 DUI charge from California. Reggie and Anne find themselves on the verge of divorce when Reggie's drug usage lands him in court. As we watch Reggie's case, he fails to grasp the gravity of the situation, constantly interrupting the judge to the point where he nearly talks himself from a mere fine and probation into time in a jail cell. He has entirely disconnected from his loved ones and the world around him to create his own reality. He has completely bought into The Villages' thesis. On his wedding anniversary, Reggie completely ignores his wife's sweet gestures and rambles on about how he died in a car crash and has been reincarnated as God. Then he leaves to jack off. This is nirvana in The Villages. You are the master of your own domain, every whim and desire you've ever had ought to be catered to, and there are no consequences for your actions. You are king.
Despite all its promises, there are no safety nets or support systems in The Villages. Barbara doesn't have a single friend despite living there for 12 years, which turns routine appointments like haircuts and mani-pedis into therapy sessions thrusted upon service workers. Dennis drifts between pools, clubs, and churches, encountering people who offer kind words but little help, if not threatening to report him to police. Dennis and Reggie are the closest things to criminals in The Villages and they are reviled for it; they are harshing everyone else's mellow. We came to The Villages to forget about all the unsightly things in this world, after all. The suffering is meant to be done in private, and when Oppenheim focuses on that, it's brutal. When Dennis' past catches up to him, he paces around a storage facility calling every number in his contacts list begging for money and a place to stay—the answer, over and over again, is no. Out of people to call, he spends the night crying in his van. The shot of him forlornly looking out his window while tears stream down his face, his van pelted by a rainstorm, is heart-wrenching and a testament to how much these people trusted Oppenheim to tell their stories.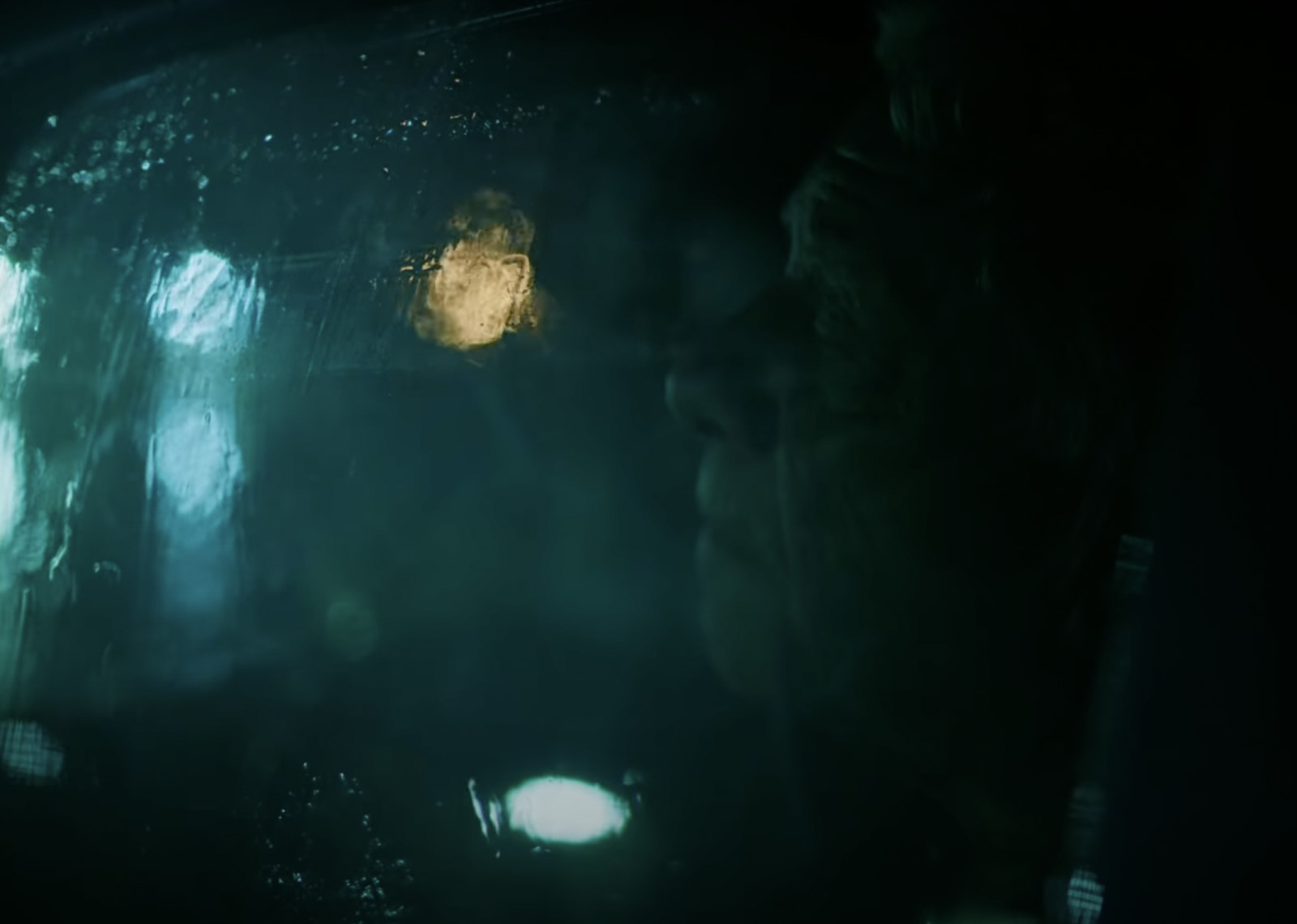 SOME KIND OF HEAVEN does not resolve these characters' arcs. By the end, Reggie and Anne's marriage is no longer falling apart, but it's not really on the mend either. Barbara is coming to terms with being alone as her search for a companion continues. Dennis has reconnected with a past girlfriend who has graciously taken him in, but just makes him a different kind of miserable—you can't teach this old dog new tricks. The Villages may do more than any other place to cater to every recreational or libidinal desire you could ever dream of, but it is even more isolating than anywhere else in this country. Only America could produce a place like this. A developer's boondoggle that pulls people out of their communities and into the spaceship from WALL-E. Villagers are completely cut off from the outside world, stuck in a place divorced from the past, present, and future. These people have not ridden off into the sunset. They are not living out the rest of their days in tranquil serenity. Their lives are just as turbulent and muted as ours, but on top of that, The Villages never stop reminding you that you are on death's door. As if the aching joints, fading memory, and thinning list of friends to call weren't enough, the guy who sold you the timeshare is breathing down your neck about funeral arrangements. Every day you wake up hearing the same pitch:
You are going to die here; it'll be the time of your life.