It seems like the isolation has started to get to us. From a gripping family mystery on Apple TV+ to a new Phoebe Waller-Bridge joint on HBO, there's been a lot more to love than usual on TV the last couple weeks! Come for the solid recommendations, stay for the wholesome anecdote about Wyatt finding a love of fashion with his mom.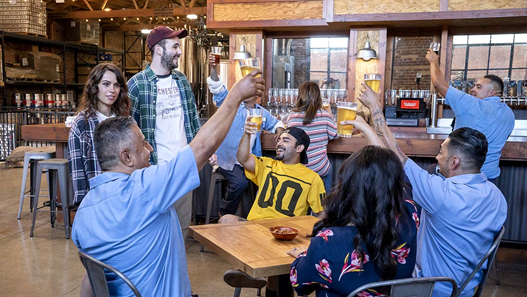 BREWS BROTHERS (NETFLIX)
Oh, man. What wacky and wild misadventures will these beer-loving brothers find themselves in? How will their mismatched personalities manage the multitudes of humorous maladies? I don't really care. This could be any other comedy in the "raunchy" section, but it's wearing the skin of a currently trendy type of drinking establishment. Light on laughs but big on references to jerking off, BREWS BROTHERS hasn't dented my psyche for better or worse. It simply existed, failing to stand out in any regard. At four hours long, I could easily stand to watch the whole season as background noise. I won't though.
So we have these two brothers, Adam (Mike Castle) and Wilhelm (Alan Aisenberg), and they're the two types of guys who really like breweries. Adam's an unbearable snob, and Wilhelm's a laid-back bro who's also a bit of a nerd. They just can't stand each other, but circumstances force them together and now they're stuck working with each other at Wilhelm's brewery. What's more, the brewery's on the brink of going under and they just keep heckin' things up every which way. It's formulaic to a fault, which wouldn't be as much of a problem if they could write jokes. [Dan Blomquist]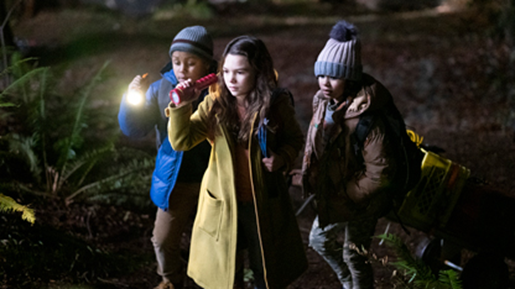 HOME BEFORE DARK (Apple TV+)
Being a child is difficult. The daily struggles of growing up can include being the new kid at school, butting heads with your parents, and on occasion, murder. HOME BEFORE DARK (Apple's newest family friendly outing for Apple TV+) is about Hilde, a curious young detective moving from Brooklyn to her father's hometown. Like most children do, Hilde has a hard time with the move. She quickly becomes the outcast at her new school and even has a hard time winning over her teachers. But then Hilde becomes acquainted with some of her father's childhood friends, and when one of them mysteriously dies, Hilde takes it upon herself to dig deeper into this case, causing trouble with her new neighbors AND potential suspects.
While HOME BEFORE DARK is rated TV-14, it feels like an appropriate family show with a tone similar to NANCY DREW and a heavy dose of 1990s nostalgia. The show is advertised as a starring vehicle for Brooklynn Prince (THE FLORIDA PROJECT) and she's great in her role as Hilde. She's able to show a wide range of emotions for a ten-year old that keeps the viewer emotionally connected to the story. And much like its star, the story is captivating and never manages to patronize its audience. For example, a VCR is a key part of the mystery, and obviously Hilde would be too young to know how to use a VCR, but when she does finally learn, it isn't in an obnoxious way that shames her for not knowing what a 30-year-old technology is, it's another step in her cracking her case. For a somewhat dark show, HOME BEFORE DARK is a good, family friendly mystery, with a great star that serves as an excellent way to pass some time inside. [Wyatt Lemoine]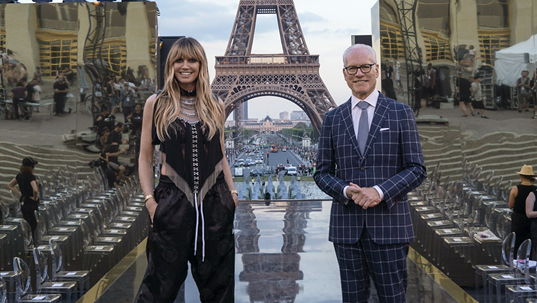 MAKING THE CUT (Amazon Prime)
I watched this one with my Mom. Personally, I don't know anything about fashion. I have been picked on by my friends for my absolutely horrible sense of fashion, including matching blue shorts with a neon yellow shirt, two different shades of black, and multiple T-shirts that say "Proud Dad" on it despite never having a child. Going into MAKING THE CUT, I thought I would be uninterested, but my Mom and I were glued to our screens.
MAKING THE CUT is similar to PROJECT RUNWAY, going as far as lifting the hosts from the previous show and leaning heavily into their on-screen personalities. It follows multiple contestants who each week face a new challenge where they must design and create clothes. The show does a great job of mixing competitiveness with fashion, so if you only want to see fashion (my Mom) or competition (Me) you will be pleased either way. What separates MAKING THE CUT from other competition shows is the care it has for its contestants. The show really shows the dedication, hard work, and love for fashion that all the contestants have. In contrast to PROJECT RUNWAY, they also take time to highlight the individual clothing brands they've developed and hope to launch to world renown by participating in the competition. When contestants are ultimately voted off, it is appropriately emotional because this isn't a hobby for all of these people, but a dream they are trying to obtain. Overall, the show seems designed for the diehard PROJECT RUNWAY fan who was disappointed that Heidi Klum and Tim Gunn decided not to continue to the show's new network. The jury's still out as to whether the hosts were the key ingredient for making a successful fashion reality tv competition, but MAKING THE CUT has been able to find something in common for my Mom and I to talk about, and help me find some inspiration for my personal closet. [Wyatt Lemoine]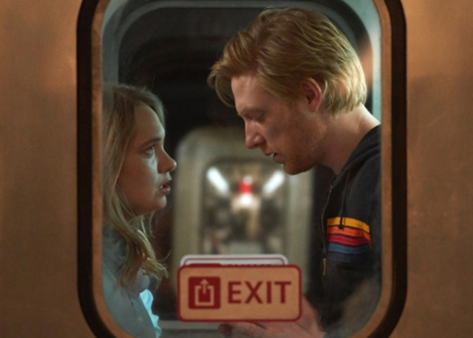 RUN (HBO)
The conceit of HBO's newest rom-com/thriller is pretty straightforward: A woman's life is upended when she drops everything to embark on a cross-country train trip with her former college boyfriend, fulfilling a pact they made more than a decade prior. It's watching this play out where things get complicated.
Watching the trailers of RUN prior to its debut, it's easy to make some assumptions about the path the story will take. In the 30-second spots, Billy Johnson (played by Domhnall Gleason) comes across as cryptic and enigmatic, but only one scene into the show, it's clear that the character who is perhaps showing the most layers is Ruby (Merritt Wever). With that said, while the pilot is fun and engaging, it doesn't offer up much new information to the viewer who knows the logline already. I found myself waiting, almost with bated breath, for the other shoe to drop—for the beat that would pull the rug out from under the foundation that they've built, but none came. The last beat of the episode featured Billy stealing a glance at Ruby's phone and discovering that she has a husband and children—something the audience, at least partially, knew already from the episode's start.
The FLEABAG team, also the team behind this project, have a special affinity for twisting well-trodden territory into a new shape and blending the dark and the light together into tones that feel new and distinct. RUN is no different. As I was watching it, I was struck with the familiar feeling I got when watching FLEABAG or season one of KILLING EVE—the feeling of trust. Trust that the show knows where it's going. Trust that there's a plan that will be both satisfying and unexpected, even if we didn't quite fully get there in the first episode. [Anna Thorup]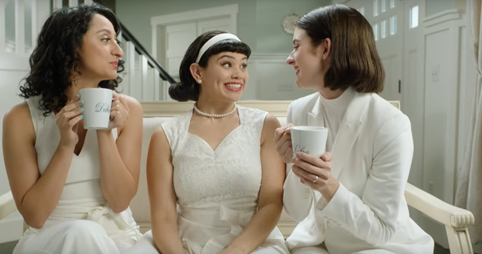 THREE BUSY DEBRAS (ADULT SWIM)
Never before in my life have I ever seen Debras this busy! At this point, we all know what to expect from an Adult Swim show. It's going to be weird, absurd, maybe even "insane," but also hypnotic and frequently full of heart. THREE BUSY DEBRAS, a new Adult Swim comedy, fits all of this criteria handily. The show follows three housewives, all named Debra, navigating suburban life despite the bat-shit crazy scenarios they're put through, like their creepy neighbor whose main goal seems to be to get the Debras' tubes tied.
The first episode follows the Debras trying to cover-up the accidental murder of one of their pool boys. While this seems somewhat tame for an Adult Swim show, it goes off the rails quickly. Writers/creators/stars Sandy Honig, Mitra Jouhari, and Alyssa Stonoha are able to come up with some of the most interesting visual comedy on television right now. I can't think of another show that would have a woman buy a purse that she can fit inside and then have a giant hand lift that same purse, with her in it, and carry her all the way home. It's random and crazy, but absolutely hilarious. THREE BUSY DEBRAS takes influence from a lot of the work of Tim & Eric but Honig, Jouhari, and Stonoha are able to mix that absurdist humor with a far more structured narrative. THREE BUSY DEBRAS feels like SPONGEBOB SQUAREPANTS, but your brain's melting in the best way possible. [Wyatt Lemoine]