Today, Bandcamp is once again waiving its revenue share on all purchases: merch, vinyl, tapes, albums, anything! We encourage you to check out our entire archive of Bandcamp Picks, a list of over 200 releases from the last several years that we love, in addition to this list. 
Alfred. – ONE TRICK PONY
Genre: Hip Hop
Favorite Tracks: "SHEESHFRED," "LIKE THE JABBERWOCKY (featuring clwdwlkr)"
I was admittedly late to the Alfred. party so that's on me—too much music, too little time. The self-described "calloused and cuddly word wizard" has an excellent 2018 album (LIKE YOU!!) that's over on Bandcamp and worth a listen, but for my money, ONE TRICK PONY is almost a better point of entry, a six-track, 15-minute EP that susinctly showcases the Virgina rapper's many different looks and sounds. A slinky flow vibing over equally slinky beats, it's hard to figure out where ONE TRICK PONY begins and ends, the fluidity and smoothness of the transitions making it almost impossible to see the stitches holding each song together. Populated mostly by tracks that are less than two-minutes long and anchored by the five-minute "PRNDL," which flips from mentally draining industrial thump to heavenly, synthy mist, the EP gives a ton of different bright, exciting beat flips in a compact amount of time. On each, Alfred. remains a steady anchor, static as the world timelapses around him, his bars consistently clever and stern. If the lo-fi, melancholy haze of rappers like MIKE or Medhane has left you wishing for something that pops with a bit more polychromatic richness, ONE TRICK PONY will get you going early and often for its brief runtime. Give it a listen over on Bandcamp. [CJ Simonson]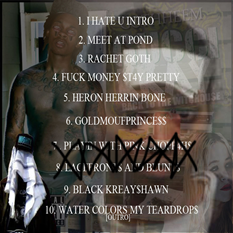 Black Kray and Jayyeah – BACK TO THE WI✞CHHOUSE
Genre: Witch House, Trap
Favorite Tracks: "meet at the pond," "ratchetgoth," "heroin herin bone," "black kreay$hawn," "water colour my tears"
There are few albums that demonstrate the potential of how things could have been more so than Black Kray and Jayyeah's internet-infamous 2013 release BACK TO THE WI✞CHHOUSE. After quietly releasing two mixtapes more indebted to the classic cloud rap sound, Black Kray teamed up with the artist elsewhere known as Cold Hart for a heavily stoned, claustrophobic glimpse into a compressed digital Hell, one of the few things floating around the larger blogosphere that feels just as genuinely challenging and confident as purported. By 2013 the endlessly contentious witch house genre had long passed the du jour torch to vaporwave, but here Jayyeah resurrects its decayed corpse for one last encore on the center stage from behind the boards while Black Kray gamely tackles and bodies every singular piece of sonic ephemera thrown his way, drenched in a torrential armada of vocal effects and with an aura so inebriated you won't feel comfortable driving for hours after the final moments of "water colour my tears" complete their victory lap. With each second oozing menace and barely restrained terror (at least when it's not sampling Bob Ross and channeling the most emotional cuts of Main Attrakionz, as the last track endeavors to), BACK TO THE WI✞CHHOUSE is kind of like if an AI bot only consumed Bladee and horror films and was tasked with creating an approximation of the two from there: sinister cackles, buzzsaw synths, percussion that sounds like it's floating up from well below six feet under, booming bass blasts that sound like something slowly stomping out of the deep dark of the woods… it's a better witch house release than anything other than maybe SALEM at their "prime," and a more interesting trap release than anything we'd hear until well into the SoundCloud era, sounding like it influenced the latter, noise-predicated part of Balam Acab's career and City Morgue's rise to prominence on the same token. But what I appreciate most is the sense of youthful abandon on display. As is the case with most of the most intriguing music being released today, the creative potential of two kids addicted to the internet and likely a few other substances is a force to be reckoned with: album highlight "heroin herin bone" sounds like a damn atmospheric sludge metal track. You can check it out here. [Thomas Seraydarian]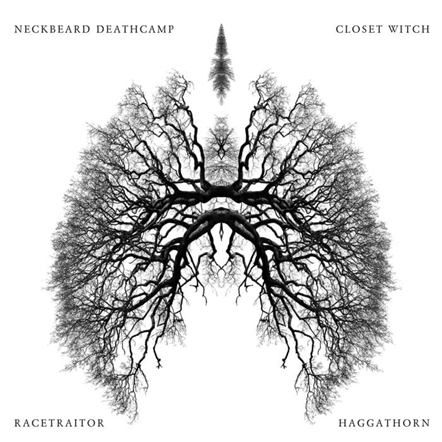 Closet Witch / Racetraitor / Neckbeard Deathcamp / Haggathorn – FOUR WAY SPLIT
Genre: Metal
Favorite Tracks: "Spit Shine," "The Squash Rotting," "Round Lake," "Awakening"
I've interviewed both Closet Witch and Neckbeard Deathcamp for this magazine. When I got word they were going to be part of a four-way-split double-7" inch, I was extremely excited, and in listening I found myself genuinely taken aback to discover that seminal hardcore punk band Racetraitor was also involved. This split feels like the culmination of the last few years of radical politics merging with extreme music, and the results are absolutely explosive. Neckbeard Deathcamp makes antifascist black metal, Closet Witch makes what I would categorize as feminist grindcore, and Racetraitor have made anti-racist, anti-colonialist hardcore for decades. Haggathorn are newcomers, but their track on the split "Awakening" fits right in with the rest of the release. There's a huge amount of variety to be found here, each band has a very distinctive sound, but knowing they all share a similar outlook gives the split a natural sense of coherence. This is a niche collector's item, to be sure, but if you support this particular sub-subgenre of heavy music, it's well worth grabbing this rare collaboration. Grab a copy on any of these bands Bandcamp pages. [Carter Moon]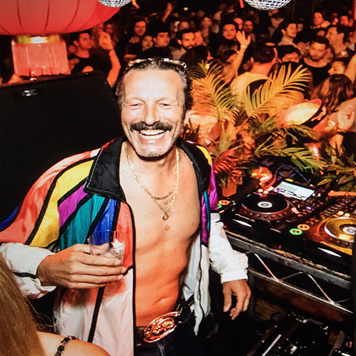 DJ Harvey – LIVE AT RUMORS
Genre: Balaeric
Favorite Tracks: "Part2," "Part3"
"You can't understand the blues 'till you've had your heart broken. You can't understand my music 'till you've had group sex on ecstasy." — DJ Harvey
I'll admit, I have not had group sex ecstasy, so forgive me for speaking from a point of ignorance, but DJ Harvey's music fucking rocks. Harvey's sets elicit a unique strain of joy; this much is clear even to losers like myself who've never had an MDMA orgy. The three occasions I've seen him spin live were sublime. Two of those sets were at the tragically defunct FYF, whose outdoor techno/house stages lended themselves perfectly to Harvey's style. He truly comes alive under disco balls and hanging gardens, taking tunes to ascendant levels and eliciting more smiles per set than just about every DJ I've seen.
DJ Harvey's LIVE AT RUMORS release is no exception. The Los Angeles legend seldom publishes his live sets and the few that have been officially released are Boiler Room releases, events that are far too stale for Harvey. But Harvey's annual appearance at Rumors is about as comfortable as a selector can get and every last second of this two-and-a-half-hour ride is top notch. Spanning house, Afrobeat, techno, disco, and even a bit of dub, Harvey shows off his indelible taste and weaves a Balearic beast of a set that will surely go down as one of this year's best releases. The action really gets going about 20 minutes in, and from that point on Harvey spins massive anthem after massive anthem, selecting a slew of tracks that should be the climax, but that he is able to maintain without maxing out. There are too many high points to hone in on; the entirety of "Part2" and "Part3" are 90 minutes of pure magic that rival the hottest hour-and-a-half run you've ever heard. LIVE AT RUMORS is a gift, the quarantine release that best captures the essence of dancing in a huge crowd of happy people. It's available for just one US dollar (and it all goes to charity) at Bandcamp. [Ryan Moloney]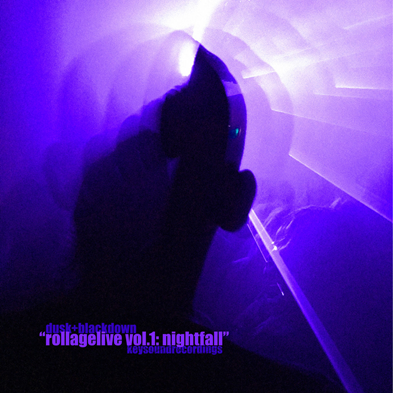 Dusk and Blackdown – ROLLAGELIVE VOL. 1: NIGHTFALL
Genre: Dubstep, Grime
Favorite Track: "Peng One Two VIP"
"Peng One Two VIP," folks, is a fucking tune. Yes, Dusk and Blackdown put 20 other tracks on ROLLAGELIVE, but they only made one "Peng One Two VIP" because tracks like this do not come around often. This year's biggest barnburner is hot out of the gates as the Keysound Recording co-founders drop a grimy incantation of "peng one two" atop blaring synths and horns. There are tons of moments to sink your teeth into; the ever evolving clatter of percussion, the permutations of the horns and synth lines, the joyously charismatic shouts and adlibs. It's a glorious, three-minute whirlwind that answers the duo's question of what's possible when locked into a 130 BPM. There aren't too many individual standouts outside of "Peng One Two VIP," but ROLLAGELIVE is nonetheless worthy of a full listen. Dark and daring from start to finish, the mix is perfect for late nights if you're looking for a chaotic way to dance the evening away—ride things out to "Juicy Patty," the second-best track and effectively the mix's closer as the next two tracks function more as a comedown. For a live session recorded in one take, it sounds as polished as a proper record, a testament to these veteran's skill and a nice ode to the defunct Fabric CD series. Check it out on Bandcamp. [Ryan Moloney]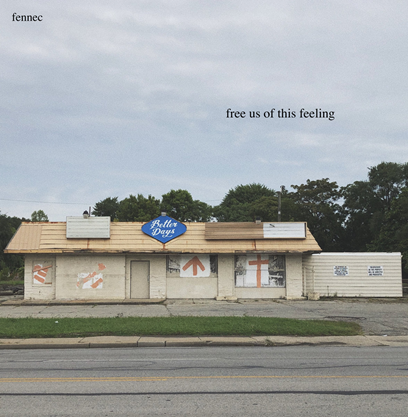 Fennec – FREE US OF THIS FEELING
Genre: Outsider House
Favorite Tracks: "Boy-U," "Xxxtttccccc," "Frontier Identity," "Together," "They Literally Only Want One Thing"
Fennec has been toiling away in relative obscurity making some really nice records for the past few years, but FREE US OF THIS FEELING ought to be the one that turns heads. There's not a single miscue—a rarity for an hour-long house record—and every track has an earworm that will stick in your head for days. Even the off-kilter piano interlude, "You'll Be Ok," has been seeping its way into my brain every so often. Fennec evokes all sorts of feelings on this record, fluidly bending vocal samples into somber refrains and ecstatic exclamations. The ease in which he moves between highs and lows is entrancing, particularly the stretch from "Boy-U" to "Dreemin," three tracks that could've just as well been emotional theses for their own respective records, but Fennec guides you from the summery bounce of "Boy-U" to the smooth, sultry "So Far Now" with the snap of a finger. "Frontier Identity" is the most robust track on the album with a melody that's both downtrodden and comforting. The vocal sample further envelops you within the track, shying your attention away from the instrumental briefly fading away—just as the vocal stands alone, the beat clicks back into place. Fennec's manipulation of these found sounds is really well done, the chopped samples on "They Literally Only Want One Thing" makes the track run, allowing the emotive melodic bits ample room to roam in the background as the chugging percussion bubbles to a boil.
FREE US OF THIS FEELING is the record I've been returning to the most in the past couple weeks. It's an album that suits solitary listens and works equally well laying down in bed or laying down dance moves. The record is also wonderful out on the road—both day and night—consistently cruising at exactly the right pace. Tonight, as I'm writing this, it's especially helped with my migraines; I got so lost in the music the pain just faded away. Best believe I already bought it; you can too at Bandcamp. While you're there, check out his new single that just dropped today, "Finding Rest in a Weary World." [Ryan Moloney]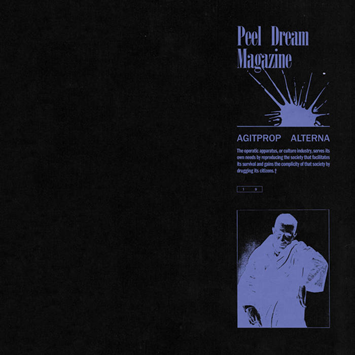 Peel Dream Magazine – AGITPROP ALTERNA
Genre: Shoegaze
Favorite Tracks: "Escalator Ism," "Too Dumb," "Permanent Moral Crisis"
"Too Dumb" will likely be the best My Bloody Valentine song written in 2020, short of Kevin Shield's avoiding an inevitable quaratine-induced descent into studio madness and actually releasing new material this year. Certainly it lacks the sheer size and scope of a true MBV track, but the entirety of Peel Dream Machine's AGITPROP ALTERNA works because it feels knowingly tame, neglecting the excess-filled bombast of a track like "Only Shallow" for the warming buzz and hum of something intended to be comforting. The opening one-two punch of "Pill" and "Emotional Devotion Creator" ride an intense yet palatable fervor, never aiming to punish us with guitar noise or static hypnotism and instead opting to lull us gently into the ever-winding rhythms, the vocals hidden behind the blanketing sonics. Even when Peel Dream Machine are at their loudest, turning the whirr up to 11 on songs like "Escalator Ism" or "Eyeballs," they're trading an antagonistic relationship with the listener for a more reassuring one, frequently eschewing a tone closer to PAINFUL-era Yo La Tengo than anything Shields-related ("Permanent Moral Crisis," especially, has Yo La Tengo's quiet presence all over it). By the time AGITPROP ALTERNA hits the final song, the fantastical, drifting lo-fi pop track "Up and Up," the album leaves us with a feeling of ease. Check out Peel Dream Machine's latest over on Bandcamp. [CJ Simonson]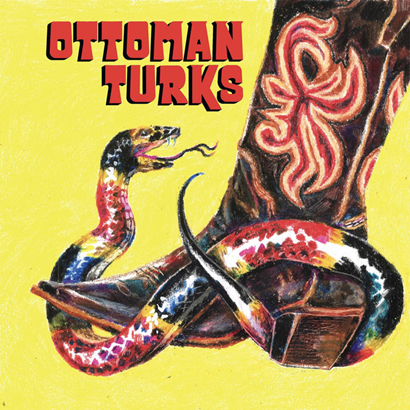 Ottoman Turks – S/T
Genre: Cowpunk, Psychobilly
Favorite Tracks: "Snake Song," "Glass Bottles," "O C P," "Beer & Women"
It's not being reported on with the amount of vigor and fanfare it deserves, but Dallas is pumping out more quality outlaw and cosmic country than just about anywhere in the country (see other veterans of the Bandcamp Picks section: Quaker City Nighthawks, Paul Cauthen, as well as The Vandoliers). The cover of Ottoman Turks' self-titled debut should tell you all you need to know: bright, colorful, vivid, and just the slightest bit chaotic. An album 10 years in the making, the Ottoman Turks grew their legend in Texas before pouring a decade's worth of fire into an album of shit-kicking, wide-eyed, buzzing rock 'n roll. The result is equal parts country line dancing, highway biker bar brawls, and grindhouse double-features, oddly cinematic in scope, although with a narrative that's focused exclusively on explosions, shootouts, and getaways. In its most exhilarating moments, the band fuses driving punk with twinges of psych, teetering on the edge of psychobilly before reigning it into headstrong saloon rock—find me an artist delivering a transition as effortless as the one made from "O C P" to "Can't Promise Nothin'" and I'll buy you a beer. Their more straightforward honky tonk, cuts like "Beer & Women" or "Glass Bottles," only add to the filmic nature of the whole album, and their brand of straight country is exceptionally world-weary, music written by people whose drink of choice is a boilermaker because it's cheap and they like the burn. Give Ottoman Turks' excellent debut a listen over on Bandcamp. [CJ Simonson]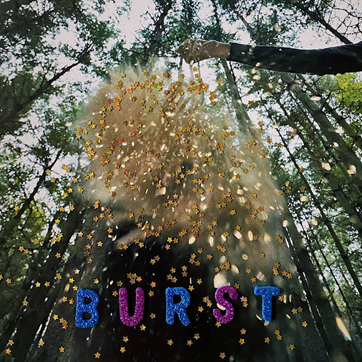 Snarls – BURST
Genre: Glitter Emo Alt-Rock
Favorite Songs: "What's It Take," "Hair," "Concrete", "All This Will End"
"Glitter Emo Alt-Rock" is the description that Columbus, Ohio's Snarls have decided to use to articulate the sounds they've collected on their first full-length, BURST. When I first began listening to the album in early March and saw it described as such, I thought to myself: "I don't know what this is, but it's not that." And while I couldn't come up with anything better than calling the talented young group an "indie" band (ugh), I still wasn't convinced that they had correctly classified themselves. Then things started to make more sense: the band was going on tour with emo giants Citizen, BURST peaked at #17 on the Billboard Alternative charts, and I noticed that there was glitter on the album cover. "Glitter Emo Alt-Rock" it is, then.
BURST is an incredibly pretty and dynamic album that fleshes out a very specific sound in its 34-minute run time. Opening track "Walks in the Woods" starts off with singer/guitarist Chlo White singing narrative verses solo over soft, clean guitars that give way to a wall of power chords as she's backed up by bassist/vocalist Riley Hall in a dreamy and catchy chorus. "What It Takes" begins as a shimmering, upbeat jam about unrequited love that dissolves into a slow, meditative jam with heavy shades of The Cure, before bringing it back up into a punchy outro with White desperately asking "What's it take to be touched by you?" BURST is a focused effort, full of feedback-screech highs, softly picked lows, and stop-and go fake-outs. "All This Will End" appears to be an acoustic solo effort before a descending mellow signals a circus-like drum pattern that awakens the rest of the band for the remainder of the song. The album is impressive in its own right in terms of the production and the quality of the songwriting, but take into account that White and company are in their early 20s and it adds just a little more glitter to their aura. It's unfortunate that their roll-out plans, including the tour with Citizen, was brought to a halt due to current events, but if BURST is to be the standard of their future releases, count me in for more "Glitter Emo Alt-Rock." Give it a listen and decide for yourself over on Bandcamp. [Jake Mazon]