We've got a content bingo this week in TV Land—a prestige streaming series, a network dramedy, a documentary, and a batshit game show! There are definitely some hits and misses in there, but how cool that we get to see all of this stuff in one week, right? As I wipe a single tear, please enjoy our takes on the latest from streaming, network, and cable—including Hulu's widely hyped true crime series about the shocking Munchausen By Proxy case between Dee Dee and Gypsy Blancharde.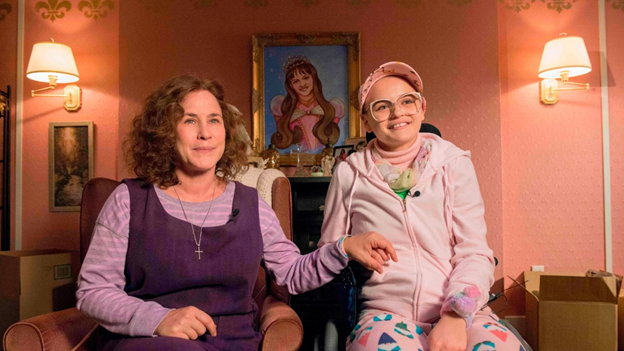 THE ACT (Hulu)
When I first read the 2016 Buzzfeed article "Dee Dee Blancharde Wanted Her Daughter to be Sick; Gypsy Wanted Her Mom Murdered," I thought to myself, "Wow, that's wild. And fucked up." Apparently, the producers at Hulu agree, because now we have THE ACT. Dee Dee Blancharde suffered from Munchausen by Proxy, a disorder which causes parents to pretend their child is sick for sympathy or money, sometimes even going so far as to cause the symptoms that their child suffers. Gypsy Rose Blancharde was unfortunately a victim of her mother, forced to use a wheelchair, fed through a tube—the list goes on. The Hulu series begins at the end of Dee Dee's story, as she lay stabbed to death in her home. THE ACT has an interesting format twist, going back and forth between the homicide investigations from the police and the past where Gypsy slowly reaches the breaking point that would eventually lead her to have her mother killed.
One would think that a show about such subject matter would be voyeuristic and uncomfortable, but THE ACT does a great job focusing on the emotion of the event and doesn't rely on the shock factor. It revels in its quiet moments, allowing the audience to really feel the desperation and despair coming from both Gypsy and Dee Dee, and seriously drives home the sheer horror of it all. Currently, Hulu only has the first two episodes streaming, but both episodes are fantastic and left me begging my friends to watch it so I could talk about it with them. The next episode is due to drop March 27th—plenty of time to catch up on the first two. (But a word of caution: if simulated child abuse or graphic medical imagery is upsetting to you, this show may not be for you.) [Anna Mansager]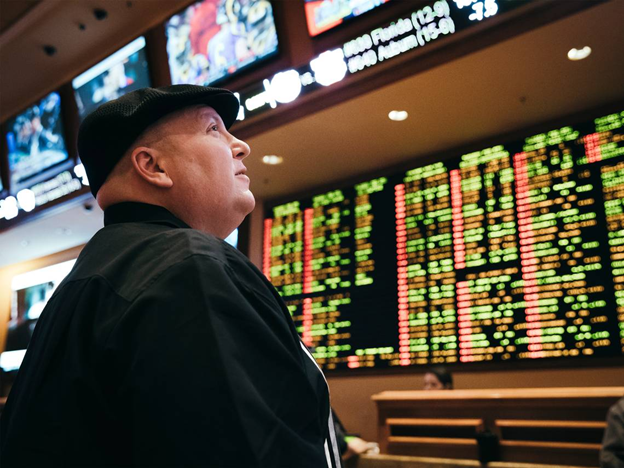 ACTION (Showtime)
Gambling, an activity centered around potentially receiving free money in palatial hotels, makes for a naturally sexy documentary subject; but, talking to the big winners about how good it feels to be absolved of economic anxiety has been done to death. ACTION presents itself as a deeper dive into the world of sports betting, and examines the psychology behind the gambling phenomenon that's exploded as of late thanks to a recent Supreme Court decision allowing all 50 states to legalize the activity at their discretion. This truly is a fantastic cultural moment for us to reflect on such a morally polarizing activity.
Unfortunately, ACTION never gets around to doing that, at least not in the pilot. While we do hear from an addiction psychology professor for a few minutes, the majority of the pilot is devoted to successful professional sports gamblers. It turns out that people who rely on gambling to feed themselves are a bit wacky, and the handful that don't go broke tend to have gratingly high self-esteem. Far too many scenes feel like nothing more than an excuse to gawk at extreme reactions caused by an activity that we know feeds off of addictive personalities, which isn't nearly interesting enough to justify the muddy morality of it. While ACTION pays lip service to a few of sports betting's deeper impacts, the shameless glamorization of wealth consistently undercuts the sincerity. I'll admit to being morbidly curious about a few of the gambling personalities, namely Vegas Dave and KellyinVegas, but I think I'll learn about them without being subject to money porn and r/PublicFreakout montages. [Dan Blomquist]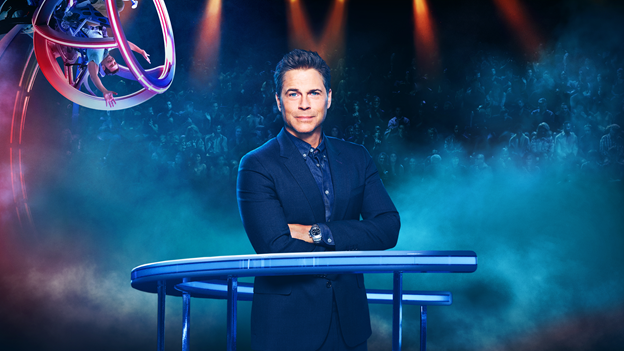 MENTAL SAMURAI (FOX)
As a wise scientist in a middling children's film once said, "Do you think God stays in heaven because he too lives in fear of what he's created?" The existential dread represented by Fox's latest foray into game shows—MENTAL SAMURAI—is palpable. Contestants are strapped into a capsule attached to an enormous robotic arm named AVA, which swings them through a stadium while they answer SAT-style questions in a bid to win $10,000 while Rob Lowe pantomimes playing a saxophone. This idiotic premise is not, in fact, a bastardized version of some much-more-entertaining Japanese game show. No, no, friends—MENTAL SAMURAI is as American as blue jeans. Which—like the dystopic machine overlord in this show—raises lots of questions. Questions like "Why 'samurai'?",  "Why any of this?", and "Just … why?"
Rob Lowe's steely eyes glaze over while a tearful contestant strapped into the massive contraption grieves the loss of her mom, who she aims to "make proud" by becoming a mental samurai because her dead mom "loved puzzles." Another contestant seeks redemption after faking her college graduation to make her family proud after flunking out. And another sees becoming a mental samurai as an opportunity to "show his worth" to himself and his coworkers at the truck equipment sales company. These forced emotional throughlines punctuated with contestants flying through the air strapped to a robotic arm kept me firmly convinced I was watching a cleverly marketed episode of BLACK MIRROR. (And for the record: none of them become a mental samurai. It is pretty fucking impossible.) On top of all this—the show just isn't fun. The questions are so simple that it's not satisfying when contestants get them right, and the editing and pacing is so poor that when a contestant gets a question wrong, the whole episode grinds to an anticlimactic halt. This is the dumbest, most inane garbage reality game show I think I've ever seen. It's bizarre, forced, and—thanks to the title—quasi-racist! That's what we millennials call a Cancellation Bingo. [Kate Brogden]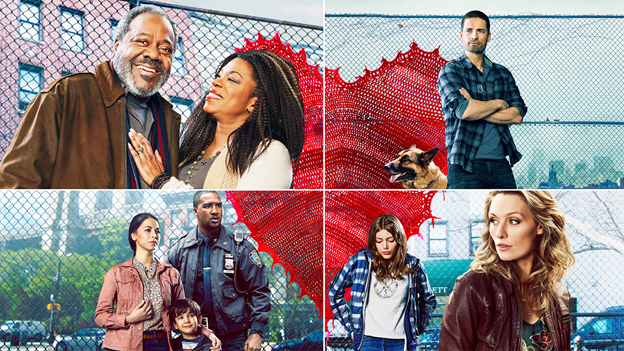 THE VILLAGE (NBC)
"This is the first day of the rest of your life, son." This platitude comes less than 10 minutes into THE VILLAGE and, I have to say, I'm amazed the show went that long without uttering the phrase. Set against the backdrop of a New York City apartment building, the pilot episode sets the stage with a bundle of characters who all lean so heavily into soap opera tropes that, at times, the show can feel like a spoof of a network drama instead of a genuine show on its own. THE VILLAGE doesn't just pull pages from NBC's other hit THIS IS US, it literally rips them from the book. Clearly trying to web in the same audiences who are looking to add to their weekly slate of tear-jerking content or those still mourning the loss of PARENTHOOD (me), the network evidently hopes that THE VILLAGE can live up to the hype set by its familial drama predecessors.
Not immune to network soap operas, I found myself wondering if this would be my next weekly show to drink wine and cry to… then, I watched it. The thing about THIS IS US and PARENTHOOD is that they only work because of their rock solid casting. Both shows can feel unbearably cheesy at times, but the audience's connection to the characters is so strong that it evens out any of those moments. THE VILLAGE proves that the formula for a strong network drama is not an easy one to replicate. It's fragile and special. As much as I've rolled my eyes at THIS IS US over the years, I have to acknowledge that it's rare to find a show as good as THIS IS US in its best moments. THE VILLAGE, on the other hand, pulls together a cast that lacks chemistry and, at times, strong acting chops. Overly dramatic scenes are hard enough to pull off, and are even harder with lopsided acting.
With that said, there are things to be appreciated in THE VILLAGE that I'd regret not mentioning. It's less pristine than its counterparts, shying away from each set looking like a Crate & Barrel ad and instead pushing issues to the forefront that actually feel topical and important. Watching the immigration storyline unfold, for example, forced me to give a nod of approval that the show decided to tackle such a vital problem. So, here's the real question—Did I cry? Yes, I did. Only a little, but I'll admit there were tears. All of this to say that I see how THE VILLAGE could be for someone, but it's not for me. [Anna Thorup]