It was a week of old and new faces in TV Land: JANE THE VIRGIN prepares to take its final bow and the long-awaited spinoff to Taika Waititi's (dare I say) masterpiece WHAT WE DO IN THE SHADOWS dropped on the small screen. Meanwhile, Mike Schur of PARKS AND RECREATION and 30 ROCK finally makes the CHEERS homage of his dreams and we've got another winky winky examination of Russian infiltration into a major power's goverment. The setting may surprise you! Check out our thoughts on all of it in this week's TV Roundup!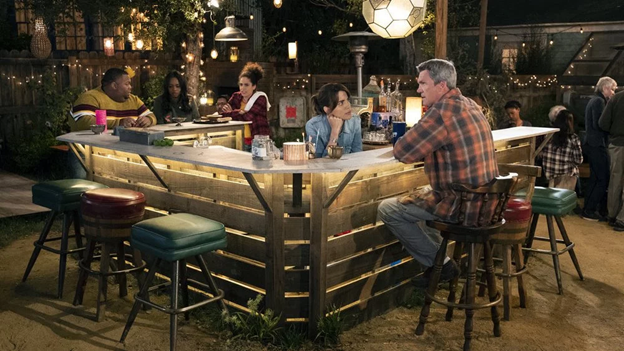 ABBY'S (NBC)
On paper, NBC's newest multicam sitcom ABBY'S is everything I'd want in a show: I love everything Mike Schur touches, I rewatch CHEERS more than I watch most anything else, and I truly believe Natalie Morales is a national treasure. In actuality, ABBY'S has me conflicted. I'm torn between being an advocate for everything it is in theory (CHEERS but woke) and struggling with what it looks like in execution. The laugh track feels more grating than it does when rewatching sitcoms of days past. The plot felt predictable in a way that didn't strike me as nostalgic or familiar, but tired, and, if I'm being honest, a little lazy.
Abby, a former war vet turned curmudgeonly bartender, runs a working bar out of her backyard. Surrounded by an array of mismatched neighborhood characters, Abby's provides a place of refuge and community for those looking for a place to fit in. Her world is unhinged when her new landlord, Bill (Nelson Franklin), discovers the space and threatens to shut her down for very legitimate legal and insurance concerns. This speedbump is briskly overcome as Bill is almost seamlessly folded into the gang, pocketing his issues when Abby vows to make some changes to bring the space up to code.
Therein lays ABBY'S greatest strength, and ultimately, its biggest downfall. We've seen it. Maybe we haven't seen these characters in this way (a female, bisexual, hardened veteran-turned-bartender for example) and there's a lot of credit the show is due in that regard, but ultimately, the jokes don't land as strongly as they should and the tone feels mismatched and challenging to grab onto. With that said, the cast is charming and they have their moments of being endearing and likeable. If the gags were better, if I liked the show more, I could see myself wanting to spend time with this oddball group week after week. As it is, however, I'm okay letting this one drop of my list things to watch. [Anna Thorup]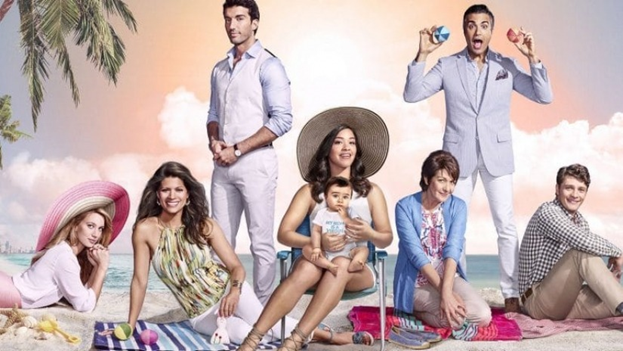 JANE THE VIRGIN S5 (The CW)
"The brain is not an exact science" Gina Rodriguez repeats to herself during her standout monologue in the premiere of the series' final season. Her monologue rounds out to roughly seven-and-a-half minutes, which comprises an entire act of the hour-long episode. Jane paces around the room, debating how to cope with the recent news that her husband, who had been deceased for four years, has been found alive with a severe case of amnesia. While the use of amnesia and bringing back a long-gone character may seem far from grounded for a modern-day dramedy on The CW, it's typical of the telenovelas that JTV's story pays homage to. The final season's premiere exudes magic and life, recognizing that even moving backwards can be critical to finding the right path ahead. JANE THE VIRGIN is ready to continue telling a moving story through a heightened genre lens that thrives on its fusion of genres and bring the story to a satisfying conclusion. Despite its flamboyance, the series makes wonder out of the many twists life can bring, even if our brains can't wrap our heads around them. After all, the brain is not an exact science. [Michelle Vera]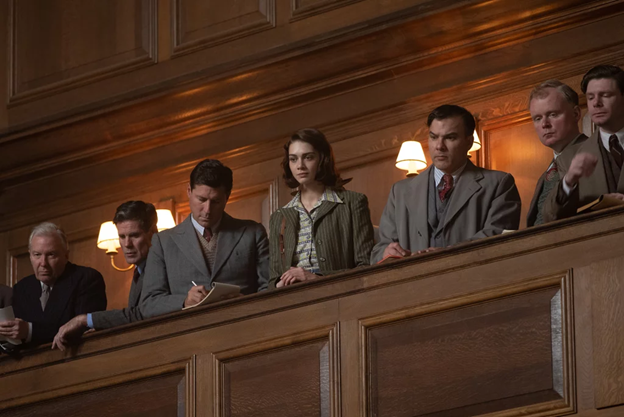 TRAITORS (Netflix)
Russians are possibly infiltrating the government of a world power, the economy is a little further than on the brink of collapse, and everyone on the inside is suspicious of everyone else. Even though this may sound terribly familiar to the modern American, these are the major conflicts of the new Netflix show TRAITORS, which takes place in Britain immediately after the end of the Second World War in 1945. The pilot follows Feef, a field agent for the British government, who missed her day of glory due to the war coming to an end. A fortuitous placement in the Civil Service gives her a new possibility for intrigue and danger, because now there's a new enemy: Russians.
This political drama spends a long time gearing up to get going, leaving me wondering by minute 20 when the "traitor" part of TRAITORS was going to show up. After the halfway point, things do pick up, and mysteries and alliances for future episodes are seeded. If you are a fan of Cold War political drama and dry British dialogue, this show is entertaining enough. That being said, it doesn't raise itself up higher than any other British drama you might see on Masterpiece Mystery on PBS. Still—Masterpiece Mystery is usually pretty good, so take from that what you will. [Anna Mansager]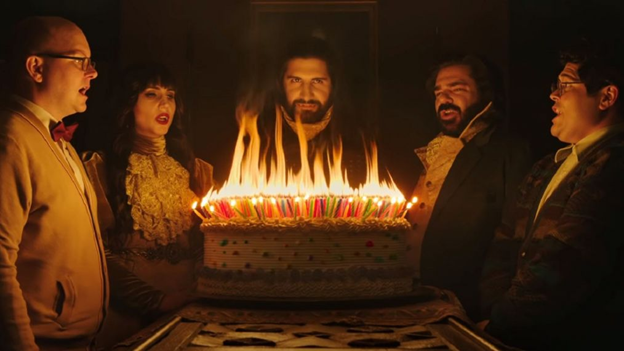 WHAT WE DO IN THE SHADOWS (FX)
They're not the vampires from TWILIGHT… but they kind of want to be. Meet Nandor, Nadja, Lazlo, Colin, and their human manservant, Guillermo—Staten Island's worst-kept undead secret. Despite having lived in America for centuries, these four creatures are fabulously old-fashioned and completely out-of-touch with the modern world. Once upon a time, they might have conquered the New World. But now? They're complacent in their sleepy manor in lower Manhattan. However, when their coven leader pays an unexpected visit, the housemates feel the pressure to take up their old plans of domination.
WHAT WE DO IN THE SHADOWS is a spin-off from the namesake 2014 comedy horror mockumentary, and while it lacks the same punch as the film, the series still has bite. Jemaine Clement expands upon the film's world, introducing new characters who inject the story with promise and new energy. The A and B plots follow two pairs—Nando & Guillermo, and Nadja & Lazlo—and these conflicts are honestly the most engaging thing about the series. The characters are this series' strength, and the source of all of the show's humor. Personally, I can't wait to see what these oddballs get up to in the shadows each week. [Tracy Nicoletti]