We're back from our summer siesta and hoo-wee what a last couple weeks it's been! Some of the most highly anticipated premieres have started to roll out—both on a grand scale and personally among our team. We're excited to see (most of) them and hope you'll enjoy our takes on the latest and greatest in television in this week's TV roundup!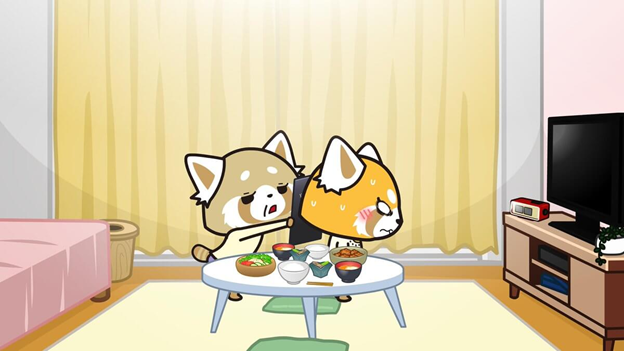 AGGRETSUKO S2 (Netflix)
I'll be honest—since the premiere of S1 last year I've been completely obsessed with Retsuko, the adorable red panda who slogs through her crappy office job by day and takes out her pent-up frustrations through death metal karaoke by night. It was a hilarious and #relatable season of television, but even I was left wondering how they could expand this series that amounts basically to a bit (LOL! She's adorable but she does death metal! #yaskween!!!) into a serious Netflix adult animation contender.
I'm happy to report that AGGRETSUKO S2 knocks it out of the fucking park. Season Two focuses less on Retsuko's embarrassment at people finding out her hobby and more on her overall search for purpose and happiness. She examines this through the expanded presence of her friends and coworkers. Kabae, the gossipy pink hippo from S1 and by far the most "bit part" of the first season, plays a vital role here and sees a lot of much-needed character development. Director Ton develops his nuanced relationship with Retsuko that I can only describe as a rivalry. Gori and Washimi are back in a big way, as are Fenneko and Haida—who all continue to delight in their expanded roles.
New faces include Retsuko's mom (heavily advertised, does not disappoint), a new underling for Retsuko who causes… well… some tension, and a mysterious new love interest I won't spoil.
What started as a clever Sanrio update has already grown into a premium Netflix Adult Animation offering that holds its own against big boys BOJACK and BIG MOUTH. If you haven't checked this out yet, do it!! [Kate Brogden]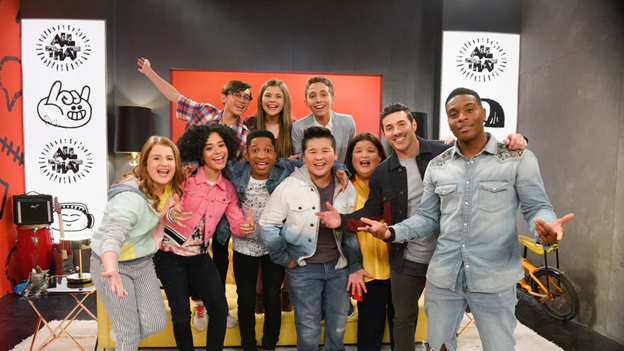 ALL THAT (Nickelodeon)
I suppose I owe the original ALL THAT a debt in that they were the catalyst for my very first ever Hot Take. When I was in second grade, Good Burger had installed itself as the dominant topic of playground discussion. Reciting that damned "Welcome to Good Burger" catchphrase was the end-all-be-all of Seaside Elementary School's public discourse. It was amidst this harsh climate that I declared that Good Burger sketches really sucked and were, in fact, not at all even funny. The ensuing social exile molded me into the cranky, bitter critic I am today, and I'm deeply grateful for that.
And now it's back! What is dead may never die in Hollywood, and it's no surprise that another crown jewel of '90s kid nostalgia has risen again to walk the Earth. With child attention spans at an all time low, now's the perfect time for a bevy of fresh youths (chaperoned by original cast members Lori Beth Denberg, Josh Server, and Kel Mitchell) to recreate the show originally billed "SNL for kids."
Despite clearly being way out of the target demo, this pilot warmed my heart. It rosies my cheeks to know that the kids can still appreciate the basics: over-tthe-top impressions and pop culture spoofs mixed with usage of the word "poopy." The sketches demonstrate deep respect for the show's roots while ensuring that most references are aimed at today's kids. I can't earnestly recommend keeping up with ALL THAT as an adult, but watch the premiere on YouTube just to reassure yourself that the world will keep turning after we're gone. [Dan Blomquist]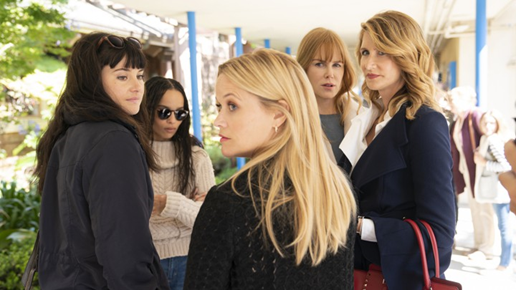 BIG LITTLE LIES S2 (HBO)
BIG LITTLE LIES S2 already had several marks against it in my books for going back on the series' implicit original promise of keeping a FUCKING EXCELLENT seven-episode elevation of "genre" into "fine art" contained to what it is. I have to imagine I'm one of the few in my demographic to have both read the book and watched the show, and I'll be the first to tell you they both equally knock it out of the park in their respective wheelhouses, but S1 was utterly unique in its capability to arrest the attention of "yass kween" cast loyalists and Film Twitter fuddy-duddys alike thanks to a masterful and legitimately respectful exploration of pulp and melodrama to their logical artistic extremes. To this day I can't tell you why more people haven't quietly pegged this as one of HBO's best offerings.
All of this is to say that the premiere to S2 had its work cut out for it, but everything considered… I'm here for it! Picking up right from where S1 ended, we see various familiar faces dealing with the aftermath of Perry (Alexander Skarsgard)'s demise. While the original pilot still has the stronger implications of everyone having a "big little lie" to deal with, the overbearing specter of the ladies' guilt is a sufficient fib to captivate our interests. While in some ways Meryl Streep felt like a "meme" inclusion to the cast upon announcement, she absolutely crushes it as Perry's doting mother Mary-Louise. If there are any doubters in the first half of the episode, the scene at the dinner table where an absolutely unhinged Streep fully leans into her grief is… just about what "prestige" television can ever hope to achieve. It's a masterful introduction of a conniving antagonist that's also entirely justified on a moral and thematic level.
If you put a gun to my head I might admit I don't immediately care all that much about Jane (Shailene Woodley)'s subplot here, and still can't put a finger on specific directorial qualities that give this bluster above entirely professional lighting, but for more-or-less free-falling as far as source material is concerned, the pilot proves our assumption we're in capable hands with Andrea Arnold at the helm. And besides… who the hell are you to not watch a show starring Reese Witherspoon, Nicole Kidman, Laura Dern, and Meryl freaking Streep? Yass kweens, indeed! [Thomas Seraydarian]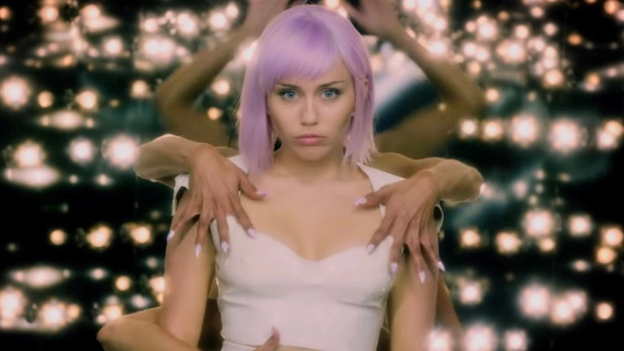 BLACK MIRROR S5 (Netflix)  
Since its inception, BLACK MIRROR has always been a little weird. But at its core, there was always a social commentary. A message, a warning, and a prediction. This is the path technology leads our society on, if we don't stop and realize and do something. You're supposed to think, to contemplate this, when the program ends and your screen goes black.
The newest season isn't thought provoking. It doesn't have much commentary or opinion about our world. It's just… weird. Weird for weird's sake. If you squint, you can kind of surmise the intent behind the three episodes that are available now, but the emotional punch doesn't land for any of them.
Is cheating still cheating, if it's online and not real? Great premise. But when you deliver this concept without an answer, then the story it's wrapped in loses its steam. Sometimes the premise behind each episode isn't a question at all, like in S5E2 "Smithereens." Just a pure statement, one that makes you nod and say "Yep, that's just how things are." But neither of these options are engaging, and, as such, BLACK MIRROR has so far failed to make impressions and get us talking as a society.
This season's missing that human element. The connective tissue that bridges sci-fi theory and dystopia with modern audiences. If you're a fan of the previous seasons, it might be worth it to watch the new episodes. But it doesn't really feel like BLACK MIRROR when you look at your reflection in the screen and think, "What was the point of that?" [Tracy Nicoletti]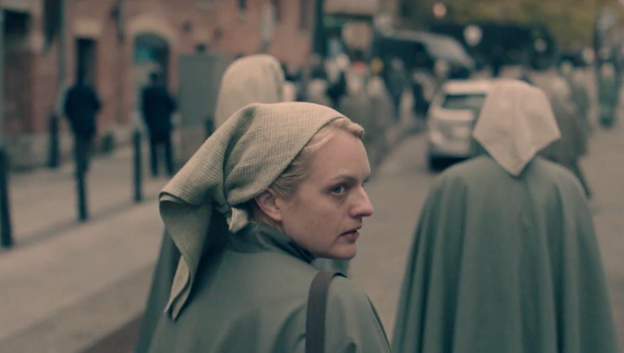 THE HANDMAID'S TALE S3 (Hulu)
The next chapter of America's favorite dystopian series is back, and it's fireier than ever. No, I don't mean Fox News, although the alt-right does seem intent on making THE HANDMAID'S TALE into a cruel reality. Fortunately, this latest iteration of the show leans hard into feminism and female empowerment, giving hope to the beaten, dehumanized women of Gilead. But it also introduces a familiar, if unpredictable new enemy to challenge and thwart June's attempts at rebellion.
Remember when we thought the Waterfords were June's biggest problem? They're nothing next to Commander Lawrence (Bradley Whitford), June's newest master. Whitford pulls out all the stops, channelling his unsettling GET OUT performance into the already nightmarish HANDMAID'S TALE to create a character that we can't ever really pin down. He helps June smuggle her newborn out of Gilead, but he's also dangerous, mean, and manipulative. If June walked on eggshells at the Waterfords', she's walking on glass in the Lawrence household.
That doesn't mean June isn't still the brash, testy handmaid we've all come to know and love. Her story drives this season's theme of "fight the power"—she joins the Martha Network, and continues to try and help women and children leave Gilead. In her eyes, her work isn't done until Gilead burns. And she might have just convinced the Waterfords to pour the gasoline. Season 3 is tense, thrilling, and complex, exploring themes of grief, loss, and what defines a mother.
Everyone should be watching this show. It will make you angry, but that's the point. The series currently airs new episodes weekly on Wednesdays on Hulu. [Tracy Nicoletti]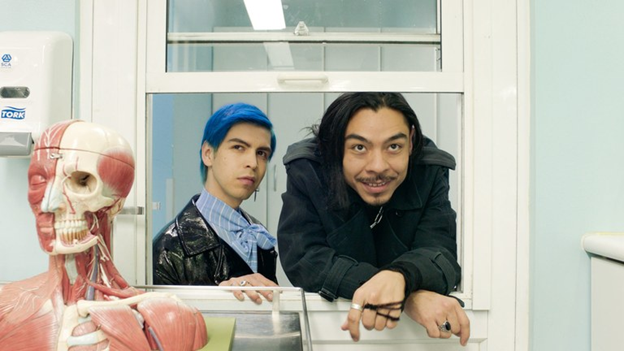 LOS ESPOOKYS (HBO)
LOS ESPOOKYS may not be the most anticipated post-GOT rollout for HBO, but it is by far the most unique. Executive Produced in part by Lorne Michaels and Fred Armisen, HBO's first ever Spanish language original series follows a group of friends who monetize their fascination with horror effects into a contracting business creating spooky atmospheres: from a goth Quinceanera to an old priest who needs to fake an exorcism to show up the new hot priest.
If you like WHAT WE DO IN THE SHADOWS (read: if you're alive) you will find at least something to enjoy about LOS ESPOOKYS. The bone-dry humor (no pun intended), the neon aesthetic, the bizarre characters and settings… it's what Taika Waititi would make in an alternate universe where he was born in Mexico instead of in New Zealand. As for how this aesthetic translates to a series, it remains to be seen. The kind of ultra slow burn on display here can run thin for less patient viewers, but there are plenty of hints at a very real supernatural element bubbling to the surface over the course of the first season. If you're not the type of person who immediately rolls your eyes at having to read subtitles you've probably got it in you to wait this one out. There's plenty of humor to go around, the cast has great chemistry, and at the very least it's a gorgeously weird show to look at.
I like this a lot, but it might be a "wait and see." If you've been waiting for the Taika Waititi/Tim Burton/Wes Anderson mashup of your dreams, today is your lucky day! If you're looking for the thing to really blow your socks off the way HBO series are wont to do, let this one sit for a few episodes before diving in. [Kate Brogden]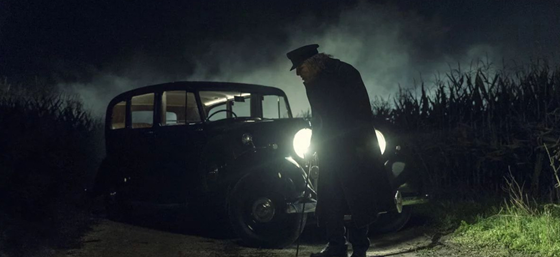 NOS4A2 (AMC)
Ughhhhhhhhhh. Alright, to be fair, I do at large respect AMC for some of their left-field programming decisions. It took balls to adapt PREACHER. DIETLAND is a Fight Club-fever dream I would have honestly passed on had I been on the development team. LODGE 49 ostensibly remains the best show none of us will ever have the patience to watch. In other words, the channel in general seems like a home for the heartily non-algorithm, a place where quirky and unique stories have a chance of standing out.
It's a shame, then, that NOS4A2 really screws the pooch. Look, man, who the fuck cares. It's 2019 and every day I'm faced with the encroaching reality of climate catastrophe: you think I have even a modicum of shits to give about an eternal vampire named Charlie Manx kidnapping children and taking them to "Christmasland" in his Rolls Royce Wraith while young Vic McQueen develops her (honestly very mild) supernatural sleuthing abilities, all while a similarly young librarian tries solving the disappearance of a young boy at the hands of the aforementioned Manx via Scrabble card-divination? If Joe Hill weren't the son of Daddy Stephen King, this wouldn't and shouldn't have received an afterthought from the general public.
Well… OK, fine. What's perhaps the most off-putting about NOS4A2 is that it actually tells a fairly evocative and human story involving Vic coping with her volatile parents' divorce. In a rare twist, her alcoholic father is actually the one she identifies the most with, and the scenes where his drinking tears the family apart, only for her to comfort him and assure him he's preferable to her mother is… kind of fucked up and emotional! As such, I absolutely despise that every time I'm just about to move towards the tissue box I'm treated with Zachary Quinto in Gringotts makeup reading a map where an honest-to-goodness destination is the "Pennywise Circus," commenting to his young ward about how they're just one more stop away on the "St. Nick Parkway."
The whole thing is played with a straight-enough face that I guess if you were really grasping you might be able to fall into a Gaiman-esque lull of dark fantasy, and I think I'm at least a little bit in love with Ashleigh Cummings, but… weird to think how many good books there are out there that will never be adapted into television series because their author isn't related to Stephen King. [Thomas Seraydarian]