Pilot season is upon us, dear readers! That magical time every year when Network Television deals out its latest and greatest (?) in televised content. Will peak TV finally hit its valley? See below to find out!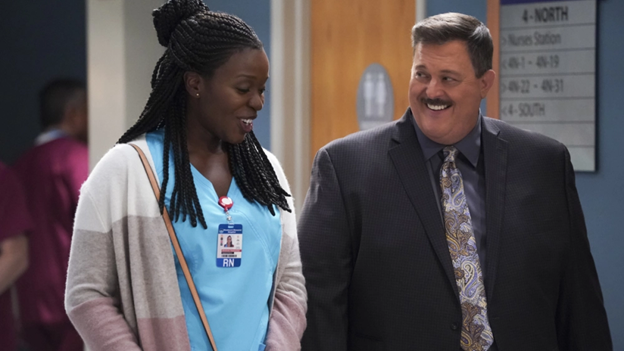 BOB <3 ABISHOLA (CBS)
Where to even fucking begin? Chuck Lorre, lauded as the "King of Sitcoms" who brought "Bazinga" into our lives, is taking a crack at a CBS multicam interracial romance/immigrant story. Bob, a schlubby sock salesman, suffers a heart attack and falls head over heels at first sight for his Nigerian nurse Abishola—but not before a fart joke in the first 30 seconds of the pilot. There are a lot of trippy things about this pilot, but the trippiest of all was logging on to hate-read some reviews of this only to find that… major entertainment publications seem to like this? I don't want to name names, so let's call them The Schmollywood Reporter and Schmariety, but both of these purely hypothetical magazines praised BOB <3 ABISHOLA for its vulnerability and depictions of other cultures.
… What?
Let's talk about Bob. He hates his family and is relieved when Abishola offers to tell them he's asleep after he wakes up from getting three stents in his heart. He runs a compression sock company and has an argument with their Chinese manufacturing company, then complains that they're "running out of Asian countries" to make their socks. When his plucky millennial sister posits that they should "stop exploiting" these countries, their mom chimes in that they pay other companies to exploit and all they do is turn a blind eye! Ha-ha! Bob wants to thank Abishola for her kindness and bribes her coworker with $100 to give him Abishola's home address. He repeatedly shows up at her home and workplace, follows her onto the bus, and interrupts her making a call to a wife whose husband passed away. So #relatable! His pursuit of Abishola comes off as well-meaning on the surface—but what does he actually like about her? His first remark to her is to call her "pretty," and he likes the way she says "Bob." Does he know literally anything else about her? Does he respect her time and space? No, but—y'know! He's so cute!
Now there's Abishola. She's a single mother and Nigerian immigrant living with her aunt, uncle, and son. She has a heavy Nigerian accent and sings a song from her home country to help Bob overcome his "pee shyness" at the hospital. When Bob first shows up at her home—a complete stranger—her aunt and uncle remark "When has a white man at the door ever been good?" Big laugh! Ha-ha! Comedy! Abishola's son is a straight-A student, so she's shocked to find out he got into a fight. She sits in the principal's office with the black mother of the other child in the fight, and learns that this child called her son a "Jungle Bitch." See, guys? Black people are racist too. Abishola's son gets suspended for three days.
It is worth noting that Gina Yashere—a hugely popular comedian from Nigeria by way of London—is credited as a co-creator on this series. She is one of four—billed last behind Eddie Gorodetsky, Alan J. Higgins, and Chuck Lorre himself. They also share a four-way writing credit on this pilot. Publications who go out of their way to praise Lorre for including Yashere should take a long, hard look at how much of her influence is actually present in this pilot. In this interview, Yashere spells out that the premise was actually Lorre's idea as a vehicle for Billy Gardell and they brought her on after the fact. And here is where I would have made a joke that they just Googled female Nigerian comedians and picked the first one they found—but THAT'S EXACTLY WHAT THEY DID.
Other media criticism outlets seem content to give Lorre a pat on the back for making the bare minimum effort to be inclusive, but that's not what I see here. From the awkward drum beats punctuating the pilot, to the undercurrents of colorblindness, to poking fun at the systems that make a CBS comedy with this premise so "subversive"—BOB <3 ABISHOLA is a complete cringe-fest from beginning to end. The year 2019 is not the time to be praising people for making the bare minimum effort to understand the immigrant experience. KOMINSKY METHOD was good, Chuck. Stick to what you know. [Kate Brogden]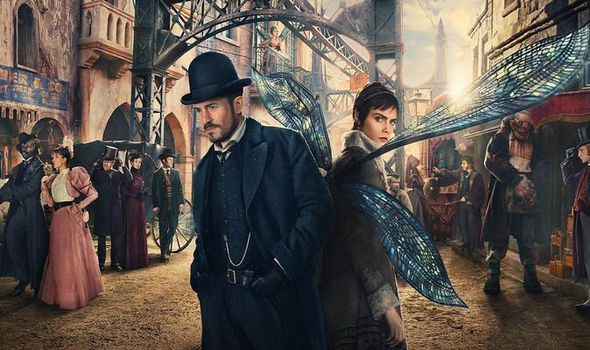 CARNIVAL ROW (Amazon Prime)
Winter has come and gone, and there's a dragon-shaped hole in the pop culture sphere. Everyone keeps asking "what will be the next GAME OF THRONES?" with earnest despair. Wherever shall one get a fix of fantasy creatures, political games, and gratuitous sex? Well, look no further than CARNIVAL ROW.
Based on a 15-year-old unproduced spec script, CARNIVAL ROW is a beautiful CGI fever dream of pixies, Victorian gaslamps, racism, and Jack the Ripper-style gore. Part serial killer mystery, part star-crossed romance, and part social commentary, it's a narrative melting pot, set in a stylized, complex world with deep lore—one that tantalizes as much as it deceives.
If you walk into CARNIVAL ROW thinking it's going to be a murder mystery, you'll be very disappointed. Sure, there will be the odd killing, but it's by far the least compelling part of the story. The murders are more of a plot device, pushing the true mystery of the season—the male lead's backstory. Philo (Orlando Bloom) and Vignette (Cara DeLevigne) enchant as the lovelorn main characters, so much so that one often feels deprived when the story re-lenses to the other four couples.
CARNIVAL ROW dives head-first into topical subjects like oppression, racism, immigration, and refugee crises, but it all tends to feel a bit on-the-nose. A metaphorical hate letter addressed to Trump, decrying inhumanity and violence. Even so, the world is immense fun, by far the most interesting and well-developed one I've seen in a long time. If you're looking for a salve for the GAME OF THRONES hole in your life, CARNIVAL ROW just might do the trick. There's even some fairy fucking thrown in for good measure! [Tracy Nicoletti]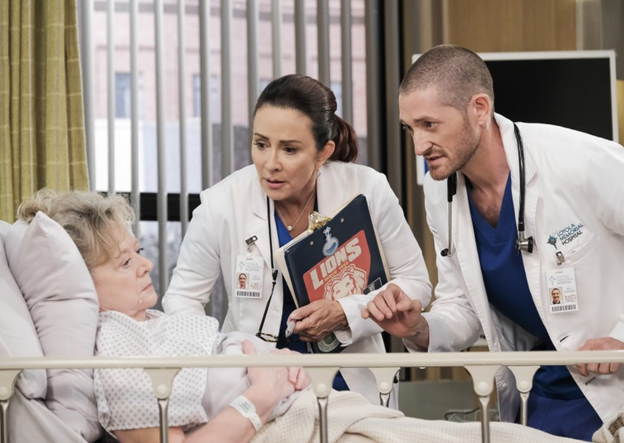 CAROL'S SECOND ACT (CBS)
 I understand that not everything is made for me. When CBS greenlit CAROL'S SECOND ACT, they probably didn't do it with me in mind. But as I was watching this pilot, the thought that kept racing across my mind was: Who is this for? It has to be for someone, or it wouldn't have been made. They can't just jam ancient memes, Patricia Heaton, and a laugh track into a hospital and call it a show, can they?
I know that it's corny of me as a young dude to be bashing on a show so clearly not designed for me or anyone around my age, but I'm stirred to valorous action by how oddly mean-spirited CAROL turned out to be. In the opening dialogue, Caleb (Lucas Neff) states that his pronouns are he/him. Then the laugh track plays. I guess just the idea that someone would declare their pronouns is funny? Cheap "Attack Helicopter"-esque exchanges pop up frequently, peaking with a depressing conversation along the lines of "You're not a woke bae!" "No, that's cultural appropriation!" This kind of declawed "edgy" humor hardly comes off as offensive and daring. It's more callous, bumbling, and excruciatingly boring.
Heaton, to her credit, makes the eponymous teacher-turned-doctor likable enough to carry scenes occasionally. The other plus is the utterly inexplicable inclusion of Kyle MacLachlan as Carol's apparent love interest. Beyond the fact that realizing he was in this was the biggest laugh CAROL got out of me, his patronizing and dog-brained Dr. Frost added another bright spot to what's ultimately a pithy death rattle for a bygone style of sitcom. [Dan Blomquist]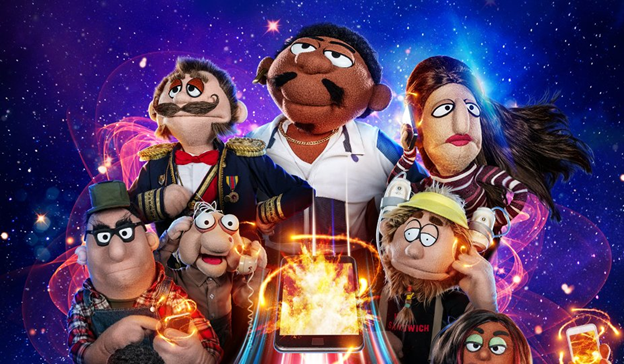 CRANK YANKERS (Comedy Central)
It feels cliche to call an R-rated prank call show with puppets "ahead of its time," but if you look at the evolution of entertainment since the last season of CRANK YANKERS in 2007, there's really no other way to describe it. The format of putting silly images over real dialogue is second nature to the YouTube content of today, and the prank call in particular doesn't seem to be going anywhere. All this waxing poetic is to say—CRANK YANKERS is back and hasn't missed a beat. It's so rare and special to see a show come back after such a long time and still make me laugh as hard as it did when I was watching it secretly on MTV2 at my friend's house as a kid. The new celebrity guests callers are completely on point. Not a dud in the bunch on the first episode: Adam Corrolla, Tracey Morgan, Aubrey Plaza, and Chelsea Peretti deliver huge laughs. Of course there's some raunch involved, but it never relies on it explicitly. Most of it is just solid, great comedy. The added production value is just the icing on the cake—the puppets and sets are perfect and add as much to the comedy as ever. It goes to show, people being flustered on the phone will be funny forever. Who knew? [Kate Brogden]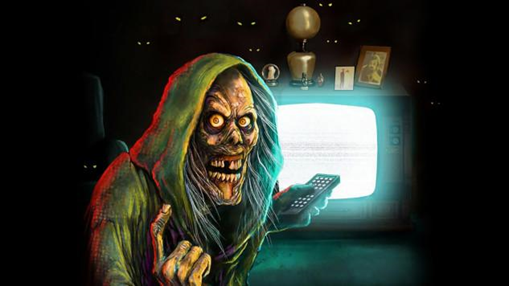 CREEPSHOW (Shudder)
Color me pleasantly surprised! Don't get me wrong, the concept of CREEPSHOW has always been an exceptionally strong one, with its short story-focused bent an excellent way to explore spooky ideas that might feel stretched if expanded into feature-length fare. Unfortunately, I have the rather controversial opinion that the original film isn't all that much to write home about, an unbalanced affair that highlights some of the fallacies of the anthology format instead of its strengths. Believe it or not, Shudder's CREEPSHOW is already doing a lot to suggest it may eventually take the mantle of the most essential interpretation of the intellectual property.
I'm a long-vocalized fan of the miniseries, and CREEPSHOW is set to come in at a cool six episodes, each one split to cover two separate stories. As the pilot would suggest, 20-25 minutes is the perfect length to tell a contained, chilling tale, allowed to flex enough narrative muscle to comprehensively establish characters and develop a story, never running the risk of overstaying a welcome. Both stories in the pilot, "Gray Matter" and "The House of the Head," are strong initial steps forward. "Gray Matter" takes a cue from a Stephen King yarn of the same name and delivers an oozing sci-fi escapade that feels precisely like what would appear on one of the '50s comic collections that inspired the franchise. Able to make efficient and effective use of alcoholism as a metaphor for something much more sinister, the production value is on full display here, with bona fide, Blumhouse-quality jump scares and creature effects that are impressively rendered. Topped off with a cast that includes Tobin Bell of SAW fame and Giancarlo Esposito of BREAKING BAD fame, respectively, it's a better King adaptation than IT: CHAPTER 2 (fight me). It's bolstered on the back half by "The House of the Head," quite literally one of the best suspense premises I've seen on the screen, big or small. Telling the tale of a young girl who's gifted a doll house, only to find a severed doll head that begins menacing the doll family whenever she's away, it posits a fascinating conundrum where the girl keeps having to buy and reposition dolls in ways that might help them stay alive, surprisingly grippy and nail-biting until the very fun, ooky-spooky sting at the end. All in all, CREEPSHOW is the first horror TV I've been excited about in some time, and there's no better time than now to get started. [Thomas Seraydarian]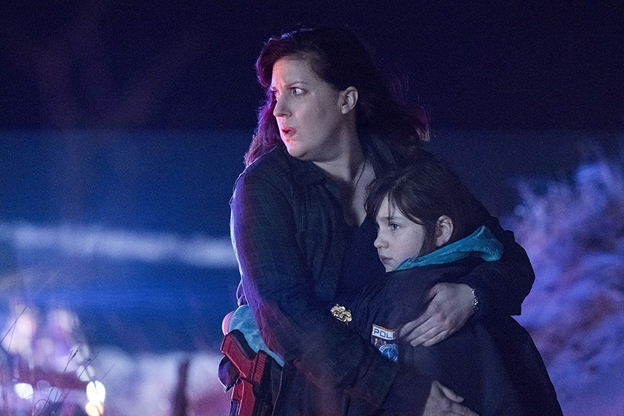 EMERGENCE (ABC)
 What is it about science-fiction/family dramas? The allure of the possibility of the perfect fusion of two of television's greatest genres is almost too great to ignore, that seems clear. And yet it never, if ever, works, does it? There was RESURRECTION last year, another ABC show, but also even more distant cousins like ALCATRAZ on Fox, THE EVENT and MANIFEST on NBC, and plenty more I'm sure I'm forgetting. I'm reticent to invoke its name, but the TV networks would love to create another show with the broad appeal and critical acclaim of LOST, it's just a lot harder than everyone initially assumed. EMERGENCE is ABC's newest stab at this specific kind of alchemy, a show about a mysterious plane crash and a police chief/divorcée's "kidnapping" (illegal rescuing?) of an amnesiac girl who may or may not have psychic powers/be a time-traveler. It's not exactly an easy blend, and the lackluster execution in the pilot doesn't help.
But with such a strong cast in tow you'd expect something serviceable, if not immensely charming!  Alison Tolman leads the show as Jo, police chief and surrogate mother to the mysterious, potentially psychic girl Piper (Alexa Swinton). Their chemistry, or at least Tolman's performance as an eager, if troubled, mother is legitimately compelling, but there isn't much to their dynamic beyond that. Like many shows before it, EMERGENCE seems primed to make Piper less of a character and more of a plot "object" you have to interface with through baby talk. It's disappointing to ignore a young girl's agency and seems like the most obvious place for the show to develop. There's strong potential in Donald Faison and Clancy Brown in the supporting cast. But it remains to be seen how they fit into the Jo and Piper show in the long term. The core idea of Divorced parent(s) plus unusual "adopted" child is ripe for drama, but the uneven pace of the pilot doesn't help. The show rushes to establish its status quo, then slows down for simplistic (unsatisfying) character beats only to rush again to a chase sequence which looks fine, but isn't exactly original from a staging aspect. It's confounding but par for the course. Until something singularly compelling "emerges" in EMERGENCE it's not worth the time of its desired audience or its talented cast. [Ian Campbell]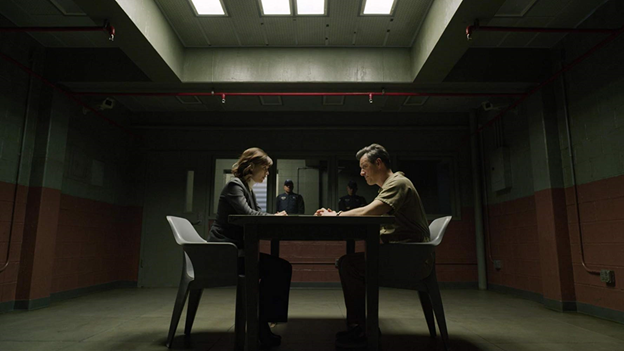 EVIL (CBS)
In a hypothetical battle between good and evil, EVIL, CBS' most promising fall drama, suggests that the best people to have by your side are a priest-in-training, a general contractor, and a former professional mountain climber-turned-forensic psychologist. EVIL is in many ways a traditional crime procedural. It features an odd sideways way into solving mysteries (a private forensic psychologist who works as an expert witness to pay off her student loans), classical odd couple pairings (he's a true believer, she's a skeptic), and a rigid "case"-based structure. But it's the odd specific details that make it stand out. Dr. Kirsten Bouchard (Katja Herbers), who left mountain climbing behind to become a mother of four (I think potentially eerie) daughters, works as an expert witness proving that defendants are not in fact insane, but just evil. We find her as a case goes awry, she's confronted with something evil (of the demonic variety), and she runs into David Acosta (Mike Coulter) and Ben Skair (Aasif Mandvi), our almost-priest and contractor, "assessors" of miracles and possessions for the Catholic Church. Because it's a TV show, she decides to join them and take a walk on the supernatural side.
EVIL is immediately weird. Mountain-climbing is her thing? Also canned margaritas? For as odd as Kirsten is as a character, Herbers performs with gusto, creating the beginnings of a playful, intelligent, but clearly precariously built outward persona covering something far messier. It's a wonderful contrast to the slick production design and editing that makes other genre shows starting this fall look childish and undercooked in comparison. One could predict this given the pedigree of its creators Robert and Michelle King, whose other show THE GOOD WIFE is considered one of CBS' modern day triumphs, but EVIL seems willing to be far sillier in a way that seems even more exciting. In 2019, when most new shows, even crime shows, eschew the procedural format for some kind of 13-episode "movie" structure, a show that swings the exact opposite way is refreshing, especially if it seems to already have such a strong handle on its characters. Just this once EVIL is good. [Ian Campbell]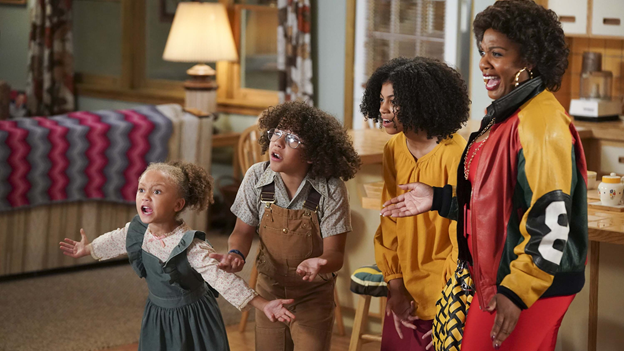 MIXED-ISH (ABC)
The latest jewel in Kenya Barris' -Ish trifecta, ABC's MIXED-ISH comes across as the same cake with a different frosting. Like its predecessor GROWN-ISH, MIXED-ISH begins with a preamble from Rainbow "Bow" Johnson and a scattered assortment of some of the other BLACK-ISH cast before it drifts back into Bow's memories of her childhood.
The spinoff doesn't come as a surprise. With the entrance of GROWN-ISH, Barris and co. made it clear that their goals for the Johnson family were loftier than one title could produce. Moreover, Bow's background in the show was always a thing of intrigue and mystery—the product of a mixed-race couple who, for a large portion of Bow's life, raised the family on a hippie-style commune, which was eventually raided by the FBI. With a character history that vivid, it's hard to see the creators (or ABC) not pursuing a show based on that.
In a lot of ways, MIXED-ISH hits at what makes BLACK-ISH feel both familiar and charming—the narrative offers an in-depth view into the life of a family growing up amidst the racial tensions of their community. What makes this brand distinct, however, is the weight of the premise and the pressure of the times during which it's set. While still filled with one-liners and Barris' brand of jokes, it's evident that this show may strike more solemn chords than the -ISHs that came before it. Ultimately, however, it's Barris being Barris. If you're a fan of BLACK-ISH, it's likely that this will scratch that itch for more. If not, this might be a network comedy to avoid. [Anna Thorup]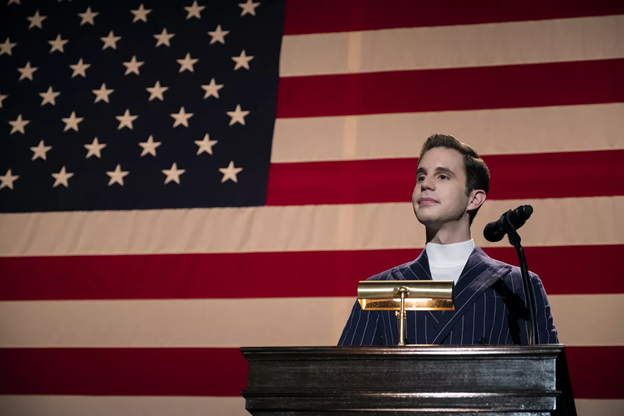 THE POLITICIAN (Netflix)
One of the cold comforts of the current American political landscape is knowing that everyone, absolutely every single one of us, feels completely fucking powerless. Across the political spectrum, everyone is convinced that the politicians they don't like have all the power, and no one whines about it more than the politicians currently in power. Since it's now considered gauche to egregiously flaunt unearned success, career politicians from wealthy backgrounds now have to create a facade of humility. A human mask of market-tested experiences and expressions to cover their cold, scaly essence. THE POLITICIAN explores the grotesque process of building the mask, the self-crucifixion and subsequent self-worship of broken social elites who suffer only when they want an excuse for their wrath.
Payton Hobart (Ben Platt) leads a cast of Buttigiegian high schoolers that rip each other to shreds in a fight to become class president of Saint Sebastian High School. "High school election as an allegory for real elections" sounds trite on paper, but this pilot was like watching a train made of fireworks. Payton seamlessly snaps from lovable to hateable in every scene, the supporting cast is so scene-stealing and perfect that I can't pick one to highlight, and the plot of the pilot could be a lesser show's season arc. Ryan Murphy brought some extra crazy sauce to his Netflix debut, and I'm slurping up every drop. [Dan Blomquist]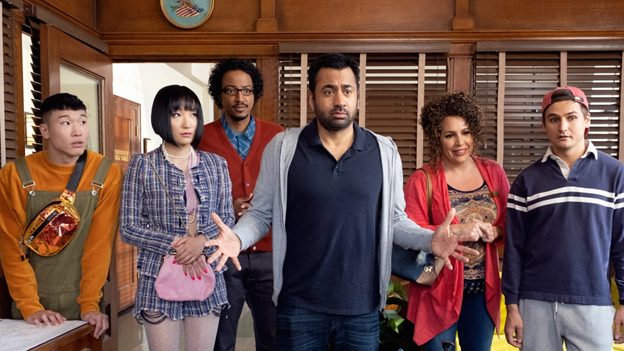 SUNNYSIDE (NBC)
Given that he worked for Obama's White House and resigned under Trump, it's pretty easy to guess Kal Penn's political alignment. So when I heard that he was making a network sitcom about immigration, I expected a heavy-handed dunkfest that focused on roasting Trump, ICE, and their blatantly evil immigration policies. But despite unassuming appearances, SUNNYSIDE ended up attempting something that just might be the craziest, most hare-brained idea of the entire pilot season: creating wholesome political content. And I'm not quite sure if they succeeded.
The strongest argument for SUNNYSIDE comes from the acting. Penn's disgraced Queens Councilman Garrett Modi channels a bit of Kumar energy as a lovable layabout. Modi's path to redemption is guiding a diverse group of six immigrants through the perils of applying for United States citizenship. All six immigrants get introduced in 15 minutes, each scoring laughs and establishing their character. Jun Ho (Joel Kim Booster) and Mei Lin (Poppy Liu) win the close race for favorite of my heart, though they're helped by a delightful cameo near the end of the pilot.
While SUNNYSIDE at its core is a show about lovable immigrants who deserve citizenship but must struggle against the tide of xenophobic bureaucracy, no one ever asks why the process is so hard. We see the suffering caused by the system, but those who built and maintain the system are never mentioned, much less held accountable. Instead, we get some study session footage and some speeches about how America is the coolest, most tightest place to live because freedom. Framing nameless bureaus as the enemy rather than specific political groups gets them off the hook with the precious Middle America demo. So while far more pleasant than, say, CAROL'S SECOND ACT, SUNNYSIDE lacks the political punch it thinks it has. [Dan Blomquist]