At this point, you probably don't need to be reminded that this year royally, irredeemably sucked. However, pandemic, isolation, governmental failure, systemic racism, etc. aside, our year of obliterated conventions was one of the best periods of album releases we have lived through in a long time. 2020 didn't pigeonhole itself into being defined by one or two culture-shifting releases, and was instead characterized by a slew of excellent and singular records that signal a bright artistic future, even in the face of our bleak present. From Fiona Apple to Porridge Radio, Nuvolascura to AceMo, Bruce Springsteen to Benny the Butcher, here are the best 50 albums that soundtracked Merry-Go-Round Magazine's quarantined year.
Honorable Mentions:
Westside Gunn – PRAY FOR PARIS
Mary Chapin Carpenter – THE DIRT AND THE STARS
dreamcrusher – PANOPTICON!
Dan Deacon – MYSTIC FAMILIAR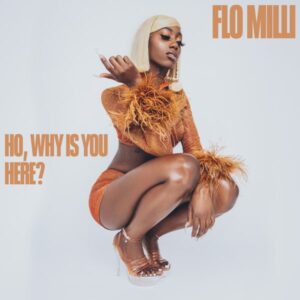 50. Flo Milli – HO, WHY IS YOU HERE?
Genre: Pop Rap
Favorite tracks: "Beef Flomix," "Like that Bitch," "In the Party," "May I," "'Scuse Me"
Unless you've been living under a rock for the past year, and have no idea what a fancam is, then you've definitely heard the instant classic line "I like cash from my hair to my ass, do the dash can you make it go fast…"  Flo Milli has not only taken the internet by storm, but is making the music industry stand at attention. At 19 years old, Milli says exactly what's on her mind with absolutely no regrets. Her debut album, HO, WHY IS YOU HERE? skyrocketed, rightfully so, and reverberated the previous notion as loud as possible.
What's so impressive about HO, WHY IS YOU HERE? is not just Flo Milli's age or style, but her innovation. It's one of the most thoughtful albums of 2020—Flo Milli took her time, and made sure every word was worth every cent, because she's not gonna fucking say it again. "May I" completely revives a '90s West Coast staple, "Gin and Juice," and envelops it into its own feminist anthem. The production on "'Scuse Me" is creative, adding a simple vocal distortion underneath her vocals for an instant elevation. Flo Milli not only asserts herself and her art with confidence, poise, and power, but in turn reminds us all of our own self-worth and influence. Everyone should say thank you to her! [Jesse Herb]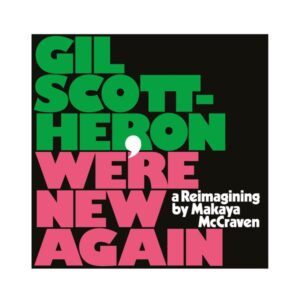 49. Makaya McCraven / Gil Scott-Heron – WE'RE NEW AGAIN: A REIMAGINING BY MAKAYA MCCRAVEN
Genre: Nu Jazz, Avant-Garde Jazz
Favorite Tracks: "Running," "New York is Killing Me," "I'll Take Care of You," "Me and the Devil"
While his name strikes a chord of recognition in the vast majority of music fans, casual or otherwise, it's interesting to consider the fact that I don't think I can point to anyone in my age demographic that's all that familiar with the actual work of Gil Scott-Heron himself. Certainly for me, Scott-Heron has long been someone on my list to check out more extensively: I think it says something about WE'RE NEW AGAIN that it's the only thing in roughly a decade of having that list that has motivated me to actually do so. There is something so affirming and heartwarming about an endeavor such as this, in which McCraven has pulled off the ultimate tribute as a clearly passionate and caring fan: making the art of an inspiration entirely his own, in turn holding the hand of the listener and leading them to a rich and rewarding body of creation that means so much to him. A reworking of Scott-Heron's shakily finished final album, McCraven and his ensemble pull off a TO PIMP A BUTTERFLY-reminiscent tour de force of Black music both classical and modern, luxuriating in a comfortable pocket of funk-laden, heady grooves and freewheeling virtuosity that ebbs and flows around Scott-Heron's reconstituted, red-eyed missives. Flexing a wide variety of studio chops, McCraven and friends demonstrate a beguiling drive of beat-focused composition and creation, the sheer fun present over the course of WE'RE NEW AGAIN its most pleasantly surprising and evocative layer of identity. Glove-tight and inventive all at the same time, Scott-Heron feels as if he was in the studio for the recording, the sampling achieving a rarified air of camaraderie and cohesion that propels this above Jaime xx's admirable 2011 effort to rework the same source material. A formidable jazz record in its own right, striking in its prose and ponderous in its themes, and most importantly, demonstrating a loud and passionate call of love and respect for a historically underrated voice throughout, WE'RE NEW AGAIN was easily one of the year's most uplifting outings. [Thomas Seraydarian]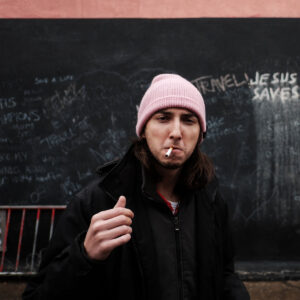 48. PHONY – KNOCK YOURSELF OUT
Genre: Bedroom Pop, Emo
Favorite Tracks: "The Shots," "Peach," "Waffle House," "Turnstile Effect," "Relax"
PHONY has a way of taking you through the steady, reliable progression of songs steeped in dysphoric displacement, and then, just as you're on board with what's happening, injecting an electricity that sears through the track. Suddenly, you find yourself bouncing up and down as you wash the dishes, punctuating the outbursts by sending soap flying as you punch the air to the beat. KNOCK YOURSELF OUT is a depressed punk fan's comfort food, an essential part of the survival pack. It takes everything I felt in this shit year and gives it a little bump of the right stuff: tonally it has the melancholic anguish and hollow disappointment of broken people—needed commiseration—but with a shot of espresso that brightens up the bouquet. Precisely because it's often upbeat but with truly harrowing lyrics, it captures the flicker of a smile while the room is burning down. Having completely lost touch with the outside world, lyrics like "I hate to say I love you because it hurts" *brief beat that shakes your world* "I love you because it hurts" resonate with an even more profound honesty, a raw directness and a level of hurt my numbed body forgot was possible. KNOCK YOURSELF OUT scratches the right itch in any year, but it was something I didn't realize I needed until I had it. [Tapley Eaton]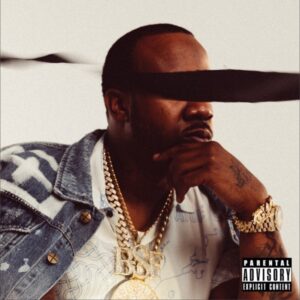 47. Benny the Butcher – BURDEN OF PROOF
Genre: Boom Bap
Favorite Tracks: "Burden of Proof," "New Streets" "Over the Limit," "Thank God I Made It" 
The Griselda crew have flooded the market over the past couple of years, arguably to the point of oversaturation even if the quality has been consistent. While Conway the Machine's FROM A KING TO A GOD was impressive, Benny the Butcher delivered the best album of his record label with his sophomore release. Even with a bigger budget and rising success, he hasn't gotten complacent and only sounds hungrier and more confident. Hit-Boy amps up the production with more cacophonous drums and layered samples between that maddeningly catchy guitar on the title track, the warbling synths of "Sky Green," and that haunting vocal sample over the gentle plucking of "War Paint" as Benny delivers structured and focused flows and poignant lines. In the midst of all the well-executed yet expected raps on cocaine and others' inauthenticity, it's the more personal musings of "New Street," "Trade It All," and "Thank God I Made It" that hit the hardest and reveal the consequences of his lifestyle between the death of his brother. Benny raps, "It's rubbin' me the wrong way when these rappers speak comfortably / 'Bout street life / It seem like they only givin' y'all luxuries," and it's this mix of bragging and introspection that make BURDEN OF PROOF so liberating and euphoric. [Blake Michelle]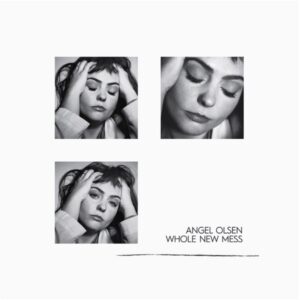 46. Angel Olsen – WHOLE NEW MESS
Genre: Singer-Songwriter
Favorite tracks: "A Whole New Mess," "Waving, Smiling," "Tonight (Without You)," "What It Is (What It Is)"
When it comes to the legendary Angel Olsen, there is one thing that must be understood: she's a fucking genius. The woman has reached resounding success with six albums, one of which was comprised only of B-sides, as well as two EPs, both recorded in a home studio. For the past couple of releases, from STRANGE CACTI to BURN YOUR FIRE FOR NO WITNESS, Olsen has been mastering her craft. She hones the skills, compares what works, and sets her sights on another colossal achievement. Then a switch took place with MY WOMAN, as Olsen decided to switch genres and sound completely (in familiar indie rock terms, she pulled a BURY ME AT MAKEOUT CREEK on us). From that album on she has been traversing through alternative rock seamlessly and asserting herself as a true virtuoso. With the release of ALL MIRRORS, it was clear she had finally found a long-awaited promised land: orchestral production. Olsen was no stranger to gorgeous, underlying piano, but her haunting vocals and insidious lyrics match so well with violins and a wind section it's a crime. Since then, she released integral Angel Olsen singles "A Whole New Mess" and "Waving, Smiling" and placed them amongst reworks of ALL MIRRORS. A WHOLE NEW MESS is another monumental achievement from a prolific artist who will keep reinventing and rising to new levels of artistic efficacy. [Jesse Herb]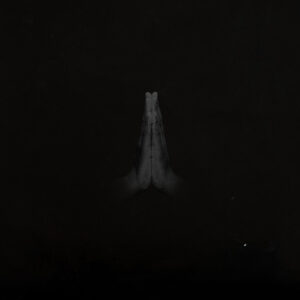 45. SAULT – UNTITLED (RISE)
Genre: Protest Music, Avant-Soul
Favorite Tracks: "Fearless," "I Just Want to Dance," "Free"
Combining R&B, Afrobeat, disco, and neo-soul, UNTITLED (RISE), the second of two albums released this year by the enigmatic UK music collective SAULT, is both timely and timeless. Unapologetically Black in nature, RISE finds SAULT connecting to their ancestors through ritual-like percussion and spoken word. The focus on dancefloor beats also makes this feel like more than just a protest album. This is a moment of empowerment and resistance. This is unbridled Black joy. When we look back on the 2020 uprisings that began in the wake of George Floyd's death, the music of SAULT on both UNTITLED (BLACK IS) and UNTITLED (RISE) will remain essential listens to understanding the revolutionary act of Black people's resilience. [Becca Lengel]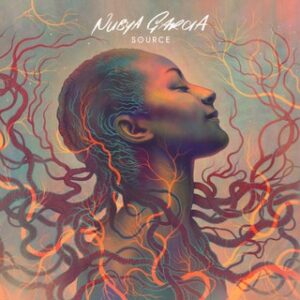 44. Nubya Garcia – SOURCE
Genre: Jazz
Favorite Tracks: "The Message Continue," "Together Is A Beautiful Place To Be," "Inner Game"
While there's no shortage of talent in the blossoming London jazz scene, tenor saxophonist Nubya Garcia rises to the top of the crop on SOURCE, one of the most exciting jazz records in recent memory. Incorporating a myriad of influences, ranging from hip hop to reggae, and transforming them into something entirely different, Garcia's exhilarating debut is a welcome facelift for a genre that's all about breaking the rules. It's no surprise that SOURCE has resonated with so many listeners this year—songs like "The Message Continues" and "Together Is A Beautiful Place To Be" are both sultry and intoxicating, sounding like a spontaneous combustion of virtuosic musicians in search of the perfect vibes. Whether SOURCE is your introduction to modern jazz or just a reminder of the tireless innovation it breeds, there's nothing else quite like it, and the end result is one of the most essential albums in its genre of the year. [Michael Brooks]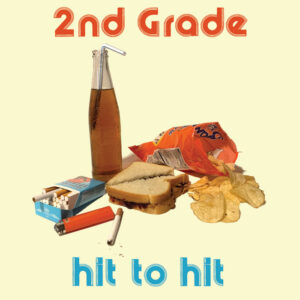 43. 2nd Grade – HIT TO HIT
Genre: Power Pop
Favorite Tracks: "Dennis Hopper in Easy Rider," "Velodrome," "Shooting From The Hip," "My Bike," "Boys in Heat"
Philly's 2nd Grade proved to be one of 2020's best rising bands, turning many a power pop aficionado's head with their sophomore album HIT TO HIT. True to its title, HIT TO HIT is a 24-track variety pack of bite-sized songs that show the band has a firm grasp on several different strains of power and indie pop. The group tries on several immaculate fits, from pleasantly twee Teenage Fanclub-esque chimers like "Velodrome" and "When You Were My Sharona" to endearingly goofy 'Mats-y punk pastiche ("Baby's First Word"), NRBQ-style yeehaw tunes ("100 Hrs"), and Big Star's patented tender teenage ennui ("You're So Cool," "Boys in Heat"). The wistful "My Bike" is equal parts THE BLUE ALBUM and The Feelies, and the concise song lengths and fidelity variations harken back to the grand tradition of GBV and R. Stevie Moore's blissed-out patchwork epics. A ringing three-guitar attack bolsters the proceedings. Frontman Peter Gill's (Friendship, Free Cake For Every Creature) wordplay exudes the same wry humor, dogged earnestness and aw-shucks gentle goodness embodied by the likes of Joe Pera, John Wilson, and Jonathan Richman, and he's more than happy to share the mic with his bandmates as they play musical Calvinball. In the wake of Adam Schlesinger's tragic passing due to COVID complications earlier this year, the world yearns for heartfelt, funny, immaculately written power pop instant classics, and on HIT TO HIT, 2nd Grade prove adept at doing that thing they do. Here's hoping they have hits to spare. [Luke Phillips]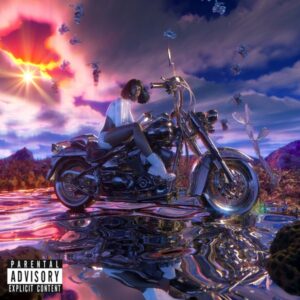 42. Tkay Maidza – LAST YEAR WAS WEIRD, VOL. 2
Genre: Pop Rap
Favorite Tracks: "24k," "PB Jam," "Awake," "Grasshopper"
2020 proved that Australians do it better than Americans. Where we have voter suppression, Australia has compulsory voting and polling site barbecues. Prototypical American accents are boring and square, nothing like the effortless cool of an Australian drawl. And Tkay Maidza is simply better than your favorite pop rap star, delivering a wildly entertaining and polished project with LAST YEAR WAS WEIRD, VOL 2. Maidza expertly blurs the lines between singing and rapping, between trap and dance pop, all with the breezy confidence of a much more accomplished artist. Tender, lovingly produced cuts like "24k" and "PB Jam" stand shoulder-to-shoulder with breakneck bangers "Awake" and "Grasshopper," yet no element feels misplaced or forced. This project is exactly the sort of bright, versatile soundtrack that 2020 desperately needed, and should firmly establish Tkay Maidza as a must-watch force to be reckoned with in 2021. I eagerly anticipate LAST YEAR WAS WEIRD, VOL. 3 both to hear more excellent music and to give Maidza her credit for coming up with the perfect title before the weirdest, worst year I've seen yet. [Corey Guen]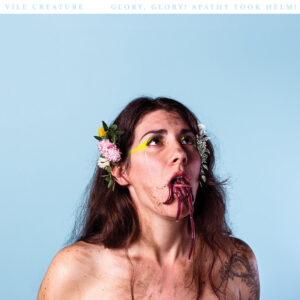 41. Vile Creature – GLORY, GLORY! APATHY TOOK HELM!
Genre: Doom Metal
Favorite Tracks: "Glory! Glory!" "Apathy Took Helm!"
In a year where screaming into the void felt, at times, painfully ineffective, the most moving and effective moment on Vile Creature's GLORY, GLORY! APATHY TOOK HELM! ironically comes after the howls have momentarily ceased on "Glory! Glory!," where an angelic choir provides a piercing, effective moment of respite. You can hear Vile Creature fighting for every minute, every second on the opening moments of their stunning sophomore effort, and that fight feels unspeakably intense and sometimes hopeless. On "Glory! Glory!" a calm comes before the apocalyptic doomsday to follow. And even on closer "Apathy Took Helm!," where the darkness slowly encroaches as Hell's angels coo intensely in the background, there is a sliver of hope: "I am home among the worms / All we care for withers / Plant me deep within the darkness / With grace and mercy I shall bloom / I shall bloom." Vile Creature know the fight must continue. So bury yourself, and prepare to bloom. [CJ Simonson]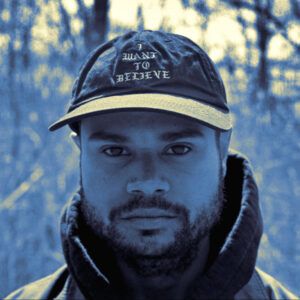 40. AceMo – I WANT TO BELIEVE
Genre: House
Favorite Tracks: "Just Want U 2," "I Don't Wanna See U Here," "I Want, I Need (Your Love)" 
If you spent anytime on Bandcamp this year, it would have been hard to miss AceMo. First Fridays became synonymous with AceMo album release day; the Brooklyn producer released five solo records, four collab projects, lent his hand to a number of compilations, and hopped behind the CDJs for a slew of fabulous mixes in this pandemic-ridden year. But the brightest in the jewel-studded crown was I WANT TO BELIEVE, one of this year's best house records. This album builds, bustles, and billows so seamlessly (more seamlessly, in fact, than most mixes I've heard this year) that he could slot this exact track listing into the tail end of a set and nobody would bat an eye. The towering trio of "Just Want U 2," "I Don't Wanna See U Here," and "I Want, I Need (Your Love)" is perhaps the strongest three-track run on a 2020 record and will be frequently spun by selectors across the world once dancefloors reopen. Don't bother calling AceMo a rising star, he and his Haus of Altr crew are the new face of dance music. [Ryan Moloney]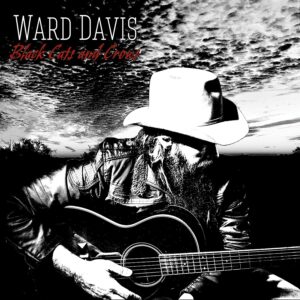 39. Ward Davis – BLACK CATS AND CROWS
Genre: Outlaw Country
Favorite Tracks: "Sounds of Chains," "Get to Work Whiskey," "Lady Down on Love," "Good to Say Goodbye," "Good and Drunk" 
Music critics, including myself, have a bit of an odd relationship with country, usually only dipping their toes into it to beat down an obvious target or lavishly praise the handful of acts that are seen as cool to like. Ward Davis has the ability to appeal to everyone, from the unfamiliar to the Sturgill Simpson and Chris Stapleton indie fans to the mainstream to the old-school heads. A perfect sophomore follow-up that goes bigger without sacrificing the original appeal, BLACK CATS AND CROWS takes all of Davis' intimate acoustic ballads and sorrowful crooning and supplements them with dazzling pianos, muscular guitars, murderous rage, and broken self-loathing. Written in the wake of a divorce, "Sounds of Chains" and "Get to Work Whiskey" could be over-the-top portrayals of macho fantasies or make this seem fun. Yet Ward tempers this by stripping back all the cool on "Nobody," "Lady Down on Love" and "Good and Drunk" to reveal a drunken husk of a man getting by on alcohol, cheating, and the tenuous love of his fans that he can barely believe. But that love is very real, and in a just world BLACK CATS would reach as many fans of any familiarity of country as possible. [Blake Michelle]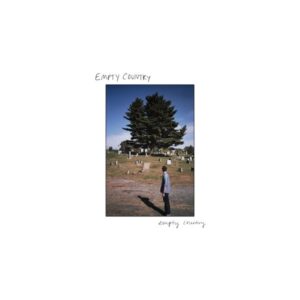 38. Empty Country – S/T
Genre: Heartland Rock, Indie Rock
Favorite Tracks: "Ultrasound," "Chance," "Emerald"
I think Joseph D'Agostino is the best songwriter of his generation.
It's taken years of listless nights listening to Cymbals Eat Guitars and now Empty Country to come to that conclusion… And frequently I have the thought and then take it back. Most recently I was listening to "Jackson," the heat-check six-minute eulogy that opens LOSE, and chasing it with "Ultrasound," the explosive, cathartic lead single off of EMPTY COUNTRY, and then following that up with the song that started it all, "…And the Hazy Sea," and admiring what a sonic and lyrical journey he's experienced, constantly capturing a perspective, be it seemingly abstract wandering or specific storytelling, as well as any person making music of his generation.
I think EMPTY COUNTRY is the best thing Joseph D'Agostino has ever done. 
It's taken many listless nights in 2020 listening to D'Agostino's latest to come to that conclusion… And frequently I have the thought and then take it back. Most recently it came to me standing outside my apartment complex at 1 A.M.., listening to the cry-into-the-void lullaby "Chance" while staring up at a starless Los Angeles sky in a moment of existential desperation.
EMPTY COUNTRY is a masterpiece. We're lucky to have D'Agostino making music. Let's not forget it. [CJ Simonson]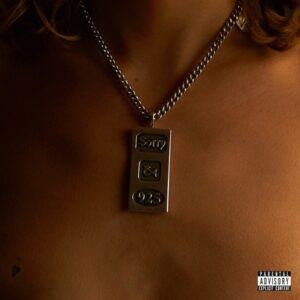 37. Sorry – 925
Genre: Post-Punk
Favorite tracks: "As the Sun Sets," "Snakes," "Ode to Boy"
Despite their name, this British duo doesn't apologize for a damn moment throughout their debut album 925. And, trust me, we wouldn't want them to! Part of the knock-out charm of the record is their brazen determination to be the center of attention and set the tone. Wherever you may be, and whatever headset you might find yourself in, when a Sorry song comes over shuffle, you can't help but be pulled into their dominion of commanding vocals, sovereign beats, and just enough cheek to make us feel like we're in on the joke (they are from North London, after all). As much as I had dug the early singles ahead of the record, the ones with more of a hard-hitting energy, and arguably a more accessible rock feel, the real gems are the surprisingly intimate tracks, notably "As the Sun Sets," "Snakes," and (be sure to be take note of this one) the perfection in heartbreak that is "Ode to Boy." Fuck, what a song. "This is an ode for you, baby." Is it electronic? Is it punk? Is it one of those post-punk/trip hop/experimental rock albums? Sure! But listen to it and feel something for once in your life, goddamnit! Upon release, 925 caused waves, but let me just tell ya, folks: If you can't at least nod your head in reverential respect at two people who are doing something fresher and cooler than most anyone else these days, your opinion is wrong. Cheers to that, govnah! [Devyn McHugh]
 36. Bruce Springsteen – LETTER TO YOU 
Genre: Classic Rock
Favorite tracks: "Janey Needs A Shooter," "Last Man Standing," "If I Was The Priest," "Ghosts"
One notable and very welcome pattern that has taken shape in the world of music over the past several years is one of late-career rejuvenation. Seemingly every year through the latter half of the 2010s, there has been one or more albums from aging or defunct groups and artists that represent their best work in many moons. Whether it be unforgettable swan songs of David Bowie, Leonard Cohen, and A Tribe Called Quest, triumphant return records from Slowdive, Fleet Foxes, and Daughters, or stunning returns to form by Bob Dylan and Judas Priest, there has been no shortage of stellar efforts by veteran artists in recent years. Not to be outdone by any of these names, the legendary Bruce Springsteen came through in 2020 with his best album in over three decades, a powerful and affecting retrospective of his life and career that touches on almost every musical inclination or style he's dabbled in over his nearly 50-year career. His first record since the '80s recorded live in the studio with the E Street Band, Bruce sounds ripped straight out of his prime, and the rest of the gang is in rare form, sounding as close to vintage E Street as one could imagine this late in the game. Featuring a couple songs that have been kicking around as demos since the mid-70s, LETTER TO YOU perfectly merges the incisive sharpness of a young Springsteen with the experience and wisdom of the present-day man, a combination that yields explosive results and serves as an excellent reminder of what made Bruce Springsteen into an all-time songwriting great in the first place. [Jacob Martin]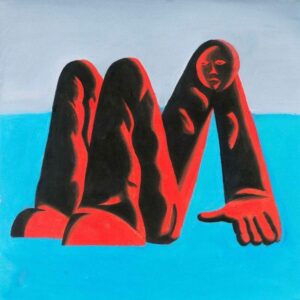 35. King Krule – MAN ALIVE
Genre: Art Rock
Favorite Tracks: "Cellular," "Stoned Again," "Please Complete Thee"
Mr. Marshall was set to have the biggest year of his career. Though MAN ALIVE was released to less critical acclaim than THE OOZ, his world tour sold out in a matter of minutes and ethereal bisexuals were Instagram-storying his songs more than Tame Impala's. But then the world did a lil oopsie and COVID made everyone forget about King Krule's best record to date. The production on here is levels better both in intricacy and exploration than anything in his back catalogue, and at 41 minutes is considerably tighter than his previous full-lengths. Marshall does a fantastic job cycling through depressed, gloomy, pissed-off tracks that sit in the cut to depressed, gloomy, pissed-off tracks that roar like a bonfire. The most impressive moments on here are the most compact, with Marshall manically growling in his signature low register while fantastically arranged post-punk instrumentals swallow him into a storm cloud. MAN ALIVE's most gobsmacking moment comes in its final two minutes as Marshall noodles saccharine, sun-scorched guitar chords that shimmer and burn like a rocket taking flight in slow-motion. King Krule has never sounded so cosmic; he's headed somewhere he's never been. [Ryan Moloney]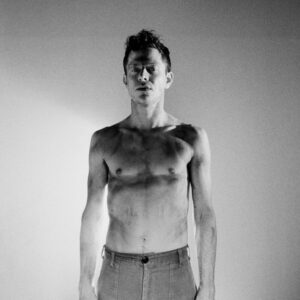 34. Perfume Genius – SET MY HEART ON FIRE IMMEDIATELY
Genre: Avant-R&B
Favorite Tracks: "Nothing At All," "On the Floor," "Without You"
It was striking and, to be honest, surreal to see "Slip Away" used so prominently in Olivia Wilde's cheeky directorial debut BOOKSMART.  By the time the film landed in theaters, several years after the release of the song itself, I was ready to accept NO SHAPE as the powerhouse blend of indie rock, R&B, and pop that it was. Perfume Genius has always dabbled in cinematic music, but it was a sound that has become progressively more accessible as time has gone on—one of the things that makes the entire discography so interesting to trace backwards. NO SHAPE in particular felt emotionally gratifying on a new level, and that was true well before it was used in a prominent indie film. Now over a decade into the Perfume Genius experiment, I've come to accept that Michael Hadreas' music doesn't necessarily hit as immediately as I may want or expect, but the half life on that timeline seems to shorten with every release. SET MY HEART ON FIRE IMMEDIATELY was instantly the most satisfying Perfume Genius release to date. The lighty, dizzying coming-of-age energy that works so transcendently in "Slip Away" is all over Hadreas' latest, and songs like "Whole Life" or "One More Try" level into an elevated, warming coo that is so specific to the Perfume Genius sound. "Without You" is the best song Hadreas has ever written, a song that is fully indictivice of the playful melancholy SET MY HEART ON FIRE IMMEDIATELY explores. I will relish in the moment it, or any song on Perfume Genius's latest, can be used in a coming of age story akin to BOOKSMART. [CJ Simonson]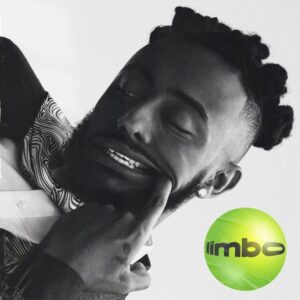 33. Aminé – LIMBO
Genre: Pop Rap
Favorite Tracks: "Woodlawn," "Compensating (featuring Young Thug)," "Shimmy," "Pressure In My Palms (featuring slowthai and Vince Staples)"
Aminé and I are the same age, and though our lives are nothing alike, his approach to living in 2020 shares parallels with my own: He's doing his best to control what he can control, and leaning on those he loves and who love him. That armor of social connection and positive thinking cannot provide a perfect shield however, and bits of darkness and anxiety creep in, which Aminé addresses with honesty, sincerity, and a refreshing openness. His latest album, LIMBO, shows clear signs of growth. It's interesting to hear an artist whose career launched with the breezy hit "Caroline" reflect on the personal ethics of bringing a child into the world, or the death of an idol and the resulting impact on his identity. And yet, I was in college when "Caroline" dropped, comparatively carefree. The process of learning and maturation over time, while necessarily losing some of the wide-eyed optimism along the way is a relatable and inevitable discovery, one illustrated with depth and conviction by Aminé. LIMBO is fun and serious in equal measure, a clear step forward for Aminé the artist and the person and a project I found understanding and comfort in all year. [Corey Guen]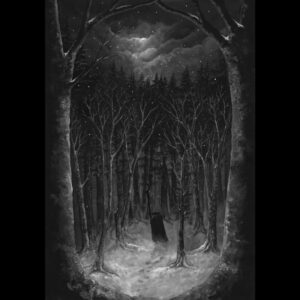 32. Paysage d'Hiver – IM WALD
Genre: Atmospheric Black Metal
Favorite Tracks: "Im Winterwald," "Alt," "Le rêve lucide," "Weiter, immer weiter, "So hallt es wider"
As much as the buzzwords may be bandied around, finding albums that are genuinely transportive, music that acts much more comfortably as an experience than a singular piece of art, is a phenomenon that's few and far between. Luckily, 2020 gave us a readily identifiable example of such with IM WALD, Tobias Möckl's first official full-length under the Paysage d'Hiver name after a 22-year career of coveted demos. It goes without saying that all of the trademark stylings of atmospheric black metal are out to play at full force and turned up to 11: the raw, uncompromising lo-fi aesthetics, tortured screams, and unrepentant militancy of the drumming and tremolo picking are as essential here as they are in any other classic release of the genre.
But to write IM WALD off as familiar is to miss the revelatory velvet hues of the forest for the snow-capped, wind-whipped trees: there is an intense and staggering beauty here fighting and gasping for life with every passing second. Whether it manages to survive the thresher and stand on its own two feet will be up to personal interpretation, but a pervasive sense of melody and caring composition are maintained throughout, adding a necessary touch of empathy to a style that often aims to be as alienating and misanthropic as possible. If that raises hackles among SUNBATHER detractors, it's not meant to: IM WALD's technicality and arctic bite would have qualified it to rest easy on the shelves of Helvete. But there's something here that acknowledges that pain and suffering are part and parcel with love and grace on the other side of the coin. There's a warm hearth waiting for the traveler from the cover if he can manage to survive the night and Möckl's statements that this exists in the middle of the narrative his discography has crafted lends IM WALD a sense of longevity and import that augment its status as an "epic" in the literal sense of the word. There are miles to go before we sleep. [Thomas Seraydarian]
31. Jessie Ware – WHAT'S YOUR PLEASURE?
Genre: Pop, Disco
Fav Tracks: "Soul Control," "Spotlight," "Remember Where You Are," "Mirage (Don't Stop)"
WHAT'S YOUR PLEASURE? was the standout record in 2020's minor disco boom, and part of that might be the fact that it's just as good a headphone record as it is a club record. Jessie Ware's hazy interpolations of old school electronic music and classic soul are gorgeously crafted and effortlessly groovy, baby. She just makes it all look easy throughout this record, delivering some of the year's best pop vocals, from the rhythmic punches on songs like "Soul Control" to the straight-up flexing on "Remember Where You Are," which sounds like a lost Bee Gees single that Ware conjured out of a hat somehow. WHAT'S YOUR PLEASURE? really hits because it's so easy to get lost in its textures, whether you're dancing in your bedroom or stoned off your gourd on the couch. [Adam Cash]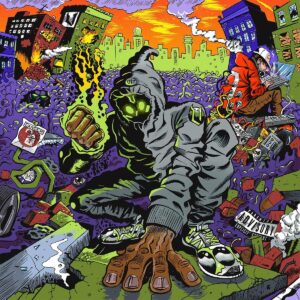 30. Denzel Curry and Kenny Beats – UNLOCKED
Genre: Hype Rap
Favorite tracks: "Take_it_Back_v2," "Lay_Up.m4a," "So.Incredible.pkg"
This year, along with the rest of America, I sought escapism. UNLOCKED, the surprise project from Kenny Beats and Denzel Curry, provided just that, delivering a kaleidoscopic, tightly-paced burst of fun and creativity. Coupled with a bonkers mini-movie employing a new animation style for each track, UNLOCKED sports the confidence of a lightning-in-a-bottle idea coupled with the knockout execution of a meticulously planned endeavor. Fresh off excellent, but thematically rigid albums (TA13OO and ZUU), UNLOCKED lowers the stakes and finds a looser, freer Curry eating up the glitchy, psychedelic soundscape Beats supplies. Though scarcely longer than a walk around the block, it remains a complete experience. The movie cribs the consistently amusing animated vignettes from FUTURAMA and RICK AND MORTY with amazing execution, and a staged internet beef between Curry and Beats to draw attention to the project were delightful distractions in this Hellish year. More than anything, UNLOCKED is fun, unserious, and lovingly made by two talented artists. Dusty audio samples lace Beats' bouncy production, lending additional credence to his resume as a stylistic chameleon, drawing on The Alchemist and Wu Tang as much as his trap contemporaries. Curry serves up endless punchlines like "My bitch bad like battle rappers who make albums," or "He shoot in VR / we got guns in reality." Every verse lands at least a few gems, and there's never a down moment on this supremely entertaining and efficient project. [Corey Guen]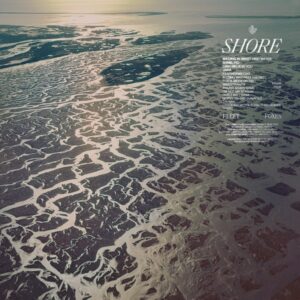 29. Fleet Foxes – SHORE
Genre: Alternative Folk
Favorite tracks: "Can I Believe You," "Young Man's Game," "Sunblind"
Released on the autumnal equinox, SHORE is the sunny and thoughtful follow-up to 2017's CRACK-UP. Fleet Foxes frontman Robin Pecknold oozes positivity throughout the celestial, as his poetic lyrics and vibrant melodies offer a moment of reprieve from the present. SHORE is what I imagine is playing on the beach in Meredith Grey's unconscious dreams as she reunites with past loved ones. It is a warm hug on a brisk day, a reminder that everything is going to be just fine. SHORE is not so much an act of cognitive dissonance from an unpleasant reality as it is a reminder of everything good that is possible. [Becca Lengel]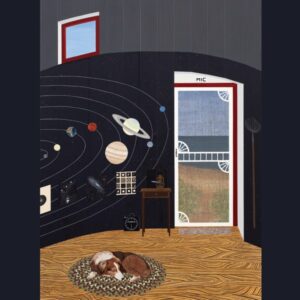 28. Mary Lattimore – SILVER LADDERS
Genre: Ambient, Freak Folk
Favorite tracks: "Pine Trees," "Silver Ladders," "Til A Mermaid Drags You Under," "Sometimes He's In My Dreams"
Los Angeles-based avant-harpist Mary Lattimore has spent the last few years redefining the relationship between classical musicianship and contemporary composition. Her latest, SILVER LADDERS, a collaboration with Slowdive's Neil Halstead, is a brooding slice of new age music, mixing contemplatively plucked harping and gorgeous, shimmering guitar work. On top of putting out SILVER LADDERS, Lattimore contributed to 2020 albums from Julianna Barwick and North Americans, bringing her to the forefront of neoclassical's new vanguard. From the dreamy naturalism of "Pine Trees" to the plucky shoegaze of "Til A Mermaid Drags You Under" to the introverted brooding of "Sometimes He's In My Dreams," from start to finish Lattimore's latest plays like a concise but gripping surrealist novel. [Ted Davis]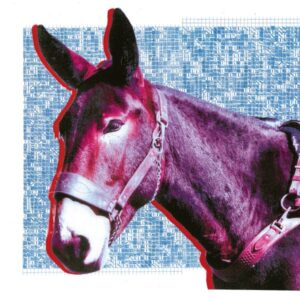 27. Protomartyr – ULTIMATE SUCCESS TODAY
Genre: Post-Post Punk
Favorite Tracks: "Processed By The Boys," "Michigan Hammers," "Modern Business Hymns," "Worm In Heaven"
After a roughly decade-long career and four previous studio albums, you think that you'd know what to expect when walking into the latest from Detroit, MI post-punk stalwarts Protomartyr. However, ULTIMATE SUCCESS TODAY may be the band's most distinctive release to date, still firmly grounded in the gratifyingly concrete yet intensely cerebral sound that has come to define them, but mixing up the formula just enough to ensure that everything stays fresh. Alongside some of the heaviest riffage of the band's career, you'll find saxophone and clarinet parts that add a welcome contrast and depth to Protomartyr's style, with every member of the band, in particular drummer Alex Leonard, turning in some of the best work of their careers. The man who stands out the most though is, naturally, frontman Joe Casey, whose detached and disaffected vocal demeanor is the perfect fit for his sardonic and cutting lyrics, easily ranking among the best pen work of his career. In a year like 2020, the poetry that Casey presents on the band's latest is particularly prescient: despite having been written a year prior, lines like "To those who always have it / money is no matter / and in these hungry times / those trapped between stations / will forget their manners" on "Modern Business Hymns" are as native to 2020 as any lyric possibly could be. But maybe that's the real power of ULTIMATE SUCCESS TODAY; the lines of attack taken by Protomartyr on this record are so crucial and so universal that they can't help but feel hyper-relevant, no matter when or where you hear them. [Jacob Martin]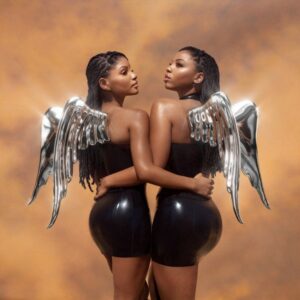 26. Chloe x Halle – UNGODLY HOUR
Genre: Pop, R&B
Favorite Tracks: "Forgive Me," "Do It," "Ungodly Hour," "Busy Boy," "Wonder What She Thinks of Me"
When we talk about influence, what are we talking about? Well, who knows what anyone else is thinking, but everyone should be thinking about the scope of magnetic group Chloe x Halle in 2020. Beyonce's proteges started gaining traction quickly after releasing their sophomore album, THE KIDS ARE ALRIGHT, in 2018. The album was a smash of pop, R&B, and a little bit of soul that saw the women soar to new heights. With the benefit of retrospect, though, THE KIDS ARE ALRIGHT only unhooked the stanchion to allow for the potential, promise, and poignancy of UNGODLY HOUR to be born.
UNGODLY HOUR is triumphant. UNGODLY HOUR is resilient. UNGODLY HOUR loves to tease. UNGODLY HOUR is just simply groundbreaking. The album permeates genre and sound with an adaptability that lends itself to near-perfect production, without a doubt "no skip" and warranting many repeats. There is not a single artist today that holds the same gravity or curates a sense of personal artistry like Chloe x Halle. While THE KIDS ARE ALRIGHT felt like the rite of passage for Chloe x Halle as they ventured closer to young adults and deciphered who they wanted to become, UNGODLY HOUR is the marker that adulthood has arrived, and with maturity of self comes maturity of art. All this to say nothing of their visuals, an absolute integral part of Chloe x Halle's performance. The women feed off of one another and combine gorgeous costumes in hypnotic unison to make you feel as though you've entered a mesmerizing dimension. Not even a pandemic could slow Chloe x Halle down, as their dedication to their craft (and their infamous tennis court) has created timeless filmed performances. The UNGODLY HOUR era is one that future generations will be Googling and adding to their moodboards, and Chloe x Halle have no place but the highest echelon. [Jesse Herb]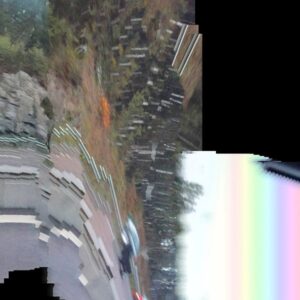 25. Nuvolascura – AS WE SUFFER FROM MEMORY AND IMAGINATION
Genre: Screamo, Emoviolence
Favorite Tracks: "Pixel Vision Anxiety," "For Their Own Diversions," "Victory Position"
What a striking title AS WE SUFFER FROM MEMORY AND IMAGINATION is, particularly as we continue to mentally reel from months in isolation; our own memories are single-handedly all we have while serving as fraught reminders of a different, seemingly simpler world, our imagination is under constant duress as it's suppressed by our own survival instincts. This war of attrition lands beautifully in Erica Schultz's strained and frustrated vocals, and AS WE SUFFER FROM MEMORY AND IMAGINATION acts as an anxious, angry, depressed peek inside a tortured mind. Nuvolascura moves fluidly between moments of lulling melody and explosive rock, sometimes in the same song (see: "Essentially a Vivisection"), capturing all the jagged extremes of the mind in one 22-minute album. It's among the best hardcore releases of the year and one that feels more and more understanding of our mental instibilities every time you press play. [CJ Simonson]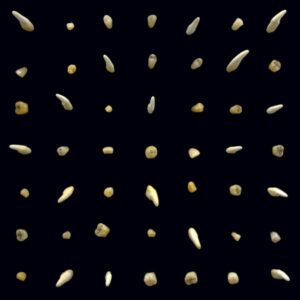 24. clipping. – VISIONS OF BODIES BEING BURNED
Genre: Noise Rap
Favorite Tracks: "Say The Name," "'96 Neve Campbell (featuring Cam and China)," "Check The Lock," "Enlacing"
Almost one year to the day after the release of their standout 2019 horrorcore record THERE EXISTED AN ADDICTION TO BLOOD, Northern California experimental hip hop trio clipping. returned with VISIONS OF BODIES BEING BURNED, a companion album all the way down to the complementary "tooth and nail" album covers. After proving their noise and musique concrète-driven production style a perfect match for the harrowing and graphic stories that the genre requires, William Hutson and Jonathan Snipes upped their game even further with a collection of "beats" that never dare to approach conventional, more concerned with inducing fear and anxiety in the listener than providing anything like a groove that you can bob your head along with. However, this commitment to rhythm-lessness on many tracks only makes it all the more impactful when a song with a kick drum does come along, like album highlights "'96 Neve Campbell" and "Check The Lock," both songs that play with somewhat traditional hip hop forms but are given decidedly left-field twists. Of course, there would be no clipping. without the indomitable presence of frontman Daveed Diggs, who almost feels like too big of a name at this point to be spending so much time on these admittedly inaccessible songs, but who provides his A-game nonetheless, his verses technical, conceptual, and certainly never afraid to walk away with blood dripping from the hands. Ultimately, it's impossible to say which of the two recent clipping. albums is superior to the other, the more likely reality being that we were simply given equally memorable standout records in consecutive years by one of the most fearless acts in contemporary music. [Jacob Martin]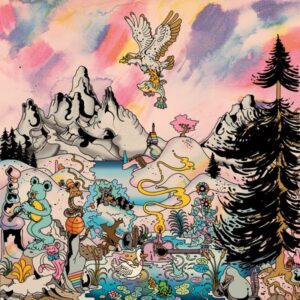 23. North Americans – ROPED IN
Genre: Ambient, Folk
Favorite Tracks: "Rivers That You Cannot See," "American Dipper," "Run Down"
No album on this list has been as centering and calming in 2020 as North Americans' folksy and whimsical ROPED IN. My mornings for several months straight have been soundtracked by Patrick McDermott and Barry Walker's sprawling slice of settling ambiance, the soft-focus folk quelling my increasingly anxious mind as the year has unpredictably roared on. In the vein of William Tyler or Glenn Jones, North Americans traverse a distinctly American landscape of mountains and rivers and valleys, doing so with a quiet power. These artists have slowly redefined what healing remedy in new age music could sound like, albeit with an Americana and country bend. McDermott's curious guitar parts and Walker's warming pedal steel capture the glory of the outdoors from the safety of four walls and a pair of headphones and the music they've created is regenerative. The stillness of ROPED IN is a gift that keeps on giving, a sense of peace no other album this year has been able to capture. [CJ Simonson]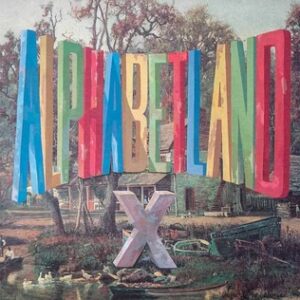 22. X – ALPHABETLAND
Genre: Punk
Favorite Tracks: "Water & Wine," "I Gotta Fever," "Cyrano deBerger's Back," "Goodbye Year, Goodbye"
Amidst the lonesome doom and gloom of this truly awful year, a miracle happened: X released a new album, and Behold, it was very good. Since reforming their original lineup in 1997 (consisting of ex-husband and wife lyricist/vocalists Exene Cervenka and John Doe, elder rockabilly guitar wunderkind Billy Zoom, and drummer DJ Bonebrake), Los Angeles's mightiest punk band had been spending nearly 25 years as a touring act focusing on their immaculate, perfect first four albums produced by Doors keyboardist Ray Manzarek. New studio material eluded them until they reconvened with Elliott Smith producer Rob Schnapf throughout 2019 and early 2020, recording what ultimately became ALPHABETLAND, the first X album featuring that original lineup in 35 years. Like an abandoned tilt-a-whirl suddenly roaring back to life and spinning precipitously off its axis, there's a giddy thrill to hearing a sexagenarian X all revved-up and putting literal decades of weathered, road-tested chemistry to good use. Doe, Zoom, and Bonebrake remain one of punk rock's deftest and most muscular power trios, while Cervenka and Doe's vocal interplay and world-weary, poetic lyrics are as sharp and relevant as ever. Zoom—the musical soul of the band—reclaims his guitar hero status, spurring each track with his signature rockabilly riffs and licks (and even the occasional sax and piano punctuation), while Bonebrake keeps the engine purring. X are still desperate, still concerned with the have-nots, and still overcoming the bleakness of existence through radical romantic communion. 40 years since their breakthrough the world remains a mess, but the burning passion still lingers in X's kiss. [Luke Phillips]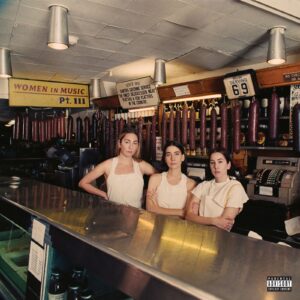 21. HAIM – WOMEN IN MUSIC PT. III
Genre: Indie Pop, Alternative Rock
Favorite Tracks: "I Know Alone," "3 AM," "Man from the Magazine," "FUBT," "Hallelujah," "Now I'm In It," "Summer Girl"
A congratulations is in order for the three women in music in question. HAIM has been, rightfully, Grammy nominated for Album of the Year and best Rock Performance. The nomination is not only well deserved, but about damn time. For the past six years these sisters have been enthusiastically making music and finally the mainstream have plugged in their headphones. WOMEN IN MUSIC PT. III is a triumphant, tour de force, especially considering the comeback narrative since the mixed reviews of SOMETHING TO TELL YOU. Although its predecessor was a commercial flop for the group, it was also an important stepping stone and retrospectively is a testament to their strength. The HAIM sisters managed to come back stronger with Paul Thomas Anderson collaborations, Vampire Weekend features, and even prospective acting debuts throughout the lead up to this album. It's not just the inventiveness and freshness that radiates from the production on WOMEN IN MUSIC PT. III, it's that Hell hath no fury like three sisters in music who have never shied from their artistry, poise, and ability to take on the wild west. L'chaim to Haim! [Jesse Herb]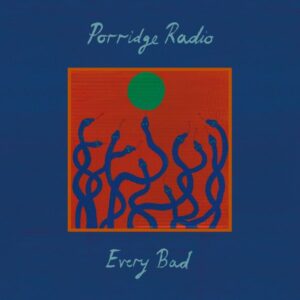 20. Porridge Radio – EVERY BAD
Genre: Post-Punk
Favorite Tracks: "Pop Song," "Give/Take," "Born Confused," "Sweet"
I've listened to EVERY BAD so much this past year that it's a part of me now—it lives in my head and runs through my veins. I breathe in Dana Margolin's hungry earnesty like oxygen. I exhale with her screams, guttural and liberated. I bleed her stubborn simplicity, her emotive delivery so raw and beautiful it can't help but leave a ragged cut. Every track has a climatic fulfilment, a turn of phrase and explosion of production that makes these songs an awakening—for Margolin, for the band itself, or for me, the listener, who can't get enough. Ultimately, this is what EVERY BAD was meant to do: leave us all wanting, wanting, wanting more. Special shout outs to the ironically titled, viscerally vulnerable "Pop Song," the best kind of depression party "Give/Take," and of course, the reason we're all here, the greatest tracks on the entire album, the double whammy first and second steps into the whole journey, "Born Confused" and "Sweet." Did someone open a window or something? Because I have chills just thinking of the power from these two tracks alone, not to mention the whole project. Listening to this album for the first time creates a division: there's the quiet life before you ever heard of Porridge Radio, and then the ongoing, but vibrant, struggle after. In all of its desperate longing, however (please excuse the cliche choice of words, some phrases are overused for a reason), this album really does give us the tools we need to to forge along. It tells us, "we feel all the bads too." You're not alone. [Devyn McHugh]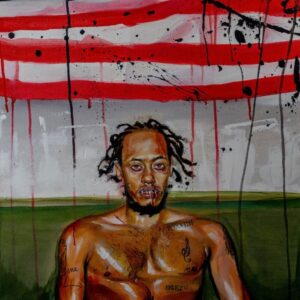 19. Pink Siifu – NEGRO
Genre: Art Rap
Favorite Tracks: N/A
NEGRO captures the sound of chaos. It is the sound of tortured thoughts and withheld anger and united fear. When Pink Siifu is at a loss for words or beats, NEGRO becomes a whirling dervish of noise and intensifying emotions—at times it ceases to be an album, reverting to a collage of terror and anguish personified. And even if it happened entirely by accident, released in the beginning of April, NEGRO quickly came to be a symbol of the times, a tangible piece of Black art that abstractly captured everything that would play out in the months to come. Artists like JPEGMAFIA and clipping. have similarly captured the full emotional spectrum of the Black male psyche, fusing reverberating distortion and noise rap to tremendous effect, but NEGRO in particular feels like one of 2020's most defining pieces of art. [CJ Simonson]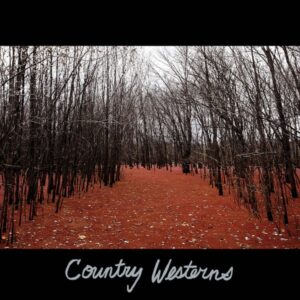 18. Country Westerns – S/T
Genre: Rock, Alt-Country
Favorite Tracks: "Anytime," "Two Characters in Search of a Country Song," "It's Not Easy," "I'm Not Ready," "Slow Nights"
With Joey Plunkett's gravelly voice acting as the conduit for Country Western's bleak lyrics, paired with the frankly fun drumming and ripping guitar and bass riffs, COUNTRY WESTERNS administers a fulfilling dose of alt-country rock with a dusting of familiar comfort. The experience in the back pocket of this band's members reverberates through the album—this is where I would say "rock isn't dead" if it wasn't contrite and cliche, but there is some truth in this idea. There's something timeless embedded within each track. Country Westerns made this album for themselves, and I think it's one of its greatest strengths. COUNTRY WESTERNS isn't for the blind masses; it's for you, day drinking on a Tuesday wondering where it all went wrong, or you, who just realized you could abdicate your cubicle because being a dancer by day and Cheesecake Factory hostess by night sounds infinitely better than a desolate existence in a loveless employment. COUNTRY WESTERNS was born when a love of music collided with internal turmoil, and listening to it you can feel that less time was spent speculating chart numbers and more time was spent enjoying the process. It lends itself to having the quality of a live show: in the moment and free, just here for the ride. It makes you feel like you're part of its internal world, it makes you feel like you're in on the heist. [Tapley Eaton]
17. DJ Harvey – DJ HARVEY LIVE AT RUMORS
Genre: Disco, Deep House
Favorite Tracks: "Rumors Part 1," "Rumors Part 3"
When I put this record on, I am Vicky Page and DJ HARVEY LIVE AT RUMORS is the red shoes. Except instead of becoming the disturbed hostage of supernatural pointe shoes, I am a blithe fox seducing anything with legs and teetering on the edge of transcendental consciousness. During DJ Harvey's luxurious two-and-a-half-hour ascent into the ecstatic divine, it's impossible not to groove to this effortless mix of world disco and become transported to a place we all wish we could have enjoyed in the Cursed Year Of Our Lord 2020: a place where our cups overflow with lucky juice and the commingling of sweaty bodies against one another feels sacred and intimate and free of viral anxieties. Though a collective psychosomatic rage fest would be well-earned, LIVE AT RUMORS inspires the decidedly more honorable and meditative impulse to gyrate towards ego death and indulge in the hedonism we actually deserve. You know what they say—"Don't go to bed angry." Spin this one for the end times, so at the very least it'll feel like Heaven. [Sienna Kresge]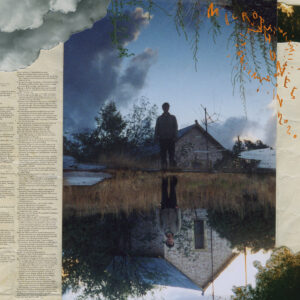 16. The Microphones – MICROPHONES IN 2020
Genre: Singer-Songwriter, Avant-Folk
Favorite Tracks: N/A
A paradigm-shifting release for many reasons, Phil Elverum's 2017 outing A CROW LOOKED AT ME caused the vast majority of the music-listening public to become invested in his journey of grief and growth; tracking with 2018's NOW ONLY and 2019's LOST WISDOM PT. 2 felt like checking in on a friend going through a particularly rough time, with all of the complicated emotions and hope for improvement that that can bring. Thankfully, with MICROPHONES IN 2020, it finally seems like Elverum is getting better, still awash in the wistful seas of reflection and edging melancholy, but firmly grounded with a hopeful look forward to the future. An amorphous 44-minute song that insists on being experienced in one focused sitting, Elverum's historic fascination with juxtaposing the gentle and harsh is a clarion return to form here, doing away with some of Mount Eerie's more minimalist musings and reincorporating a larger, fuller sound that steadily introduces and does away with layers to continually entice us to stay locked in. The album feels full of a vitality we haven't heard in Elverum's music for some time, a beating heart, tearful eye, and even some gnashing teeth all gently cycling in and out of our headspace as we let ourselves be fully enfolded. The ultimate effect of MICROPHONES IN 2020 is an intriguing one insofar as there's almost a sense of guilt in the feelings of kinship and identification the album engenders seeing as Elverum's nearly stream-of-consciousness lyrics retain his preferred brand of the hyperpersonal. But even if we didn't watch CROUCHING TIGER, HIDDEN DRAGON on March 18th, 2001 or were never struck by Mayhem's "Freezing Moon," we can all relate to the deafening roar of nostalgia and quiet hums of ennui that this isolated year has established. Most importantly of all, however, Elverum reminds us of the inevitability and necessity of perseverance. "I will never stop singing this song. It goes on forever." We keep on not dying, and the sun keeps on rising. [Thomas Seraydarian]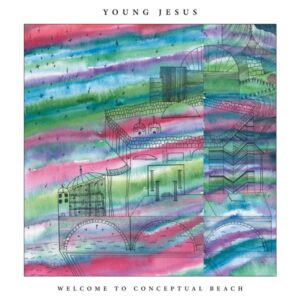 15. Young Jesus – WELCOME TO CONCEPTUAL BEACH
Genre: Art Rock
Fav Tracks: "unknowing," "Magicians," "Faith"
Young Jesus has a Kyrie Irving-level handle on switching between emotional catharsis and free-jazz influenced post-rock chaos. These comparisons aren't made lightly, but WELCOME TO CONCEPTUAL BEACH walks in lock step with the work of Jeff Buckley (both in sound and in spirit) in its firm commitment to exploring a high-aiming and cosmic interpretation of alternative rock. It's grounded in something very real and simple but isn't afraid to challenge, with ornamental guitars and stuttering percussion working to create the most confident version of this band that's existed to date. Courage in music isn't found in fitting into genre conventions, it's found in pushing beyond them, and like the cover the record bears, WELCOME TO CONCEPTUAL BEACH proudly colors over and outside of the lines. [Adam Cash]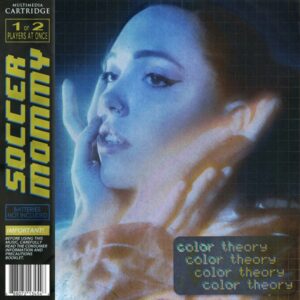 14. Soccer Mommy – COLOR THEORY
Genre: Singer-Songwriter, Indie Rock
Favorite Tracks: "bloodstream," "circle the drain," "lucy"
COLOR THEORY is the story of Sophie Allison's keen understanding, instinctive fear, and morbid curiosity of her own mental health, and as Soccer Mommy she moves through it with a survivalist's self-awareness and wry sense of humor. It's an album about depression. It's an ode to self isolation. It's a shared celebration of paranoia and apathy. While it may not be wholly original in sadcore music circles, Soccer Mommy shares a different perspective. What makes COLOR THEORY so monumental is that it takes you down to that space and pulls you back out, then whispers in your ear, "You'll be back down there again." Allison journeys through the stages of her mental health as a seasoned fighter and unflinching guide, with the full awareness of its cyclical nature. It's a poignant combination of hopefulness and weariness in that she knows the bad times won't last forever, but also that they'll always come back. Would we have related so much to this album had it not been released right ahead of when everything shut down? When self-isolation became necessary and listlessness became the default frame of mind? Maybe, maybe not, but we have to be thankful that we had it there with us—as we circled the drain of our personal battles, trying to stay afloat amidst existential fears threatening to pull us down. It's dark in the depths, but somehow Allison still manages to sing about it with her signature softness, painting over the sadness with brighter color, and showing us that the whole thing really is a bit beautiful. [Devyn McHugh]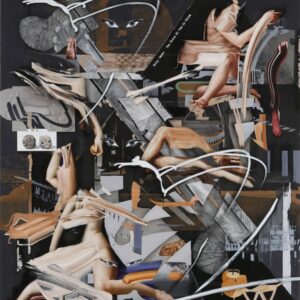 13. Boldy James – THE PRICE OF TEA IN CHINA
Genre: Boom Bap
Favorite Tracks: "Giant Slide," "Pinto," "S.N.O.R.T. (featuring Freddie Gibbs)," "Pots and Pans (featuring The Cool Kids and Shorty K)"
You listen to THE PRICE OF TEA IN CHINA and think: How has Boldy James not been in our lives for a decade now? Those who knew likely first heard James on 2013's MY 1ST CHEMISTRY SET, an album that, similarly to THE PRICE OF TEA IN CHINA, was produced entirely by The Alchemist, but that number of people was decisively small. After releasing various mixtapes for the rest of the 2010s, 2020 has proven to be a real coming out party—our own Corey Guen detailed that well earlier in the year, and that was even before James dropped REAL BAD BOLDY just a few weeks ago. But to hear THE PRICE OF TEA IN CHINA is to actively buy into his epic rise in 2020, a mix of Freddie GIbbs-focused, intense coke rap and Curren$y's contemplative, distant bars. The Alchemist makes sure to serve up a variety of looks for James to swallow whole, from wistful downtempo production ("Grey October") to quickly flowing yet simple loops ("Run-Ins") to cinematic noir beats ("Pinto"). Like he did on FETTI and ALFREDO for Gibbs, The Alchemist plays to Boldy's narrative bars with production that feels like mysterious, vintage Hollywood, and the musical flow across THE PRICE OF TEA IN CHINA is that of a classic film. James did everything he could to affirm that he's not going anywhere throughout the rest of 2020, but this album rightfully cemented his place in the modern rap sphere. Truly it's a Boldy James world and we're all just living in it. [CJ Simonson]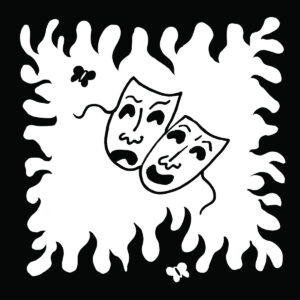 12. Dehd – FLOWER OF DEVOTION
Genre: Post-Punk, Indie Rock
Favorite Tracks: "Desire," "Loner," "Month," "Flying"
The first time I listened to Dehd's FLOWER OF DEVOTION, I honestly couldn't find much to love about it. The guitars sounded like they needed their intonation fixed, the bellowed vocals sounded like those of a Roy Orbison cover band, and the record generally had a yellow-fingernailed tone that evoked a queasiness induced by taking too much Sudafed. Then I watched a video of Dehd live and all of the things that confused me about FLOWER OF DEVOTION immediately became the things that lodged it in my headphones over the course of this shut-in Summer and Fall. There hasn't been a band as fun to watch as Dehd since the heyday of scrappy 285 Kent DIY shows, and FLOWER OF DEVOTION captures the unhinged brattiness of the best concerts that I missed out on in a year without live music. While it took a few listens to win me over, I spent more time with the peppy, electrifying, retro-y tracks on FLOWER OF DEVOTION than any other indie rock record this year, and in some distant future when concerts are a thing again, Dehd are the first band I hope to catch on a stage near me. [Ted Davis]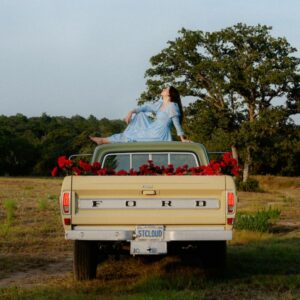 11. Waxahatchee – SAINT CLOUD 
Genre: Alt-Country
Favorite Tracks: "Fire," "Hell," "Witches," "St. Cloud"
Americana fits on Katie Crutchfield like well-worn blue jeans, and SAINT CLOUD is thick as a redwood with wisdom. It's the creak of a rocking chair on the edge of a porch, or the locusts that drone under the hot blanket of summer. Having described the album's themes as mainly focusing on addiction and codependency, Crutchfield is surprisingly cool across her fifth studio album. Her approach to the subject sounds honest and tender—where she could have been abject and resentful, she is instead gentle and loving. SAINT CLOUD contains the uniquely compassionate tone of a woman recounting her wounds with forgiveness, and looking forward with optimism knowing well, still, that the work of sobriety and self-respect is never really over. Despite this labor of love, her voice floats easily atop winding melodies and simple, earthy instrumentation. Several times, Crutchfield passingly alludes to marriage, and though the album is full of admiration for those closest to her, more significantly does it bring to mind the union she must make with herself when reconciling the darkest parts held within. SAINT CLOUD is a marriage in this way—the acceptance of the good and the bad, the determination to work through the ills, and the vow to love anyway. [Sienna Kresge]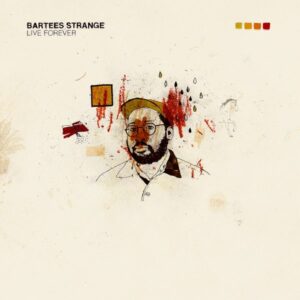 10. Bartees Strange – LIVE FOREVER
Genre: Genre-Eschewing Rock
Favorite Tracks: "Mustang," Boomer," In a Cab," "Flagey God"
No matter what obstacles 2020 threw his way, there was no stopping Bartees Strange from his inevitable takeover. Back in February he dropped SAY GOODBYE TO PRETTY BOY, an uncompromising EP of National covers, imbuing the songs with an entirely new meaning as he examined and probed them through the lens of a Black artist. This served as the perfect lead-up to his debut album LIVE FOREVER, a sprawling, radical, and unwavering odyssey that rewrites the entire playbook for indie rock. The first thing that people will tell you about this record is how it blurs the lines between genres, which isn't true; in Strange's universe, genres mean nothing. It's an album that takes a truly fearless artist and gives them the space to do whatever they want, channeling an unbridled energy into one of the most fully realized debuts of the 21st century. And when it's all said and done, what you're left with on LIVE FOREVER is something that has to be heard to be understood—the culmination of over three decades on this Earth spent absorbing a Rolodex's worth of influences and translating them into a musical language that's unlike anything before it. [Michael Brooks]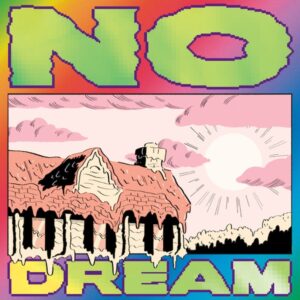 9. Jeff Rosenstock – NO DREAM
Genre: Emo, Alternative
Favorite tracks: "Scram!," "State Line," "f a m e," "The Beauty of Breathing"
Jeff Rosenstock continued to paint vivid and biting depictions of anxiety doused in gasoline and lit ablaze by rapidly changing and terrifying times on NO DREAM. Full of piss and vinegar, and self-reflection so deep that its heavy, poetic truths inspire tears, Rosenstock continues to bring to-the-bone nuance to his anthemic pieces; while 2016's WORRY. and 2018's POST- might've inspired some semblance of hope in trying times, NO DREAM is about going through and living in Hell. Loneliness, paranoia, longing, and core-rattling hate for authority and violations of power teem through the runtime, evoked in thrash-y explosions of anger, begging us to fathom just how deeply messed up our society and world are, whilst still managing to float in and out of power pop sensibilities that are ingenious, infectious, and playful. The run of tracks from "Scram!" through "State Line" bring some of the same cathartic power that WORRY.'s back half brought to the table, and there's a propulsive sensation all throughout, with songs about staying in Airbnbs, constantly driving around the country, and considering the home we're leaving behind, but cosmically forever tied to, even if it no longer exists as we've known it to before.
Rosenstock writes it like it really is; we are constantly leaving a past we wish to reckon with, and maybe even re-do, more and more as it shrinks in the rearview, and we approach an uncertain future while constantly on the move. It's exhausting and scary and makes you think about the rocky foundation upon which a lot of our livelihoods are built upon, almost in a way that makes it seem we were tricked into considering them sure or fair in the first place (gee, wouldn't that be scary). While good times have been washed out in equal pain with the bad, NO DREAM explores hopelessness and acceptance, in a tug of war over the potential for positive difference in the oncoming world, in manic, fuzzy, human fashion. It's splashy and mad and sad and entirely of the times. [Rocky Pajarito]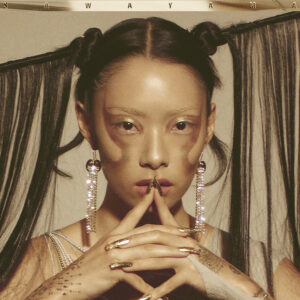 8. Rina Sawayama – SAWAYAMA
Genre: Avant-Pop
Favorite Tracks: "STFU!," "XS," "Comme des Garcons (Like the Boys)," "Bad Friend"
One major coping mechanism for me in a lonely year spent under quarantine was to retreat to the music of my childhood and teen years—I made expansive megamixes of my favorite music at the ages of 7 and 17 years old. Commiserating with younger versions of myself has become a standard part of COVID, getting into my headspace at earlier points in time with the added reflection and wisdom of my current old-ass self, and revisiting the songs and artists I loved proved to be a healing and transformative experience. With no residual embarrassment and without relegating anything as a "guilty pleasure," I was able to accept the music that spoke to me in the past on an equal emotional playing field, and in turn accept myself, warts and all.
On her strident debut LP, Japanese-British singer-songwriter Rina Sawayama takes this concept to its artistic and sonic endpoint, architecting a new vision for pop music by combining and repurposing the maximalist pop of yesteryear into glorious, heartening, anthemic amalgamations. Sawayama and her producers liberally utilize the aesthetics and sounds of the TRL era and recontextualize them with extremely personal, cathartic lyrics dealing in themes of identity, family, sexuality, toxic masculinity, microaggressions, and more. Individual tracks weave influences as disparate as KoRn, Britney Spears, t.A.T.u., N.E.R.D., Evanesence, Kylie Minogue, *NSYNC, and the FINAL FANTASY soundtrack into veritable mashups—practically every track sounds like an entire NOW THAT'S WHAT I CALL MUSIC! compilation reconstructed into a unified instrumentality. Reclaiming Woodstock '99 as a Max Martin production, Rina Sawayama is neither a freak on a leash nor a genie in a bottle, and it will be incredibly exciting to see where she goes from here. [Luke Phillips]
7. Dogleg – MELEE
Genre: Punk, Post-Hardcore
Favorite Tracks: "Fox," "Kawasaki Backflip," "Prom Hell," "Wartortle," "Ender"
Dogleg was one of the last shows I saw in the "before times," and although I refuse to believe live music will be completely erased by COVID, at least I can take some comfort knowing I went out on a high note. Although the idea terrifies me and my growing agoraphobia, I would sell a kidney to be back in that sweaty, packed crowd, and even though I'm semi-retired from mosh pits (that night's alcohol consumption dependent), to be thrown about by other bodies or elbowed in the face would be welcome in 2020—especially in the hands of a band like Dogleg after an album like MELEE. The urgency and the energy behind each track, the feverish pace of the drums, Alex Stoitsiadis' existential wail reaching out from the void to grab you by the forearm and lead you into his fraught headspace… with lyrical moments like "…'cause I will let you down" on "Headfirst," or "…was I good enough" in "Prom Hell," each chanted like rousing mantras, MELEE captures the quintessential punk loneliness in a new and fresh flavor of heartbreak. The album reignites something that felt like it died this year, the bass feels like a pulse, the rolling drums unfurling at an inhuman pace sparking life in what was a barren, desiccated field moments before. I want to walk home hoarse, with strangers' sweat on my skin and a bruise on my shoulder that I can't remember coming from the crowd surfer's shoe, or the several hits I took in the pit I've told myself I'm getting too old to venture into. I want my feet to ache and the ringing to stay in my ears the rest of the night while I replay the image of drummer Jacob Hanlon's fervent thrashing or Stoitsiadis cartwheeling, guitar still in hand, a single palm to the stage. But for now, turning my headphones all the way up and dancing around my dark apartment to "Kawasaki Backflip" on repeat will do just fine. [Tapley Eaton]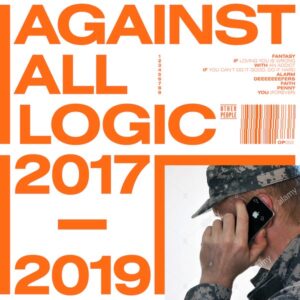 6. Against All Logic – 2017 – 2019
Genre: Post-Industrial
Favorite Tracks: "Fantasy," "Deeeeeeefers," "If You Can't Do It Good, Do It Hard (featuring Lydia Lunch)"
Nicolas Jaar's career has been defined by redefinitions, but none was starker than the 180 and subsequent 900-degree turns he took with the Against All Logic moniker. An alias unknown to all but the real Jaarheads until 2018, his AAL work to that point was a mysterious collection of deep house singles, EPs, and mixes that sporadically appeared unannounced through the various channels of his Other People label. A week after 2012 – 2017 had been silently uploaded to the label's YouTube page, music publications finally took notice and the rest of the world was treated to one of the decade's best records. While 2012 – 2017 was a departure from the canonical Jaar sound, 2017 – 2019 is a quantum leap, trading warm, sugary house for dark, fucked up, crude-oil-covered industrial club beats. There are a myriad of jaw-dropping moments on here that you'd have never expected from Jaar but it's impossible to imagine anyone else making this record. "Fantasy" is the cruelest opener he's ever penned, "Deeeeeeefers" is a howling beast that doesn't stop biting, and "If You Can't Do It Good, Do It Hard (featuring Lydia Lunch)" makes due on the years-long hope of the two collaborating. It's nasty, it's perverted, it's a demon from Hell, it's the sweetest bitch you'll ever meet, so drink it in because we'll probably never hear Jaar quite like this again. [Ryan Moloney]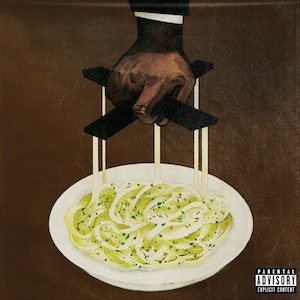 5. Freddie Gibbs and The Alchemist – ALFREDO
Genre: Boom Bap
Favorite Tracks: "Scottie Beam (featuring Rick Ross)," "Frank Lucas (featuring Benny the Butcher)," "Babies and Fools (featuring Conway the Machine)," "Skinny Suge" 
Freddie Gibbs should not release a solo project ever again. It's not that he can't make decent records on his own, but collaborations unlock something within him and keep breathing life into his mafioso rap schtick. It happened with Madlib twice, and this year it happened with another legendary producer, The Alchemist. Between the ear-wormy guitar of "1985," the glacial stillness of "Baby Shit," and the silky-smooth keys and horns on "Babies and Fools," all the beats are effortlessly lush and intoxicating. Effortless is the name of the game for Gibbs as well, packing in tons of flows without feeling gimmicky and riding every varied beat with ease. "Babies and Fools" features some of his best structure to date with that Andrus, Blackwood & Co. sample integration and the multiple meanings he and Conway squeeze out of it, while the first verse of "Scottie Beam" packs in some powerful anecdotes and creative figurative language. No one has ever gotten more material out of the same topics quite like Gibbs has, and while it lacks a story as affecting as DEEPER, ALFREDO still stands out for its concise blast of perfect creative harmony. [Blake Michelle]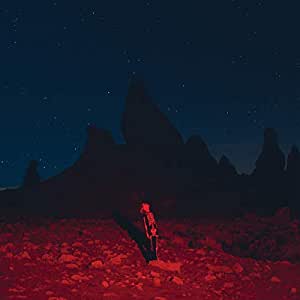 4. Phoebe Bridgers – PUNISHER
Genre: Pop
Favorite Tracks: "Garden Song," "Kyoto," "I Know The End"
It almost seems impossible to say that anyone was absolutely killing it during 2020, but that's exactly what Phoebe Bridgers did this year. She fucking killed it. She released a phenomenal sophomore LP in the form of PUNISHER, dazzled every late night show host, dropped an EP of orchestrally reworked songs from that aforementioned phenomenal LP, covered the Goo Goo Dolls classic "Iris" with Maggie Rogers, put together a Christmas EP featuring Fiona Apple and Matt Beringer, and earned four Grammy nominations in the process. Of course, the starting point for this insane amount of output and recognition is PUNISHER. Bridgers has yet again found a way to create songs that are universal and connective by being intimately introspective. While her songwriting has always been honest and cutting, PUNISHER exudes a bold new confidence to expand upon the sounds she explored on 2017's STRANGER IN THE ALPS. Bridgers emerged from the ghostly sheet that was painted over her photo on her debut album cover in order to further bare her bones this time around. In spite of the menacing sense of doom and gloom the title brings to mind, PUNISHER provided us with a brief sense of reprieve as the world crumbled around us. [Jake Mazon]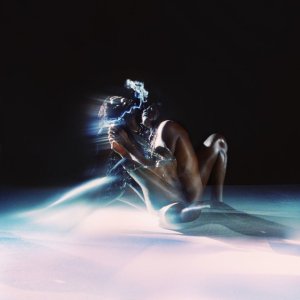 3. Yves Tumor – HEAVEN TO A TORTURED MIND
Genre: Art Rock
Fav Tracks: "Super Stars," "Kerosene!," "Strawberry Privilege," "Medicine Burn," "Folie Impossee"
With its absolutely filthy, sleazy, and sexy guitars, there might not be a record in 2020 that hurts more to lose the live version of than HEAVEN TO A TORTURED MIND. Knowing the territory that Yves Tumor has worked in in the past, it's not likely that stardom was the goal in creating this latest record, but it absolutely could have made it happen. Every song on this album is like a yawn or a giant stretch of the arms—outwardly expansive in every single imaginable way. Like many of the great experimental, pop-adjacent records that emerged in 2020 and bitterly avoided categorization, there's just enough of Yves Tumor's experimental flourishes to remind you who's making this record. HEAVEN TO A TORTURED MIND combines this spirit with traces of the great art pop icons of the '70s and '80s to make something that feels utterly timeless. [Adam Cash]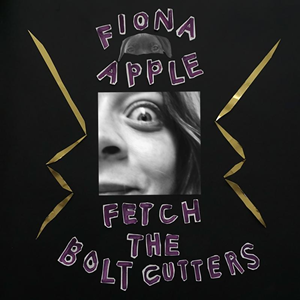 2. Fiona Apple – FETCH THE BOLT CUTTERS
Genre: Art Pop
Favorite tracks: "I Want You to Love Me," "Heavy Balloon," "Fetch the Bolt Cutters"
What did she know and when did she know it? Reclusive by nature, Fiona Apple spent the last five years holed up in her Venice Beach home recording the sounds that would ultimately define much of 2020. Pots and pans clanging in the background. Dogs barking. No, this isn't a Zoom call—FETCH THE BOLT CUTTERS is an exploration of confinement and retrospection that makes use of a cacophony of objects found throughout Apple's home. A frenzied mix of spoken word poetry, discordant melodies, and industrial-indebted rhythms, FETCH THE BOLT CUTTERS is a timely soundtrack to a year that found most of us stuck inside our homes with nothing better to do than reflect. [Becca Lengel]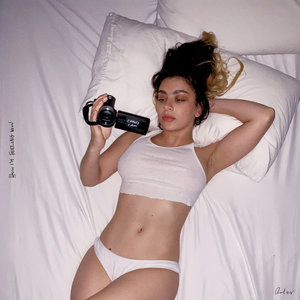 1. Charli XCX – HOW I'M FEELING NOW
Genre: Electropop
Favorite Tracks: "forever," "detonate," "enemy," "c2.0," "anthems"
I really want to hate quarantine art, but it's impossible not to love HOW I'M FEELING NOW. In classic workaholic fashion, Charli XCX began her lockdown by imposing an ambitious, albeit arbitrary, deadline on herself to write, record, and publish an entire album. How she found the energy to complete such an endeavor during the single most culturally traumatic event of our generation is beyond me, but thank god she did it, and without ever once directly referencing our dire societal circumstances.
But, it was never really about those things in the first place—it's about how she's feeling through all of it, and she's covered the whole damn spectrum. The sweet longing for human interaction on "forever" and "c2.0" is an homage to fans and friendships. The desperate desire to rage on "pink diamond" and "anthems" punches straight to the gut. The reignited passion for her beloved on "7 years" and "detonate" honors the sanctity of partnership. The hollowing intimacy of being alone on "enemy" and "i finally understand" echo the neuroses we've been forced to confront while staying apart and inside. And despite all these ups and downs, Charli completes the tracklist with the thing that feels nearly impossible to grasp beyond our imaginations: hope ("visions"). How sweet it is to be heard and validated by an album constructed in the most isolated conditions possible! The thing we'll need most on the other side of all this is proof that what we felt while we were in it was completely real, and HOW I'M FEELING NOW is that very relic worth holding onto. [Sienna Kresge]
Thanks for reading! Merry-Go-Round Magazine is an independent media source funded by people like you! If you're enjoying our End of 2020 Coverage, consider becoming a member of our Patreon, or even donating to our operation here!